Thousands of visually impaired children are left with outdated teachings
Bangalore has several schools for the blind and disabled children, and most of those schools use teaching methodologies and techniques that are conventional and old. These schools, once built to rehabilitate or provide education to the blinds, are currently 'small-scale institutes' with student population between 100 and 150 children, from nursery to 10th grade.
One of the oldest schools for the blind in Bangalore, Shri Ramana Maharshi Academy for the Blind (SRMAB), caters to 140 children and provides free education, meals, and accommodation to all the children. The institute uses braille printers and computers with Non-Visual Desktop Access (NVDA), an audio software to teach children.
Braille is a system invented by Louis Braille in 1824. It consists of code with raised dots that can be read by people who have low vision or are blind. It is used for reading and writing purposes. Now, there are several alternative systems for the blinds like Audio books and text scanners, which are more efficient and easier to understand.
Mohan, head of the primary education department at SRMAB said, " We use the sound output for course books or to convert the 'non-braille' scripts into braille, so students get all their course-related books."
He added, "The school receives funds majorly from private donors like Oxfam and NTT Data. The government gave in the past an annual reimbursement of 10 percent on all the expenditure, but for the last two years, we have not received any such grants."
The school still depends on old methodologies like 'braille set' and audio books for teaching because of lack of funds. The infrastructure is minimalistic and children are restricted to course-related books and knowledge.
There are revolutions in technology for the visually impaired, such as the 'text to speech device' developed by scientists at the Central Scientific Instruments Organization (CSIO) called "Divya Nayan". This tool is efficient in terms of features like Bluetooth and Wi-Fi, and also costs less than the ones imported from other countries and is easy to use.
[media-credit id=35 align="alignleft" width="288″]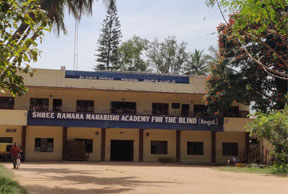 [/media-credit]
Some schools import portable scanner devices for the blinds from international firms at a cost of Rs.10,00,000, whereas the Indian alternate device "Divya Nayan" costs only Rs.10,000. This latest device was invented by scientists from a government research organization and can help the children gain access to any book without having to waste paper by printing it.
Sri Rakum School For The Blind, a school with multiple branches across Bangalore, uses the imported devices for the visually impaired children. Meenal, a teacher from the institution, said that the school has been using audio devices for easy reading for children for the last two years, and that they were unaware of any such new 'text to speech' device in the Indian market.