Increase in HIV positive detected clients in ART Centers and few under second-line drug treatment.
Bengaluru, Sept. 04, 2018 : Even after measures were taken by National Aids Control Organization (NACO) and the World Health Organization (WHO) trying to improve treatment facilities for HIV/AIDS patients, the community health center and patients claim they are not receiving proper medication on time.
No proper second- line drug (SLD) treatment for patients at the ART Center of Bowring & Lady Curzon Hospital, because of a lack of trained medical staff to manage a sudden increase in HIV positive detected patients in 2017-18 and insufficient medical facilities, says Community Health Centers.
Few patients have been screened and they were prescribed with second-line drug treatment by the expert panel of Bangalore Medical College and Research Institute in 2016. Many patients were reported HIV positive in all the 64 ART Centers in Karnataka state.
Four individuals were detected with HIV out of 3998 tested individuals in the time period 2016-17, but a large number 447 HIV positive detected clients were reported out of 10,914 tested individuals by our ART center, said Akshitha, staff nurse at Bowring hospital. Initially they used to provide only first-line drug treatment at Bowring ART center but now they provide first-line, second-line and third-line drugs for the treatment.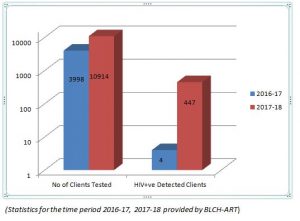 According to one of the patient wife, her husband is suffering from HIV infection since 3 years, and is now undergoing second-line drug treatment at the ART center of Bowring Hospital. There was no screening test performed whether to treat him on SLD or not when we had visited ART for the first time, but last year they have screened my husband and started SLD treatment, she added.
How can we manage 447 patients as there were only four patients reported in BLCH ART? Says Akshitha. We are getting medicines from NACO but that is not sufficient for all the clients, claim most of the patient relatives and hospital staff who are not willing to expose themselves in media spotlight.
Accordaing to statistics provided by Pharmacist Hanumanthappa J medicines stock list, which were distributed to ART centers based on the line of treatment (first-line, second-line, third-line), most of the patients are treated with first-line medication according to their CD4marker count, but in recent days there has been an  increase in number of patients who were seeking second-line of treatment.
"There is an increase in male HIV positive clients compared with female ones. This is due to multiple sexual intercourse and unsafe sex," says Prahlad, Sochara CHC. Most of the CHC's are doing their research on sanitation and waste management and spreading awareness among people.
"Only few CHC's like SPAD are doing their project on HIV positive detected females as part of a positive women's network, and there should be more awareness created among rural areas and we are planning to do our upcoming research on HIV/AIDS in infants," he added.