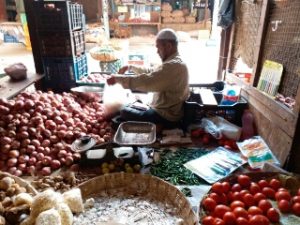 Bangalore August 31, 2017: Business in Russell Market has seen a dip recently due to the filth and the stench thanks to uncleared garbage right outside the market.
Akansha, a student who went to buy some cloth from the market, found it quite dirty and unclean."I wouldn't buy vegetables or meat from this market," she said.
"Business has been falling from three to four years by 50 per cent,"Mohammed Sadiq, a vegetable seller in the market said. Moin Shariff, another shopper went to check the prices of vegetables, didn't want to buy any product from there given its unclean state.
Shopkeepers in the market said that, although the BBMP clears the garbage, they are not regular enough to keep the market tidy. "They come every two to three days to clean it but it immediately collects again," said Fayad, another vegetable seller in the market, who has experienced a drop in his business since 2012.
Garbage is not the only problem affecting businesses in the market. "There's no proper parking in the market and that makes people prefer other markets or malls," Amjad, who is the owner of C.B Traders in Russell Market said. He, however, said garbage was a bigger hindrance to his business. BBMP Engineer, Azher Pasha said, "We clean the garbage regularly but the problem is during night time and early morning vegetable sellers do their business (sic) and leave the garbage there itself and they move away." "During the evening, the fish and mutton shops, they create fleshy waste and because of that, it(the market) becomes smelly" he added. Mr. Pasha also said that the BBMP is making arrangements to clear the market and spray it with disinfecting chemicals every day. BBMP Executive Engineer, Saifuddin, Shivaji Nagar said "What they (shopkeepers) are saying is far from the truth, what they are saying is happening for only the past week because there was a problem with the dumping yard and there was a problem with the pourkarmikas who were demanding that payments should be made and should not be paid to the pourkarmika directly through bank account. Because of this, the workers didn't go for their work, because of that there was a delay.." The shopkeepers, however, maintain that it's a recurring problem that has been going on for years. "You can ask any of the sellers here, they'll all tell you the same thing," Mohammed Sadiq said, pointing to his neighbors. There is a plan to retrofit the market under the smart city mission but the project is in its initial stages.