There has been a shortage of two to three lakh tonnes of milk this year, said an official of the Karnataka Milk Federation (KMF).
Pointing towards the milk crates, dressed in a t-shirt with Nandini dairy's logo on it, Manohar said, "I get 30 percent less crates of milk now and they have even stopped the six litre milk packets which I sold to the hotels and companies".
Dairy farmers under dairy co-operatives are in crisis due to lower prices for their produce which is affecting dairy booths, who are receiving less milk supply for sale.
Manohar, a Nandini milk booth owner, said it's been a week and he has been receiving 30 percent lesser milk crates than earlier; 110 crates in the morning, 40 in the afternoon, and 30 at night.
He said, "The government is not paying enough money to the farmers, which affects their milk production and this has caused a 20 percent loss in my business."
For the last two months there has been a shortage of at least 100 litres of milk packets per day. The ghee and butter quantity has also reduced. This supply shortage is affecting the sales and I incurred a loss of around Rs. eight to nine lakhs," said Vijay Raghav, Nandini booth owner, Indiranagar.
"The decrease in procurement is mainly due to scarcity of fodder, untimely rain, and cows getting infected with Lumpy Skin Disease (LSD)," said H.K Raghavendra, Joint Director, KMF. He said, "One of the reasons could also be a few (farmers) not being able to supply milk at the prices we procure as they might have temporarily moved away from dairy farming due to increased fodder prices,"
"The procurement price ranges from Rs.29 to Rs.32 depending on the milk union," said the official.
"A subsidy of Rs. five per litre is given by the government to the dairy farmers whose milk's Solids Not Fat (SNF) is 8.5 and above," he added. SNF is the nutrient part of the milk other than the milk, fat, and water.
Many farmers in Devagere said that they have not received the Rs five subsidy since five months and are waiting for it, as that money could be used to buy fodder.
Mahim Raju, a dairy farmer from Devagere village has three cows, out of which only two give six to eight litres of milk. He said he gets Rs.32 to 38 per litre but it all depends on fat content measured on the lactometer.
Raju says, "The price of fodder has increased so much that I pay Rs.3, 600 only for buying feed, hay and straw every month." He added that for the cow to produce more milk and better quality they need to be fed well. Ragi straw is around Rs.15,000 for one bundle. Raju says that they measure a bundle of straw from finger tip to finger tip of outstretched hands.
Secretary of the Devagere dairy unit, Virupakshappa said that, "We would receive 1300 tonnes of milk per day but now it has reduced to 700 tonnes. The number of farmers have been reduced from 60 to 35 -45." He also said that they have asked the milk union to increase the minimum price to Rs. 40 but there has been no response.
Another milk unit at Govinpalya said that they have a shortage of 1000 litres of milk. Only 160 farmers supply milk now as compared to 181 farmers before.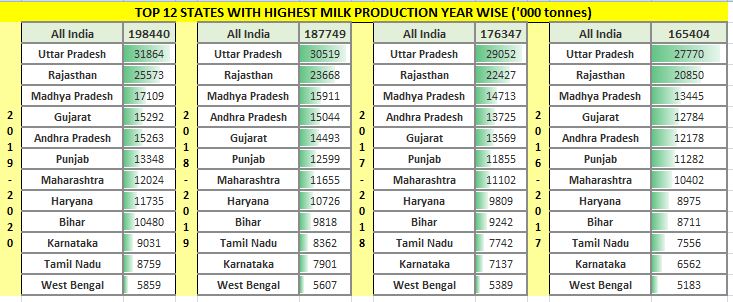 Dairy Cooperatives and fodder prices
On November 24, 2022 KMF increased the prices of milk and curd by Rs.2 where now the price of standardized milk is Rs.39 for a litre and Rs.20 for half a litre.
Nandini is the brand name under which the Karnataka Milk Federation (KMF) sells its dairy products. It has 16 Milk unions and more than 16,000 dairy cooperative societies under them.
Milk unions include: the Bengaluru Urban, Rural and Ramanagara District Milk Producers' Co-operative Societies Union Limited (Bamul), Belagavi District Co-operative Milk Producers' Societies Union Ltd, Shivamogga District Co-operative Milk Producers 'Societies' Union Limited, and other such unions that procure and provide milk and dairy products throughout Karnataka's 31 districts.
"The main reasons could be dairy farmers shifting to other professions such as agriculture as they don't see this as a profitable for their livelihood. Farmers are seen selling their cattle as a good option due to an increase in input cost.," said Hippu Salk Kristle Nathan, an associate professor of Social Sciences at Institute of Rural Management Anand (IMRA).
Raju, a farmer, said the cows do not givehim any profits so he concentrates on farming . "I grow baby corn and I want to shift to other manual work like labour or factory work."
The secretary at the Gangasandra dairy unit said the cost of one bag of fodder was Rs. 950 five months ago but now it has increased to Rs.1170 per sack. This fodder is provided by the government at subsidised rates.
Cattle require green fodder like; maize, pearl millet, and sorghum fodder. They also need dry fodder like hay and compressed and pelleted feeds.
Support from the cooperatives and private players
"The milk cooperatives need to be very strong like the Gujarat model cooperative, but this does not happen overnight and they need to provide support to the farmers during the gestation period so they can continue dairy farming," said the expert.
Gestation period is when the cow is pregnant and cannot produce milk. The cow is pregnant for nine months where it cannot produce milk in the last two to three months.
Another farmer Ganagamma, from Devagere village said that if they supply to private players then the milk union is hesitant to take them back. She added that farmers cannot risk depending on the private sector.
The milk cooperatives should demand better rates for their farmers and provide better facilities to them added the expert.
Some people say that they are shifting to private suppliers and organic milk producers. Harish, a resident of Malleshwaram said that he buys milk from a nearby milk supplier who provides organic cow milk for Rs.44 per litre.
Kiran, a private milk supplier in Wilson Garden said, "People will pay for everything but will not pay two to four extra rupee for pure cow milk". Kiran, has three cows out of which only one is giving milk now. He supplies around 20 litres of milk per day and sells a litre for Rs. 40. He said the cost of maintaining a cow is around Rs.10, 000every month. He earns Rs. 24,000 per month from selling milk and most of it goes into taking care of them. He has to borrow money to make ends meet. .
Kiran's family has been rearing cows for 60 years. The small shed has a fan and neat carpets for the cows to sit on. Kiran said "On good days when the cows produced more, I get profits,"