The NGO is going to conduct competitions to educate the youth.
Citizens Voluntary Initiative For the City (CIVIC) Bangalore will organize competitions like debates, mimes, journal writing and more to bring awareness about human rights among the youth. The topic of the theme is 'Yuva Hakku: Bengaluru Youth for Diversity, Inclusion, and Human Rights' where competitions will be based on different themes each day starting from Dec. 1 to Dec 10.
CIVIC Bangalore comes with "Celebrating Rights" to improve India's performance in Human Rights Index as they believe people in India don't know about their human rights.
Youngsters on the other hand say they were aware of their human rights but said such events would increase awareness.
Kavya, a student from Bangalore University said, "Such competitions will help us to take decisions by ourselves. And these competitions are the way to gather different perspectives." While talking about the event, she said people in Bangalore already knew about their rights and such events would educate the ones who are not aware. This can be a way to promote awareness about human rights among the youth.
On the contrary, Olivia, a student from Christ University said, "I do not think that every youngster is aware about human rights. Most people suffer as they are not aware of their rights. If people had known about their rights this world would have been a better place all together."
Kathyayini Chamaraj, Executive Trustee at CIVIC Bangalore said, "We are concentrating on bringing awareness among young generation of the society to make them understand about the concept of human rights."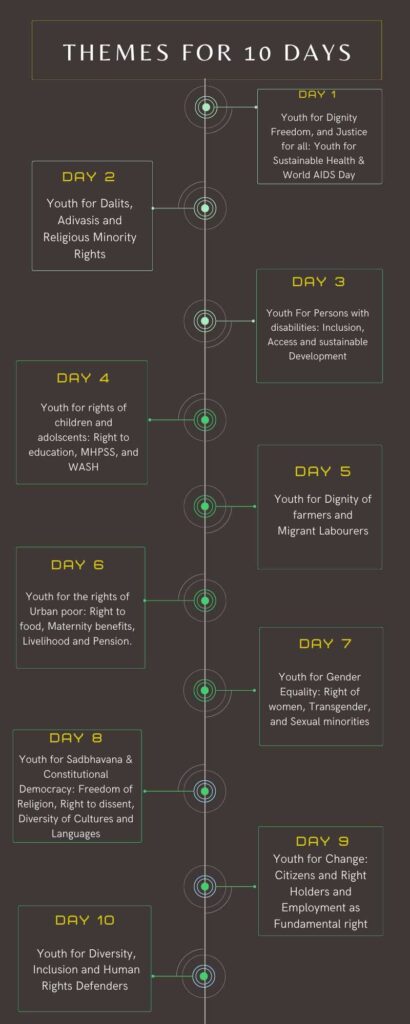 The motive of this Non-government organisation for the upcoming International Human Rights day is to educate youth to be independent thinkers.
"Our idea is to bring awareness among youth to select their own leaders during elections without being provoked by any ideologies," said Kathyayini. She believes every citizen should question the politicians and critically think about all the issues and decide for themselves.
The Human Rights Measurement Initiative (HRMI) is a measure to track human rights performance in countries. Report shows India has performed worse than average in providing social and economic rights to its citizens as compared to South Asian countries. India has also performed poorly in providing civil and political rights to its citizens as compared to 37 countries, including the UK, the US, China, South Korea, Malaysia, etc.