The completion deadline was July 2023, however, remains pending till date.
Bengaluru: Residents and commuters struggle with traffic congestion in Pulakeshi Nagar due to the delayed construction of the Mosque Road railway over bridge. The project by South Western Railways (SWR) which started in September 2022 was originally scheduled to be completed by July 2023, but remains unfinished.
Keith Mathew, a resident of Pulakeshi Nagar, said, "Railway construction has been incomplete for over a year. It's causing inconvenience during our daily commute to the office, forcing us to take alternate routes."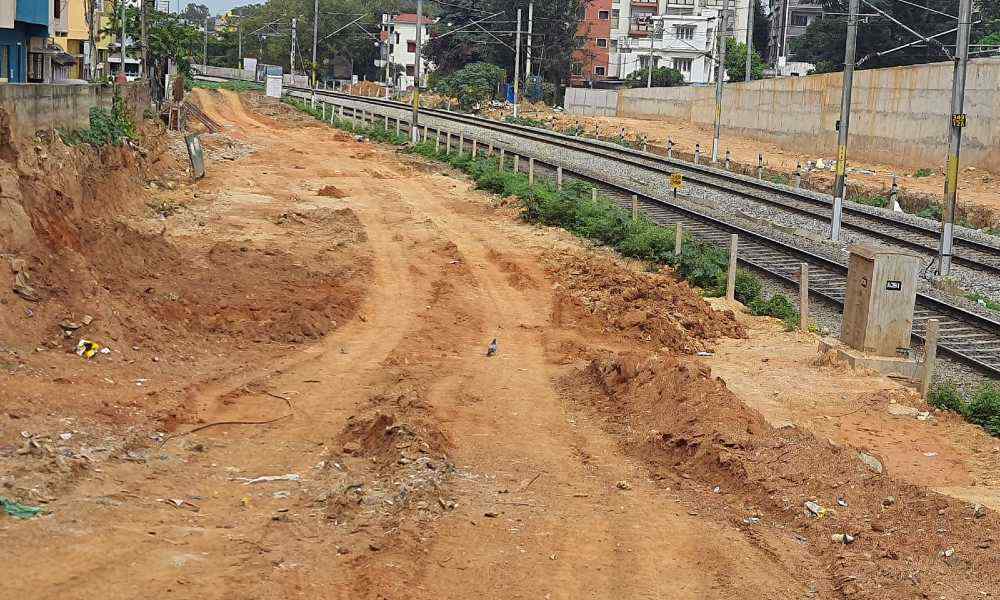 Firoz Ahmed, an auto driver, said, "The construction has led to severe traffic congestion, impacting our daily work. Additionally, the dust coming from the construction site is causing respiratory problems, affecting both us and the commuters in the area."
With the delay, the cost of the project has gone up, too. S.Ranga Reddy, the contractor in charge of the project that was initially worth Rs. 11 crore said, "The completion deadline for the bridge was July 2023, now it has been extended by two months." He also said, "The construction cost has increased to Rs 33 crore."
"Due to the rain, the construction work is currently pending. We will complete the stone pitching of the bridge within two weeks, and the bridge will be completed by November," said S. Manohar, the senior section engineer, SWR.
Rama Krishna, a civil engineer, said that construction delays occur due to various factors, one of which is inadequate funding provided to the contractor.
Rakesh V, an urban development officer, stated that a lack of proper material supply significantly delays construction projects. Poor material management can lead to either shortages or excess supplies, disrupting the construction timeline and increasing expenses.