Digitized ticketing was introduced during the Covid-19 pandemic to enable contactless ticketing. Now, it has become the bane of people who don't carry smart phones.
The digitized ticketing system at monuments protected by the Archaeological Survey of India (ASI) is discouraging visitors without smart phones. To enter the monument, a visitor has to buy a ticket online, there is no option for physical ticketing.
Many visitors at the Tipu Sultan's Summer Palace found it difficult to enter the monument because of challenges posed by the system.
Amrutha, a visitor from Chamarajpet said, "I only have cash with me, I cannot do the online payment as I don't have a smart phone." The last time she visited was four years ago when digitized ticketing was not introduced, thus she had no idea about this new process. She expressed her disappointment as she had to return without showing the palace to her friends and their children.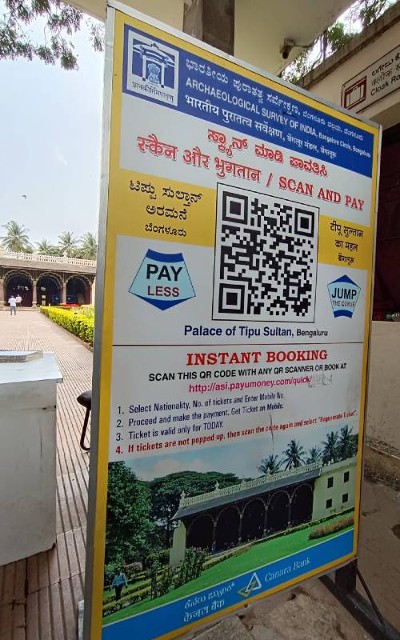 To buy the ticket, one has to scan the QR code kept by the entrance gate and enter details like date, time slot, nationality, number of visitors and their names along with identity details and phone number of any one of the visitors. The user is then redirected to a payment gateway where they can choose the platform to make the payment.
Digitised ticketing became popular during the pandemic when contactless ticketing ensured physical distancing. But even as the the pandemic eased off, ASI continues to have online ticketing without any options for physical ticketing at most of the ticketed monuments. Tipu Sultan's Summer Palace is the only ticketed monument under ASI in the city.
Aby, a tourist from Kozhikode said that though it was not challenging for him to get the digital tickets he had to wait for more than 10 minutes as only five visitors could be registered through a mobile phone and they were a group of six. "It took a long time to get tickets for all of us as we had to use two mobile phones and enter the Aadhar numbers and other details," he said.
Mary Oeie, a French citizen who works in Jaipur said that her friends from France were not able to visit the Humayun's Tomb in Delhi as they could not do online transactions in India. "I have an international bank account and an Indian mobile connection, so, I have not had this experience," she said.
Sandeep, a tourist from Nepal had a similar experience. "I have a smart phone. But I can't use my bank account to make the online payment," he said.
According to the India Inequality Report 2022: Digital Divide, published by Oxfam India, close to 40 percent of mobile subscribers in India still do not have smart phones. It said, "the likelihood of a digital payment by the richest 60 percent is four times more than the poorest 40 percent in India."
Muninarasaiah, an employee at the Tipu Sultan Palace said that the digitised ticketing system was introduced after Covid-19 and though network problems are rare, there have been instances where people who are unable to get the digitised tickets get into minor arguments with security personnel.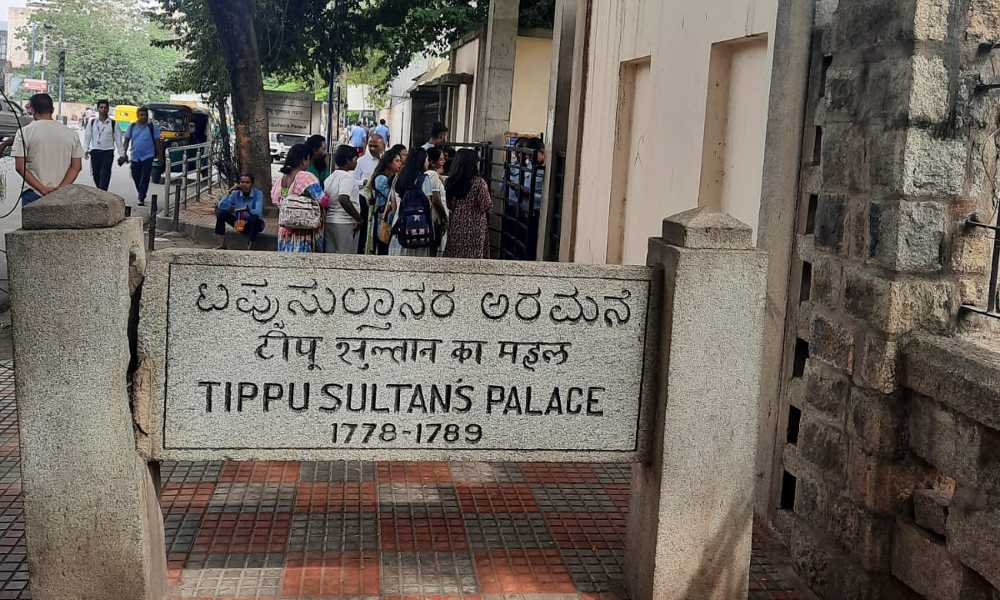 Pappu, a security staff at the Tipu Sultan Palace said that they ask people who cannot book a digitised ticket to take help from fellow visitors.
Isha Chouksey, an architectural historian said: "I feel at this point both digital and cash modes of payment should be available. It is true that a lot many people face difficulty to access the sites otherwise." She also said that digitised ticketing might help the ASI to cut human resources costs.
An ASI spokesperson from the ASI Bangalore Circle, refrained from commenting on the absence of physical ticketing at monuments, saying it is a "sensitive topic."