About 90 percent of new smokers become addicted by age 25, stated a report.
E-cigarette or vaping use-associated lung injury (EVALI) is a growing concern in India, shows recent studies and reports. A study by Science Direct shows how E-cigarettes are a public health challenge in India despite the comprehensive bans.
A recent study by the Indian Council of Medical Research (ICMR) found that EVALI cases are on the rise in India, with most cases reported among young adults aged 18 to35 years. The study also found that EVALI cases are often misdiagnosed or undiagnosed, leading to delayed or inadequate treatment. This highlights the need for increased awareness among healthcare professionals, as well as the general public, about the risks associated with e-cigarette use, stated the Science Direct study.
EVALI is a condition where the inhalation of e-cigarette vapour causes lung damage and inflammation, leading to symptoms such as shortness of breath, chest pain, coughing, and fever. The rise of EVALI cases in India is a significant health challenge, especially for youth who are increasingly turning to e-cigarettes— perceived as safer alternatives to traditional tobacco products— which they are not say medical professionals.
While e-cigarettes have been marketed as a safer alternative to smoking, research has shown that they can still be harmful to health, especially for teenagers. The chemicals in e-cigarette aerosols can damage the lungs and lead to a range of health problems, including EVALI.
A vape user, said that he did not know vaping was injurious to health and sometimes he finds it difficult to breathe. "I also have wheezing and I think vaping triggers it sometimes so I have stopped vaping."
E-cigarettes are battery-powered devices that heat a liquid solution containing nicotine, flavourings, and other chemicals to create an aerosol, which is then inhaled into the lungs, explained a medical professional.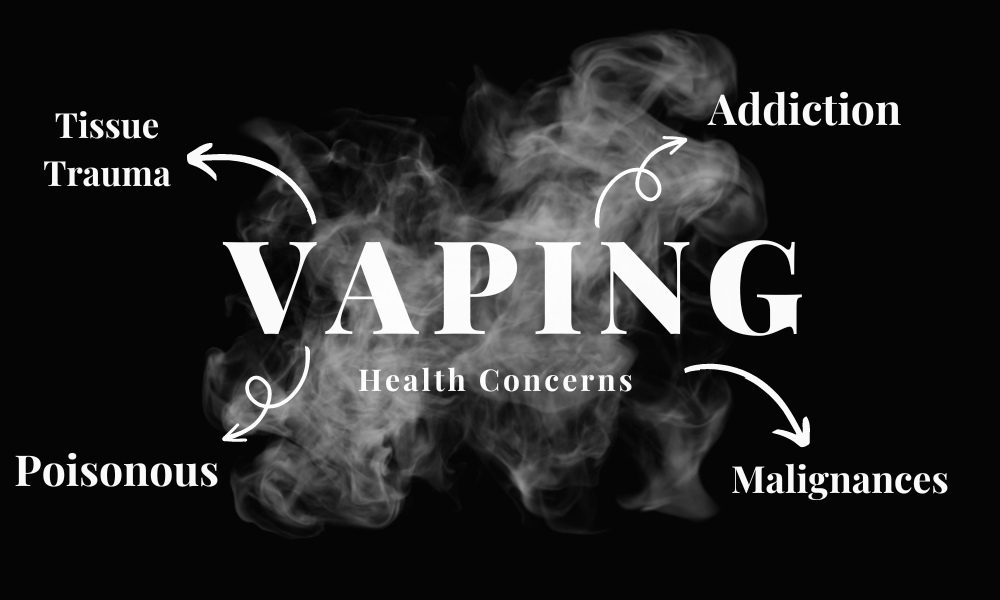 The rise in EVALI cases in India is a cause for concern, as the long-term health effects of e-cigarette use are still unknown, stated the Centers for Disease Control and Prevention (CDC).
A Global Youth Tobacco Survey conducted by the World Health Organization (WHO) reported that 5.7 percent of students in India use e-cigarettes, with the highest usage rates among students in urban areas.
A Press Information Bureau (PIB) report states the current use of tobacco among students across the country ranged from the highest in Arunachal Pradesh and Mizoram (58 percent each) to the lowest in Himachal Pradesh (1.1 percent) and Karnataka (1.2 percent).
In response to the rise of EVALI cases in India, some states have taken action to ban e-cigarettes. In September 2019, the Indian government banned the production, import, and sale of e-cigarettes, citing concerns about their impact on public health. However, some experts have criticized the ban, arguing that it may lead to an increase in the use of traditional tobacco products, which are still widely available in India.
"Given the potential health risks associated with e-cigarette use, it is important for policymakers, public health officials, and parents to raise awareness about the dangers of these devices and promote evidence-based strategies to prevent youth from using them," said Dr. Raj (name changed).
He added that this included implementing policies to regulate e-cigarettes and their marketing, as well as educating young people about the risks associated with e-cigarette use.
Global trends in smoking highlight its enormous global health toll. Global Tobacco user numbers have hit 1.3 billion this year. Data shows that smoking among teenagers aged 13 to15 has increased in more than 63 countries.
In the United States (U.S.), hundreds of cases of EVALI were reported in 2019, leading to several deaths and prompting the U.S. government to take action to regulate e-cigarettes.
The Indian e-cigarette market is growing rapidly. Indian e-cigarette market is expected to register a CAGR of 26.4 percent during 2019-2024. According to WHO, around 27 percent of the Indian population uses tobacco in some form. India's massive population makes it the largest tobacco market in the world. The report added that India is one of the only countries that have completely banned the sale of e-cigarettes.
Dr. Raj said, "To address the growing threat of EVALI and e-cigarette use among youth, more research is needed to understand the scope of the problem and develop evidence-based prevention and treatment strategies."
He said that it includes conducting studies to assess the health effects of e-cigarette use, identifying risk factors for EVALI, and developing effective public health campaigns to educate young people about the dangers of e-cigarettes. "It is also essential to work with policymakers and the e-cigarette industry to develop and implement regulations that promote the safety and well-being of young people," he added.