The Factories Bill, 2023 seeks to increase maximum shift hours from 9 hours to 12 hours while increasing overtime hours.
All India Trade Union Congress (AITUC), Centre of Indian Trade Unions (CITU) and other prominent unions across Karnataka are planning to set up a series of protests in the coming months to oppose the Factories Bill, 2023.
"The government is in line with the capitalists and is coming up with laws that make lives difficult for workers. We are coming up with many protests over this amendment in the coming months. This is just the beginning," said Tirumalaichar, Vice President, CITU, Bangalore Rural.
Rama, state committee member of All India United Trade Union Centre (AIUTUC), echoed similar sentiments. "Workers deserve better rights and lower working hours. The plan to increase the limit of shifts to 12 hours is vile and we will do everything we can to repeal it. Our first protest against this amendment took place on March 8, International Women's Day. There will be more protests in the coming weeks," she said.
The protests by the workers' unions at Freedom Park today came in the aftermath of the Karnataka Assembly passing a bill in February that asked to change the scope of how the Factory Act, 1948 will be applied to the state.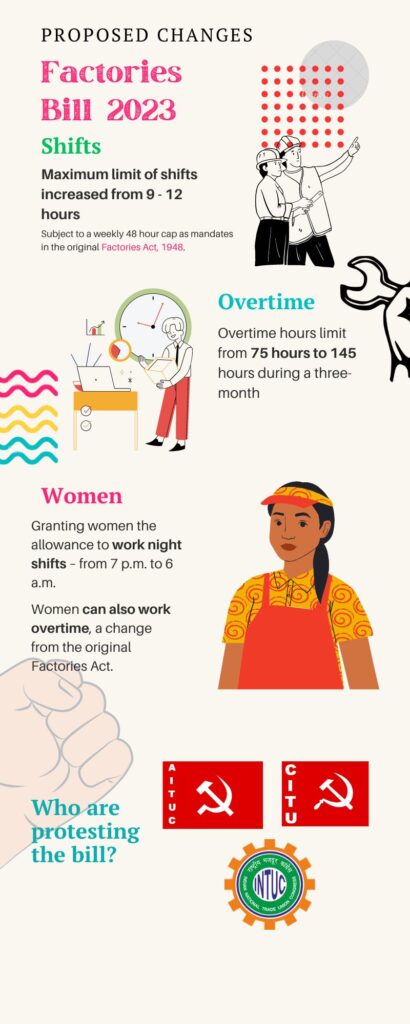 The Act dictates that workers must work a maximum of nine hours per shift and not more than 48 hours weekly. The state government has asked for a slight tweak in how the Act will be applied in Karnataka.
The bill seeks to increase the maximum limit of shifts from nine hours to 12 hours. It has also raised the overtime hours limit from 75 hours to 145 hours during a three-month period while granting women the allowance to work night shifts – from 7 p.m. to 6 a.m. All of this, however, will come under a weekly 48-hour cap, as mentioned in the original Factory Act.
Factories Bill was passed without a debate in the assembly, even though members of the opposition parties, Congress and Janata Dal (Secular) had staged a walkout in protest, reported Business Standard.
It has caused furor among the workers, too, as they gathered at Freedom Park. Dadapeer, a technician from Nelamangala—30 km away from Bangalore city—said the protest was an essential fight back against the government, who favored capitalists over workers.
A member of CITU for 12 years, Dadapeer added that there would soon be a statewide protest against this bill. "The government was very bold to pass this bill. But we will show what the workers can do," he said.
A senior officer at the Department of Factories, Boilers and Industries, who refused to be named, said that most people hold these protests without much knowledge of the subject matter.
"Employers will be allowed to work 12-hour shifts only in certain cases. It is not mandatory and existing labor laws will still be there, with a maximum of 48 hours weekly," he said.
The officer further added that the bill is also more about equality than anything else. "In the Factory Act, women are not allowed to work overtime. But now that has changed. If men are allowed to work overtime and earn more money then why not women? This was the reasoning behind this bill," he said. "Workers and management will always be at loggerheads."
"Some jobs are based on systems that require people to be available at all times, otherwise they collapse. These jobs may require longer shifts than most jobs," said Advocate Vinay Mishra, a labor law expert.
"But that does not excuse the government, who are being pressurized by the Employers' unions and Multi-National Corporations (MNCs) to come up with these bills. The workers should always fight for their rights," he added.
The protests come just a day after Karnataka approved Foxconn, the Apple manufacturer's Rs. 8,000 crores mobile manufacturing unit plan near Bengaluru. The government claims that the project will create 50,000 jobs.