Student's choices and opinions regarding vocational courses should be considered at the top while implementing the scheme, says official.
Even if you are passionate about painting, photography, or are interested in makeup and hairstyling, not every government school offers such courses to you. Only 1.86 percent of government and government aided schools in Karnataka offer a few vocational courses along with core subjects. A press release by the Ministry of Education clearly states under the National Skill Quality Framework (NSQF) compliant vocational courses should be offered to the students from 9th grade to 12th grade. At the senior secondary level, vocational courses should be offered as compulsory (elective) subjects.
Lata Kotemath, Program Officer for Vocational Courses at Samagra Shiksha Abhiyan said, "We face many challenges while implementing this scheme. One of the major challenges is, we are not looking for student's interest which is the utmost thing to be taken care of. Since, we can't ask every child and every student will have different interests, we cannot bring a lot of vocational courses in one school."
Swaroopa, a student of 10th grade at Vani Vilas Girls School said, "I love sketching and painting. In my primary school, we had classes for art and craft till fifth standard. But I want to pursue that after my school. But our school does not offer art and craft classes. Currently, we are taught only the core subjects like Hindi, English, Kannada, Science, Maths, and Social Science."
As per the report on Unified District Information System for Education (UDISE+) by Ministry of Education Department, out of almost 11,000 government and government aided secondary and higher secondary schools, only 200 schools have vocational courses in Karnataka under NSQF and only almost 12,000 enrolled under NSQF at secondary/higher secondary level.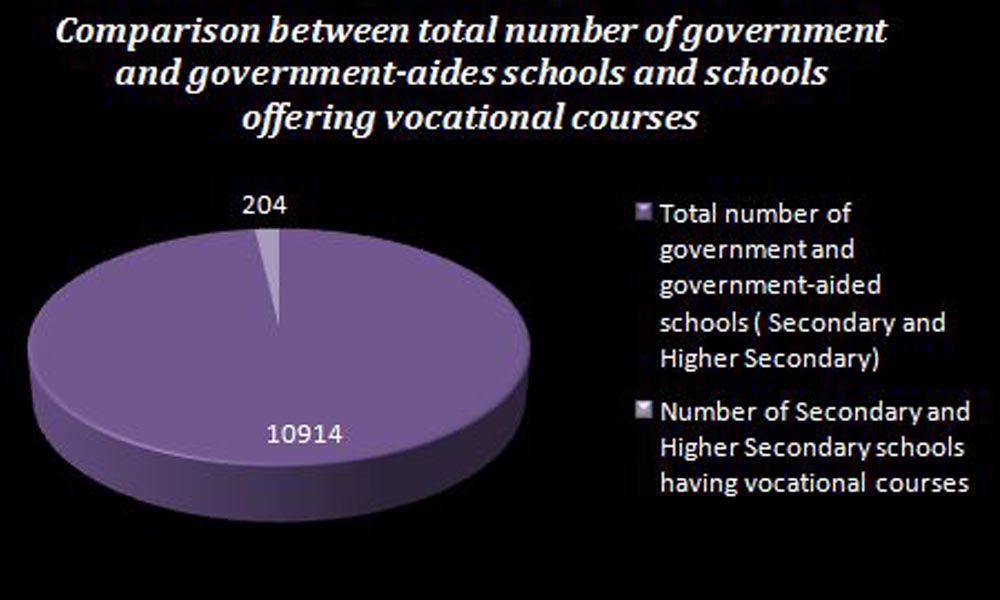 Kavita, Vice Principal at Vani Vilas High School said, "No, we don't offer vocational courses here. Our school offers science, commerce, and arts subjects only, and we are not even planning to bring it in our curriculum as of now because I don't think students are even interested in opting for vocational courses."
While, Mala, Principal at Karnataka Public School, Basavanagudi said, "We offer two vocational courses in our school; Information Technology (IT) and Beauty and Wellness course (BW). After 2015, we started offering vocational courses, unlike earlier when we used to have only science, commerce, and arts."
She added, "In 9th grade, we have 25 students each in IT class and beauty and wellness class, and in 10th grade, we have 19 students in IT class, whereas 11 in beauty and wellness class. We have one classroom for IT, that is a computer lab which has 30 computers in total and a separate well-equipped lab for beauty and wellness."
Lata further said, "Not every high school and higher secondary schools have vocational courses. Since the scheme is managed by the Ministry of Education, they ask us for the proposals of vocational courses in different government and government aided schools. Last month, we gave a proposal to set up vocational courses in 100 more schools for this year and are waiting for their minutes of meeting now."
Lata while explaining the challenges added, "Another challenge is deployment of trainers. We don't get qualified trainers who can provide quality education for these courses. It will take some more time for the scheme to work effectively. Also, the funds which get released are very less for implementing this scheme."
The schools are selected very randomly. Lata continued explaining, "Even the schools are not aware of which sector they should choose for vocational courses. The schools should be chosen on the basis of industries located near the schools, so that the children get enough practical knowledge. But, if we ask the headmasters of these schools, they are not even aware about such things, and they apply for vocational courses without a thought. We need them to do internships and go for field visits. But for example, in villages, some of the schools have these courses but students have limited knowledge since they are not getting exposed to practical experience."
Saniya, a student of 10th grade at Karnataka Public School, Basavanagudi said, "I don't have a computer at home, but I learn it here. I like to work on the computer, and it is my favourite subject. We have IT classes regularly where they teach us messaging, setting up meetings, and other basic functions."
G. Naganna, Principal at Karnataka Pre-University College, Basavanagudi said, "In our school, we offer only arts, commerce, and science courses for the students of eighth to tenth class. No such vocational courses are being taught here."
Mala said, "Students are given choices between Urdu, Hindi, IT, and beauty and wellness, they can choose any one out of these subjects. Hence, it is not compulsory for everyone to enrol for vocational subjects. Since they opt for it with their choice, we see a lot of passion in these students."