Chinnaswamy Stadium has been tipped to host the event on Dec. 17 after talks between BCAI and KSCA.
Cricket Association of Blind in India (CBAI) and Karnataka State Cricket Association (KSCA) are set to finalise Chinnaswamy Stadium as the venue for the upcoming Blind Cricket T20 World Cup final.
"We have selected Chinnaswamy as our desired venue for the final," said BCAI Senior Advisor D.T Kumar, who was present at KSCA's recent Annual General Meeting (AGM) on Nov. 20.
Blind Cricket is generally conducted with a different set of rules, including underarm bowling. Teams are allowed to have four partially sighted players (B3), three players (B2) who are partially blind and four completely blind players (B1). The classification of the visually impaired parameters are dictated by the paralympic classifications.
The third edition of the Blind Cricket T20 World Cup will be hosted in India on Dec 6. Seven nations, including Australia and Pakistan, will take part in the competition. The Indian team, eyeing its third consecutive triumph, will be led by Ajay Kumar Reddy of Andhra Pradesh.
The final competition is likely to be hosted at the Chinnaswamy Stadium in Bengaluru. Senior advisor of BCAI, D T Kumar, has pointed out that even though the city was always earmarked as the final venue, there is yet to be a confirmation due to prolonged discussions with KSCA.
"The Blind Cricket World Cup had not set a venue for the final competition because of various reasons. We are still having final discussions as there is a Ranji Trophy game that will also be held in December. There was also a recent change in KSCA hierarchy, which played a part," he said.
However, with the KSCA completing its staff overhaul following the departure of Roger Binny, D T Kumar backed Bengaluru as the final venue. "We have spoken to the new management. The Ranji Trophy game also does not completely clash with the final of the Blind Cricket World Cup, so we are assured that Chinnaswamy will host the finals. We will not be happy and satisfied with anything less than that," he said.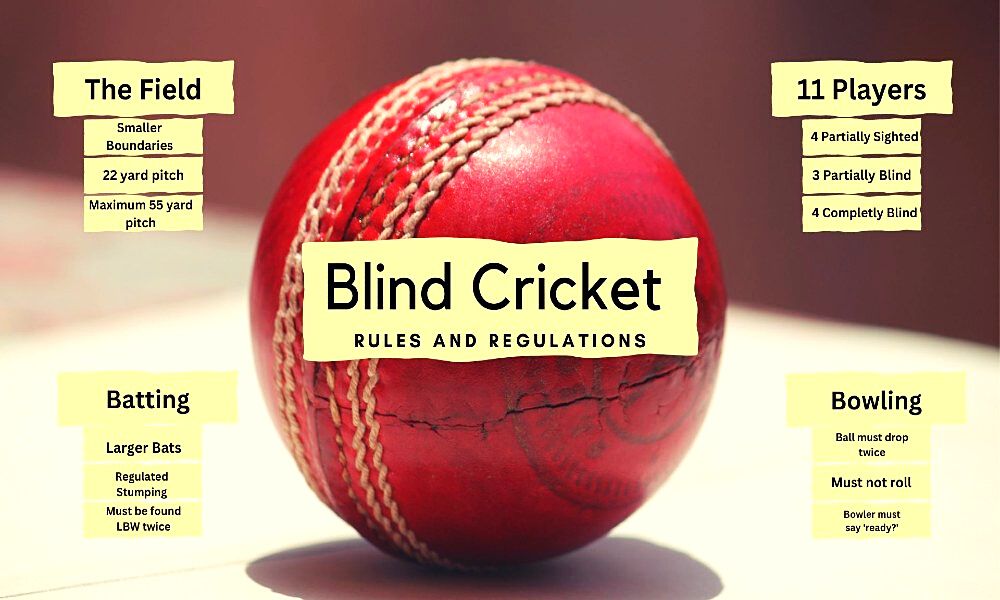 While the traditional idea of the Blind Cricket World Cup began in 1998, the competition started to have its T20 iteration in 2012. Since then, two 20-over Blind Cricket World Cups have been organised. India and Pakistan have met in the final on the previous two editions, with India triumphing on both occasions.
Shankar, Secretary of KSCA, confirmed the talks with BCAI over Chinnaswamy hosting the Blind Cricket World Cup final. "Yes, the BCAI had approached us for hosting the Blind Cricket World Cup final at Chinnaswamy. We are discussing with them and BCCI on the matter. The talks got delayed due to the recent elections at KSCA."
Suchindra Shinde, a former Ranji player for Karnataka, is also looking forward to the event. "I think the Blind Cricket World Cup is an excellent initiative. As someone belonging to the mainstream cricketing sector, I really do admire the visually challenged players for the way they stay strong and take part in this game. If the final gets hosted in Bengaluru, I will definitely come, along with the rest of my fraternity. It is the least we can do for these brave athletes."
Yere Goud, a former coach of the Karnataka Ranji Trophy team, has backed the Indian team to lift the trophy once again. "Those boys should be commended as heroes. Despite their challenges, they have dominated the Blind Cricket scene for a while. And I am confident they will lift the title once again, for the third time in a row."