FIFA World Cup: Leading goal scorers 1930-2018
By Sai Aravindh
In the 2006 Fifa world cup in Germany, Miroslav Klose scored 16 goals, highest by a player in a single world cup. This is followed by C. Ronaldo, by scoring a total of 15 goals in the 2018 Brazil World cup. 
---
Total attendance in FIFA world cup
By Janvi Goel
FIFA world cup attended by total number of people from the year 1970 to 2018.
---
FIFA Operational expenses
By Aanchal.k
A budget of 322 million U.S dollar was set for the operational expenses of the event, however, the International Federation of Association Football(FIFA) is predicting the expenditure near to 1.7 U.S dollars.
Source- Statista 
---
Prize money in FIFA: 1982-2018
By Navya Sruthi
The last FIFA championship was won by Russia in 2018, with $791 million as cash prize. However, the reports show that the cash prize for FIFA 2022 is around $200 million.
Source: Statista.com
---
Winners of FIFA World Cup from 2002 to 2018
By Anuja Mistry
In 2002, the FIFA World Cup that took place in International Stadium in Japan, Brazil triumphed 2-0. It was followed by Germany and Turkey. In the last FIFA World Cup of 2018, hosted by Russia in Luzhiniki Stadium, France conquered the trophy with 4-0. Followed by Croatia and Belgium as runner ups and third place, respectively.
Source: Decathlon
---
2022 FIFA World Cup Qatar stadium capacities
By Deepali 
The FIFA World Cup 2022 being held in Qatar is the first World Cup being hosted in the Arab states. It is the second World Cup in Asia after the 2002 World Cup jointly hosted by South Korea and Japan.The Lusail Stadium, in Qatar which is hosting the final of the tournament, is the largest of the eight stadiums, with a capacity to accommodate roughly 80 thousand people.
Source : fifa.com
---
World's Highest-Paid Football Players of 2022
By Shreya Chekkilla
Caption: Overall, the highest-paid footballer in 2022 is Kylian Mbappé, with $128 million earnings. He also earns the highest amount i.e., $110 million, for on-field activities. And though Cristiano Ronaldo is at third place with $100 million total earnings, he is the highest-paid footballer for off-field activities like endorsements, with $60 million.
Source: Forbes
---
Sponsorship spending for FIFA 2022-11-22
By Sneha SK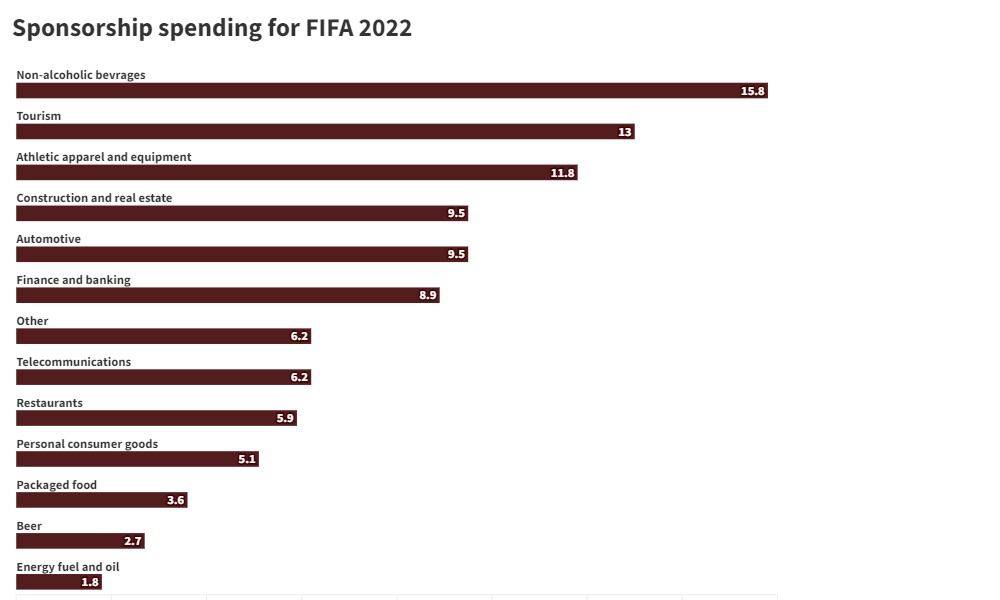 This year for the FIFA World Cup, sponsors include Ed-tech companies like Byjus, Adidas, Budweiser beer and McDonalds. Most of the sponsors this year are non-alcoholic beverage companies as beer and other alcohol was banned at stadiums.
Source: Statista
---
Most successful teams in FIFA World Cup
By Ajay Rag
Several countries have dominated FIFA World Cups throughout the history. Brazil is the most successful team so far with five titles to their name. Apart from them, Germany, Italy, Argentina, and France are other successful teams to play the tournament. 
Source: Khelnow
---
Top five teams in FIFA with highest points
By Yogada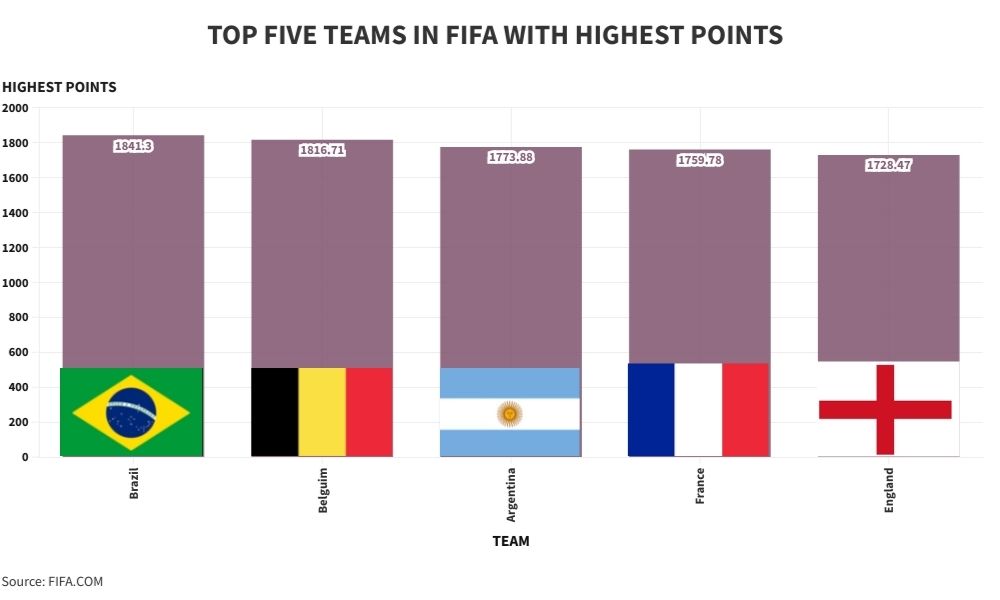 Brazil tops the list of team with highest points with 1841.30. Other teams that follow brazil are Belguim with 1816.71, Argentina with 1773.88, France with 1759.78 and England with 1728.47.
Source- Fifa.com
---
Amount Countries Have Spent Hosting FIFA Since 1994
By Shireen
Qatar's $300 billion spent hosting the FIFA has seen some confusion. In short, the amount officially given by Qatar includes preparations for the World Cup such as developing highways, hotels, stadiums, and even recreation centres. Within the amount, $10 billion has been spent on accommodations for the players.
Source: Business Today
---
Top 10 FIFA World Cup matches of all time
By Rakshanda Sharma
Football is the most followed sport across the globe and the 2022 FIFA season has already begun. Here are the Top 10 FIFA world cup matches of all time.
Source: Sillyseason
---
Top ten most followed footballers on Instagram
By Aditi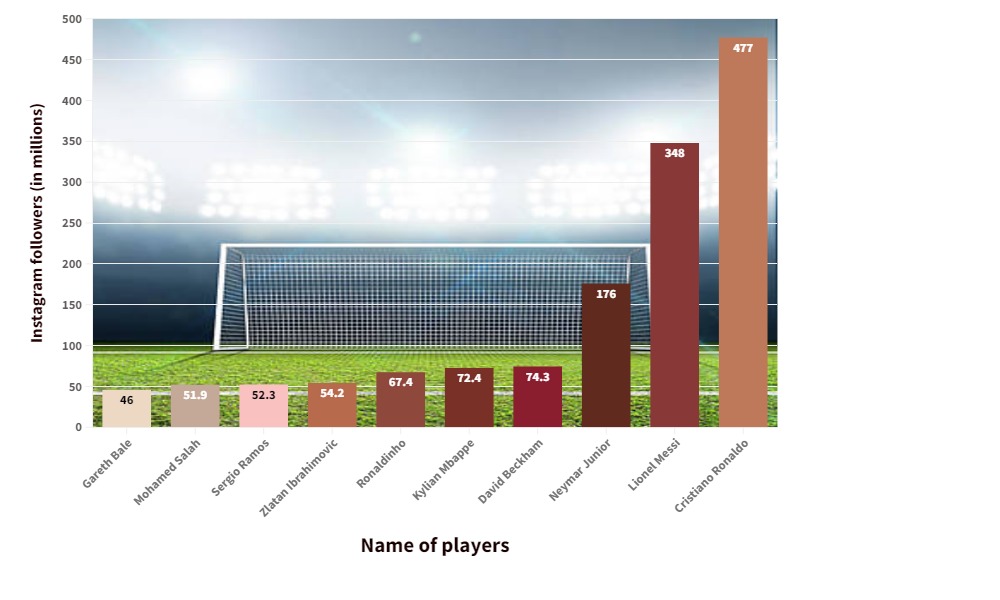 Football players have a huge fan following across the world on Instagram.  Cristiano Ronaldo tops the list of maximum followers on Instagram with 477 million followers.
Source: Khel Now
---
Famous FIFA opening performers
By M. Surabhi
FIFA World Cup opening performer for the last nine FIFA's-2022, 2018, 2014, 2010, 2006, 2002, 1998, and in 1994
Source-Wikipedia and News Articles