More than 600 florists at Wilson Garden are facing a loss. The BBMP sealed the shops of the florists and High court of Karnataka directed them to be shut down completely.
More than 100 wholesale flower shops at Wilson Garden were asked shut down by the Bruhat Bengaluru Mahanagara Palike (BBMP) on Nov 7, 2022 because they were running their business in a residential area, unauthorised for non-commercial purposes. The High court of Karnataka on Nov 9, 2022 ordered the residential area to be cleared after hearing a Public Interest Litigation (PIL) filed by the Wilson Garden Residents' Welfare Association.
Jay Gadhi flowers is a wholesale dealer with a trade licence to operate but they were told to vacate said Jeevan, , manager at Jay Gadhi Flowers. He also said, "We are not able to pay salaries to 14 of our staff members as we are suffering a huge loss. The sales in a month would be around Rs.60 to 80 lakh but now, we are suffering a loss of Rs.25 to 30 lakh, since the place was told to shut down."
He said BBMP came one day and sealed the whole place without warning. "All our produce was locked inside, then they came after five days and opened it. All our flowers went bad and we suffered a huge loss." He added they have given them time till Nov. 20 to shift their business.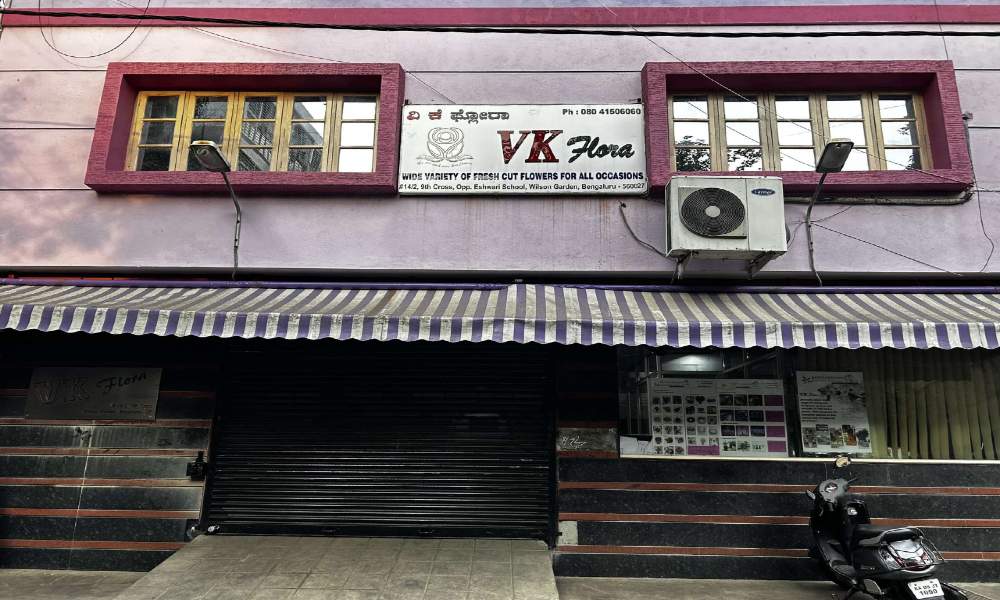 Anish(name changed), resident of Wilson Garden, said, "It was so disturbing in the morning as the flowers wrapped in plastic wrappers would make so much noise. They would park their vehicles in front of our gates and it would cause problem in movement."
Jeevan said that this was the biggest market for cut flowers. The approximate 108 flower vendors supply to events in city and to other states like Tamil Nadu, Andhra Pradesh, Delhi and Bombay. Jayaram a farmer from Anekal said "We had to throw away so many flowers. The market in Wilson Garden would give us good price for our produce. Now other customers are saying that the flowers are not of good quality they can get it at a cheap price." He added that there were a thousand other farmers like him who were affected by this decision."
Jayaram said,"I have suffered a loss of Rs.25 lakhs in sales from regular sales of Rs.30 lakhs since this issue. I also have to pay for labour, electricity bill, water bill and other costs that are involved while farming."
Vijay Mogaveera, an accountant at Roma Flowers said, "200 to 300 flowers is wasted everyday compared to the five to ten bunches before the place was announced to be vacated. We grow these flowers in our farms so we have no choice but to get them here and hope our buyers buy them." He added that now that the people and the buyers know that this place is sealed, they don't even come here or give them orders as their name cannot come in the bill "So we are losing Rs.2 lakhs on a daily basis."
Chandru, at Windsor Fresh Flowers said, "Farmers are suffering the most as their produce is getting wasted. Flowers stay fresh only up to two days they have to be cut and sold, but now the sale is less as no one is buying them."
Trade licences were issued in 2018 by the BBMP to six florists to operate their business. The process of cancelling the licence in a residential area has been initiated stated the advocate appearing for BBMP during the hearing in the High Court of Karnataka on the November 9.
Rajender Kumar Kataria, Principal Secretary, Horticulture Department, said, "Farmers are not really going to get affected as we have the IFAB market. It is an international flower exhibition centre where they were offered to sell their cut flowers and flowers with longer life can be sold to the overseas market. It's not an established market but for a wholesale business it's good enough. We are also identifying a place to establish a permanent market."
"The flowers that come here are negligible because a lot of big procuring agents have flowers lifted from the farm gate itself, so I don't foresee any major impact on the farmers and the farmers are generally happy," Kataria added.
The florists, however, have other problems while moving. Jeevan said "The prices of commercial shops are very high, but now that they know we need to immediately shift our business they are asking us three times more than the original rent value. They are also taking Rs.15 lakh as an advance deposit for such a small place."
The florists also feared losing their customers as the wedding season is approaching and customers might not be able to find them.
Prof.Chaita.K, Urban planning expert, said, "Nowadays, there are areas where there is a combination of residential and commercial spaces like Malleshwaram and Gandhi Nagar which once were entirely residential areas." She also said if such establishments are allowed to operate, they must follow bye-laws. Like vehicles or trucks should enter after 10 for loading or unloading. This would help in ensuring that the peace of the neighbourhood is not disturbed.
Bangalore Mahanagara Palike Building Bye-Laws 2003 states 'commercial building' means a building or part of a building, which is used as shops, and/or market for display and sale of merchandise either wholesale or retail, building used for transaction of business or the keeping of accounts, records for similar purpose.