Not all potters are able to register themselves for government schemes and its benefits.
Pottery sellers in Pottery Town face difficulties in registering for benefits under Khadi and Village Industries Commission (KVIC) schemes. Bangalore's Pradhan Mantri Employment Generation Programme (PMEGP) performance report registered with Khadi and Village Industries Board (KVIB) shows that from April 1, 2022 to November 22, 2022, out of 122 project applications for PMEGP loan three applications are from potters, all of which are under process and awaiting disbursement.
N. Goverdhana, a pottery seller in Pottery Town said that opting for loans under government schemes like PMEGP is difficult, especially when it comes to documentation. "The banks in which we apply for the loans provided by the government, ask us for a series of documents like GST number, Aadhaar card, PAN card, project report, rural area certificate, education or skill development training certificate, and authorization letter. We do not have all of these documents as we own a very small business. Getting Goods and Services Tax Identification Number (GSTIN) is difficult for us," he added.
In the post pandemic period, running pottery business without government support has brought several challenges for pottery sellers. "In 2018-19, we had a good sale of around Rs. 50,000 during Diwali, but since then the business has been in loss. This year we have not even sold 15 percent of the stock that we have, and were only able to earn around Rs. 15,000 during this Diwali," said Goverdhana.
Shrikrishna Bhat, a potter and owner of medium enterprise in N. Nagenahalli said that he had to incur loss of around 70 percent in 2020-21 as compared to 2018 and 19. However, getting loan for him was not a tedious task as compared to N. Goverdhana. "Opting for loans under KVIC is not difficult if you have the right sources and facilities. The KVIC sanctions almost all loan applications but if something comes up in bank scrutiny it can become difficult if you do not have adequate documents," he added. Shrikrishna said that it was easy for him to avail the loan because he has a Chartered Accountant to deal with his finances. Pushpalatha, Chief Manager of PMEGP Cell in State Bank of India (SBI) bank said, "Under KVIC scheme, the maximum loan that we provide to the applicants is Rs. 50 lakhs. There is no age bar to apply for the loan. However, the minimum education required is eighth standard." She added that once the applicant has applied for PMEGP loan on e-portal of KVIC with their respective bank, the bank scrutinizes all the documents submitted by the applicant within 15 days from the date of application. KVIB then ensures all the documents are correct and then sanctions the loans."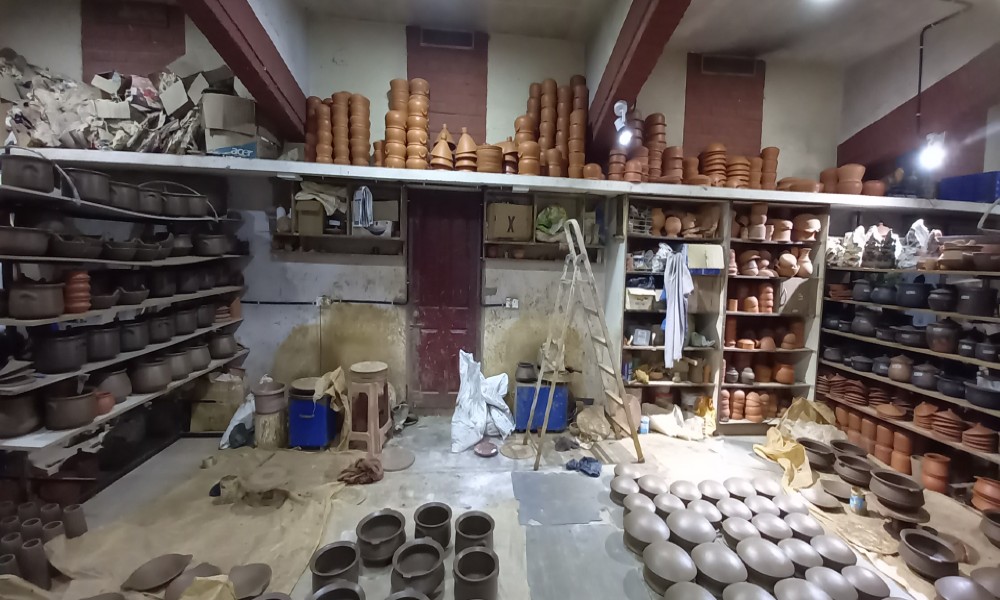 "KVIC has made its registration portal online since 2016, everything from registration, annual reports, audits, and all the information about the updates of the data is available on KVIC and PMEGP e-portal," said P.Raghvendra Adiga, Development Officer in KVIB.
Sonam Arora, Economics Professor at a local school in Meerut said, "Schemes like KVIC are not much helpful as these schemes are available on online portals and a big number of potters in India are either not literate or aware about these benefits." She said that by making the procedure easy, the banks can help the potters to some extent.
"Everyone today uses a smartphone; it must not be difficult for the applicants to register themselves online. And even if they don't have a smartphone they can go to a computer café to register themselves," said P. Raghvendra Adiga.
"Sometimes when the loan applicant is unableto register for loans by themselves, the bank employees help them out to apply for the loan," added Pushpalatha. Sonam Arora said that the state can help potters in overcoming the challenges of getting loans and subsidies. Some officials can be appointed specifically to help the potters to spread awareness and to help the potters and other applicants with the requirements of an online application.
"Financial support to run a business like pottery is essential," said Shrikrishna Bhat who has received PMEGP loan of Rs. 25 lakhs. He said that he has used the disbursed amount to buy the machinery for compressing and baking clay. It has helped him in manufacturing pottery products at a higher quantity. This has helped him in growing his business faster. He said, "PMEGP under KVIC scheme provides loan for machinery, working capital, raw material and your own investment. Investing on your own especially in business like pottery is difficult."
Shrikrishna Bhat said, "Online business has its own advantages and shortcomings. We are able to reach many NRIs residing overseas but shipping them the delicate items made of terracotta material is a biggest challenge for us due to its cost and risk of damage." However, going online is still difficult for potters like N. Goverdhana who has not yet been able to benefit from the KVIC scheme. He said, "We are not well equipped with the online selling nor do we have much knowledge about it. Even if we try and sell our products online, if they get damaged on the way the customer will send the broken item to us and we will have to provide them with replacement for free which takes more money than what goes in making the products."
N. Goverdhana said that even getting a GSTIN number is difficult for potters like him as they do not know whom to approach. "The state can form a committee where the potters of a particular region would be under the guidance of such committee. Through which the potters in need can get all the information and get help to improve their business," said Sonam Arora.
P. Raghvendra Adiga said that the KVIB has been given the target of providing PMEGP loans to 10,500 applicants by the end of this year and till now the KVIB has sanctioned 10,340 loans all over Karnataka. According to the PMEGP performance report from April 1, 2022 to November 22, 2022, PMEGP loans for 11,092 projects have been forwarded by KVIC and KVIB to the respective banks of the applicants. Of these, loans for 1,907 projects have been sanctioned by banks and loans for 1,344 projects have been disbursed while loans for 297 projects are pending.
"If the schemes under KVIC are available in offline mode as well, either from a bank or a government body, it would be beneficial to cover almost all potters," Prof Sonam Arora added.