Despite being banned by the government, petrol bunks continue to sell petrol in plastic bottles and containers.
Though it is illegal, petrol is still being sold in plastic containers or bottles in Bengaluru. Most of the public does not know that it is banned, hence they continue to approach the local petrol bunks with empty bottles.
The Petroleum Act of 1934 states that petrol can only be sold in containers made of glass, stoneware or metal. People who have a purchasing license for petrol are the only ones that can buy petrol in containers made out of the approved materials. Selling or storing petrol in plastic containers of any size or shape is strictly prohibited.
Arjun, an employee at a petrol bunk on Kasturba Road, said, "We only do it if it is an emergency." He said that he knows that they do not have permission to sell petrol in bottles but the customers are not aware of the ban. They only sell it if it is an emergency and the customer has no other option. Like when someone's vehicle runs out of petrol in the middle of the road and the petrol bunk is too far away to push their vehicle there. He added that only one or two people come to them with empty bottles in a day.
At another petrol bunk on Nrupathunga Road, Dharmappa has been selling petrol in bottles for many years. He said that they regularly get customers who want to have extra petrol on hand. He said, "We do not provide bottles here. However, if anyone approaches us with their own bottle, then we fill it up for them." He said that sometimes people run out of petrol in the middle of the road, so they have no other choice but to get petrol in a container. He added that they do not charge extra money for it.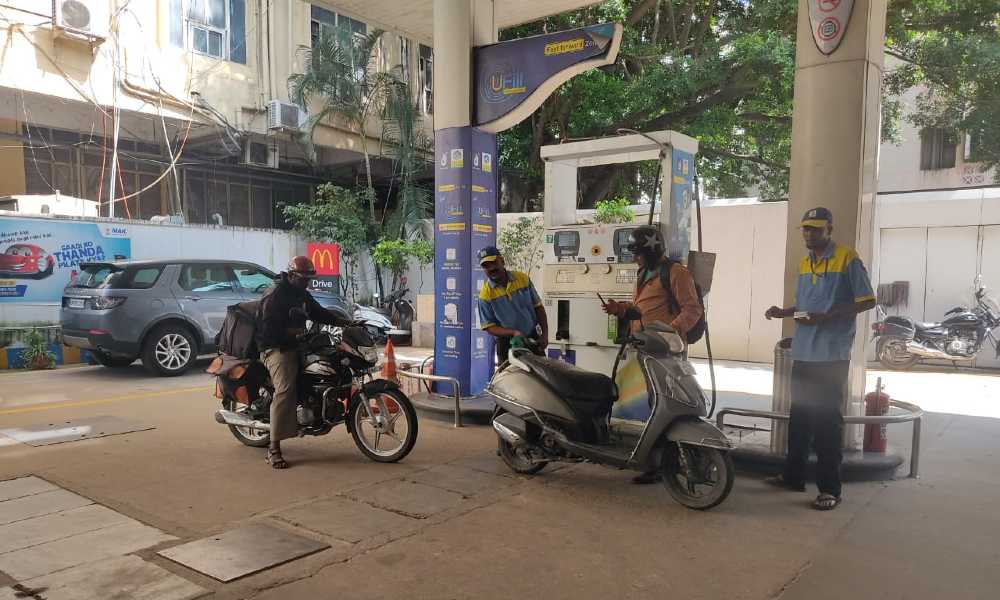 The police department had warned all petrol bunks in the city against selling petrol in bottles in 2019. They had issued memos to all the bunks across the city. This was done after the accused in the Hyderabad rape-murder case were found to have set the victim's body on fire with petrol that was filled in bottles. They had purchased it from a nearby petrol bunk and used it to cover up their crimes.
An officer from the Cubbon Park Police Station said, "There are rules in place that ban the sale of loose petrol, but many bunks continue selling it." He said that whenever someone gets caught selling petrol in bottles, the owners and workers at that particular bunk will be punished. They will lose their petrol license and will be jailed. He added that the customer will not be punished, unless they intend to or actually use the loose petrol for illegal activities.
The manager at a petrol bunk near Cubbon Park said that they used to sell petrol in bottles a few months ago. But they had received a warning from the police department to stop the sale of loose petrol. So, they do not do it anymore. He added, "We turn away many people who really need petrol as their cars or bikes have stopped running."
Pranav, a final year engineering student, said that some people still need loose petrol in emergencies, like when their car runs out of petrol in the middle of nowhere. And most people are not aware of the restrictions anyway so they do not think they are doing anything wrong. He said that there is a fuel delivery service provided by many companies that is available all over the country. He added, "I have tried those companies a few times, they deliver petrol to you wherever you are. They also provide other services like towing, battery jump-start, etc."
Advocate Rajesh, a criminal lawyer, said, "The police personnel in our city are not enough to keep track of all the petrol bunks." The petrol bunk owners have to take the law seriously and cooperate with the police to stop this from happening. He said that people will continue to buy petrol in bottles as they are not aware that it is illegal. "There should be awareness programs to educate people about the basic laws so that they know what is legal and what is illegal," he added.