While some pourakarmikas received this monthly allowance every alternate month since July 2022, some are completely unaware of its existence.
A hardship allowance of Rs 2000 for pourakarmikas was announced in the Karnataka 2022-23 budget speech.The financial assistance was supposed to start from July, along with the monthly salary of the pourakarmikas. However, pourakarmikas in some Bruhat Bengaluru Mahanagara Palike (BBMP) wards have not received this allowance, while others have received it for three out of the five months since this initiative began.
Pankaj (name changed), in-charge of a ward in north Bengaluru, said, "I did not know about the allowance, nobody told us. I found out when I checked my salary in July because I saw Rs 2000 extra. I thought it was some bonus, but when I asked my senior they told me about the allowance. Then suddenly I did not get the allowance with the monthly salary." Without the hardship allowance, his monthly salary is Rs 14,000.
"Rs 2000 is a good amount if everyone receives it. This is the only way to make it really beneficial for a pourakarmika. The hardship allowance is well deserved as they work hard overcoming harsh weather and other issues to keep the city clean," said an employee from the Labour Rights Foram, an NGO.
Pankaj said, "We do not get the big brooms and have to use the small ones to clean long roads. We do not even get a garbage collecting trolley. We are also blamed by the garbage truck drivers for putting the trash in any bag we can find." He added that there wasn't anything else they could do. So he thinks the hardship allowances is a good and useful initiative.
BBMP has 198 wards under its supervision and 18,500 pourakarmikas as recorded by the BBMP official website. It also shows that BBMP has more than 1700 pourakarmikas under the direct payment of the Urban Local Bodies (ULB) who are carry out cleaning of public places like streets, roads and other such places.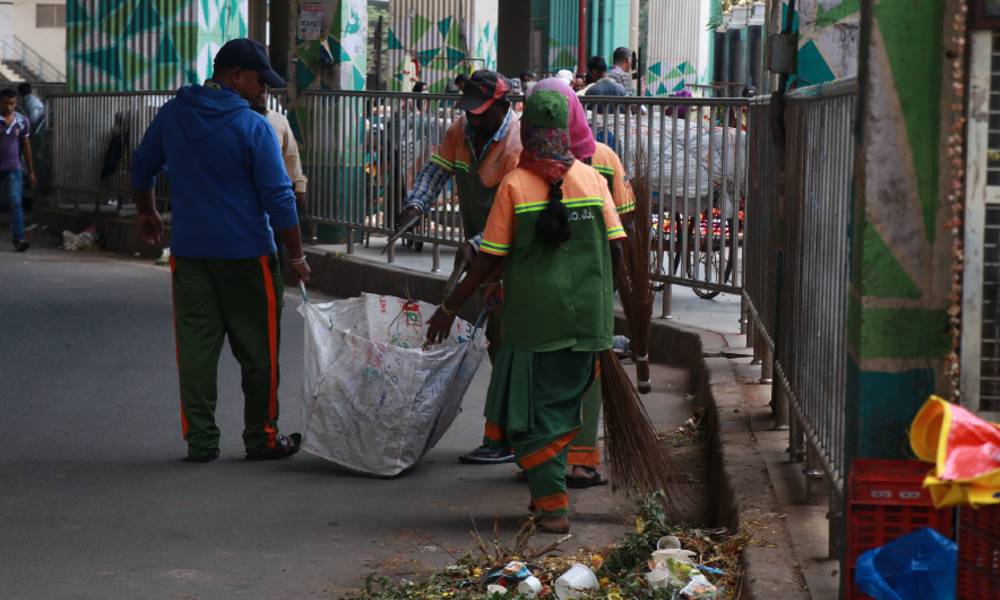 Basavaraj Bommai, the Chief Minister of Karnataka, in an article by The Print said, "The Pourakarmikas are working under very pathetic conditions. Realising their plight, I had announced Rs 2000 monthly hardship allowance for them in the budget."
Pourakarmikas who are also known as safaikaramcharis, work from 6 am to 2:30 pm. Pourakarmikas claim that for each day they miss work, about Rs. 500 – Rs 800 is deducted from their total monthly salary. BBMP uses biometric systems installed in each ward office to monitor attendance. Attendance is taken three times a day.
Radha (name changed) a pourakarmika from the Vasanthnagar ward, said, "They said they will give Rs 12,000 plus the extra Rs 2000 as part of the new allowance but I did not receive any extra money." Her monthly salary is Rs 12,400 but she usually receives Rs 8,000-10,000 as she misses work due to issues at home.
Dr Chandrashekar, a sociology professor at The National Law College said, "It is a small incentive. There are two categories of employment of a pourakarmika in Bangalore –Direct employment under BBMP, and contractor based. Contractors do not usually pay the workers; for example, they never pay provident fund. Many pourakarmikas do not even know about this Rs 2000."
He added that the workers asked for permanent jobs and this scheme is just diverting them from dealing with the real issue of low payment and job security. A permanent pourakarmika under direct employment gets at least Rs 30,000. "The hardship allowance is just a temporary relief."