The Star Wars franchise: Worldwide collection and ranking
By Sai Aravindh
Source: The Numbers, Rotten Tomatoes
---
Top 10 Indian reality shows and IMDb Ratings
By Navya Sruthi
Source: IMDb
---
Top 10 Most streamed songs of Beatles
By Rakshanda Sharma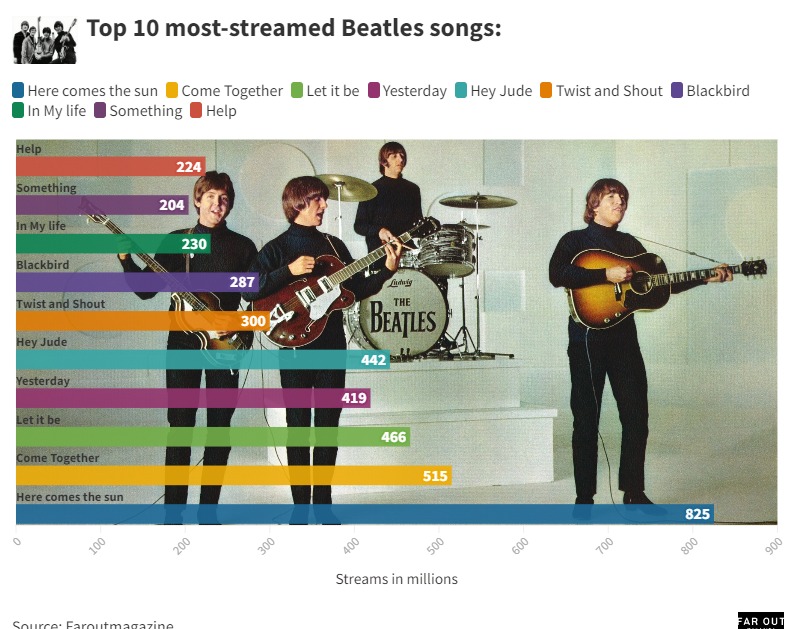 Source: Far out magazine
---
Highest Paid Entertainers of 2022
By Ajay Rag
Source: Forbes
---
Leading Discord servers worldwide
By Deepali Jain
Source: Statista
---
Top 10 Worst Rated Netflix Original Productions
By Shireen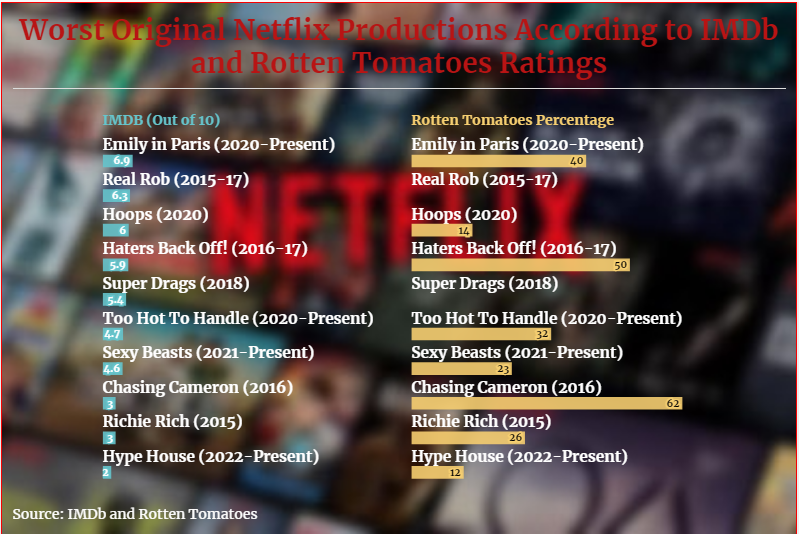 Netflix was launched in 1997 where it sent rented DVDs by mail to its customers. In 2007, the online streaming option was introduced. 2013 saw the first original Netflix productions with House of Cards, Orange is the New Black, Hemlock Grove, and Arrested Development.
Source: Netflix
---
Most Streamed Songs of All Time on Spotify
By Shreya Chekkilla
These are the 10 most streamed songs of all time on Spotify. 'Perfect' by Ed Sheeran, 'Bad Guy' by Billie Eilish, and 'Say You Won't Let Go' by James Arthur missed making it to the top ten by the fraction of a hair.
Source: Ledger Note
---
Most popular books turned into Movies
By M.Surabhi
The Lord of the Rings, Harry Potter, Jurassic Park are the most famous books turned into movies.
Source: Humanitarian Data Exchange (Boundaries), Simple maps (Points)
---
Most popular non-English language Netflix TV shows of all time as of October 2022, by number of hours viewed
By Yogada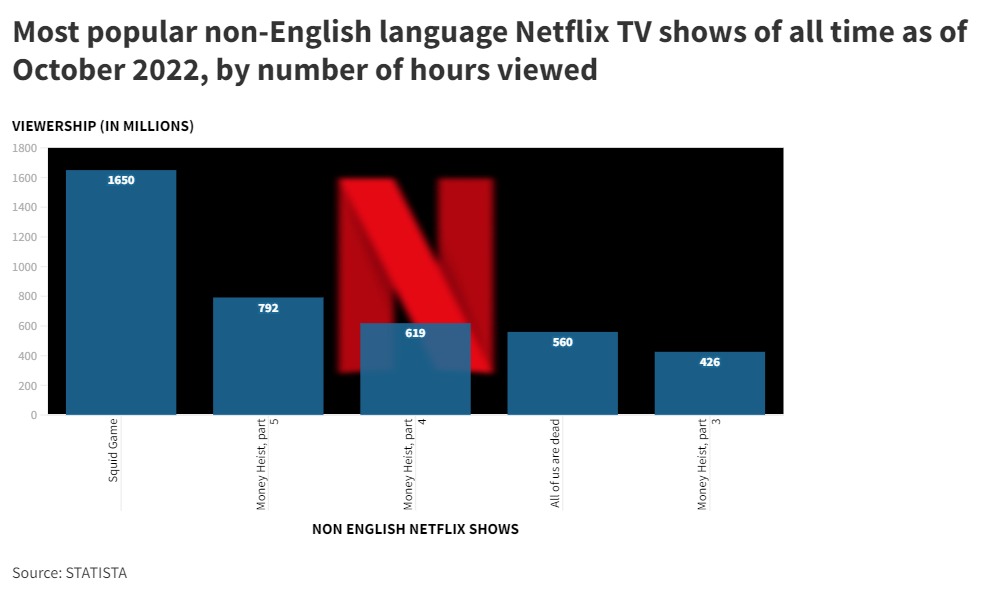 ---
MOST WATCHED TV SHOWS ON NETFLIX IN THE MONTH OF OCTOBER
By Sneha S K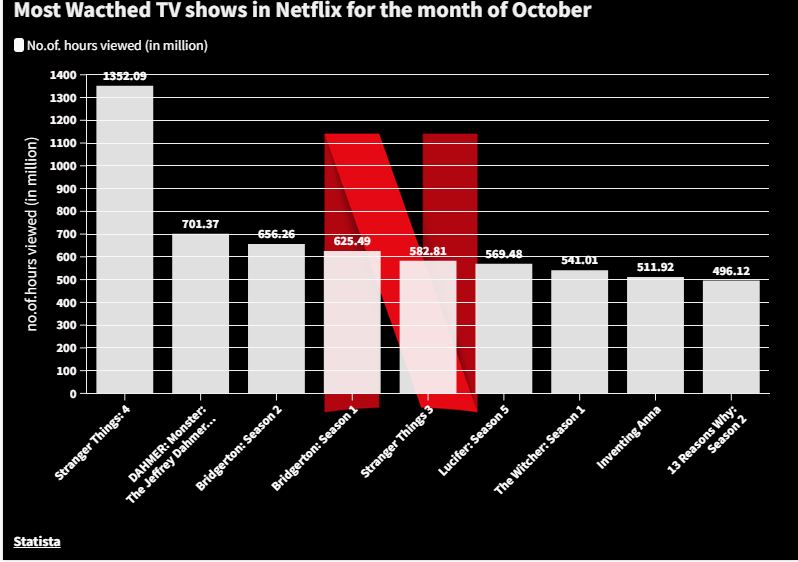 Netflix one of the world's largest streaming platforms has a host of new releases every month drawing in new viewers all over the world and breaking viewership records. In 2022, for the month of October some of the most watched shows were popular franchises like Bridgerton and Stranger Things.
Source: Statista
---
Sales of Taylor Swift's Albums Globally
By Aanchal K
Taylor Swift's 1989 album of 2014 had the maximum sales of 10,545,000 million so far. However, releasing 'Midnight', Taylor Swift achieved her 11th no. 1 album on Billboard 200 chart, 2022.
Source: ChartMasters
---
Revenue of online gaming industry in India 2017-2024
By Janvi G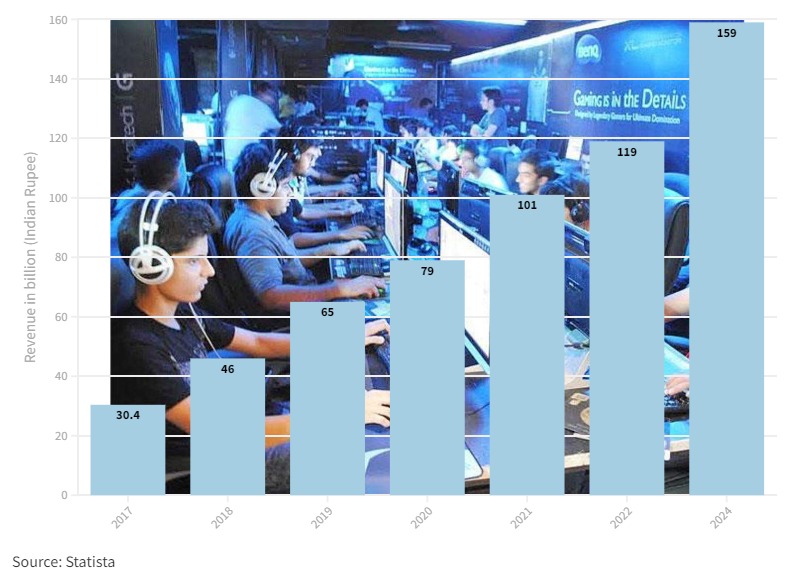 Revenue earnings of the online gaming segment in India from 2017 to 2021, with estimates until 2024
Source: Statista
---
Total sales of albums by BTS released from 2017 to 2022
By Anuja Mistry
Total album sales of the Korean boy band BTS, in 2022 has been 29,137,326. These include the major albums released by the band from 2017 to 2022. BTS has been consistently growing since their debut and have achieved highest records over the years.
Source: Gaon Physical Album sales
---
Top 5 streaming K-Pop songs
By Aditi
BTS tops the list in top 5 K-POP streaming songs.
Source: Spotify
---