Bangalore's eye hospitals receive many victims of firecracker incidents during Deepavali.
Among 27 patients of fire cracker victims at Minto Ophthalmic Hospital, 16 were bystanders during the Deepavali festival that began on October 23, 2022. The hospital has 30 beds reserved for firecracker victims.
Minto Ophthalmic Hospital is a government eye specialty hospital in Bangalore that receives firecracker victims every year during Deepavali . Among 27 patients, nine were seriously injured and two had a corneal tear. Patients with such injuries have less chances of gaining full vision again, said Dr. Harish, Regional Medical Officer(RMO), Minto Hospital.
"Among all the victims,13 are children , 14 are adults, and an-18 year old boy who was admitted with a serious injury. He was a bystander who was selling tomatoes and the cracker had hit his eye and the chances of him getting is vision back are very less," says Dr. Harish. He added that most number of victims are from the Bijli cracker.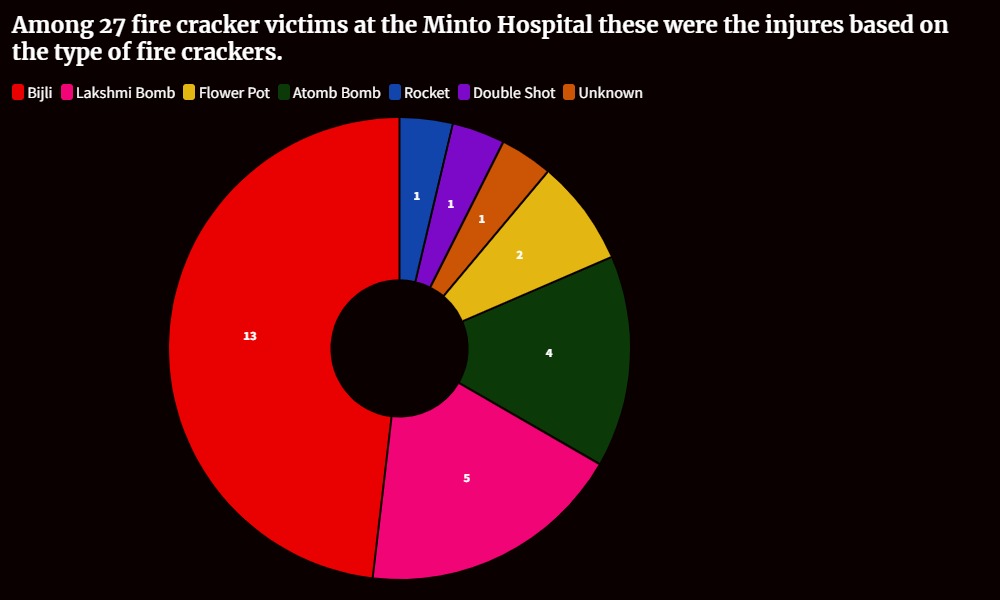 "We get lot of patients that are just bystanders and they suffer the most due to their negligence, so I would recommend everyone to wear protective eye gear," said Prof. Dr. Nagaraju. G, Head of Department (HOD) of Ophthalmology at Minto Ophthalmic Hospital. He also said there has to be better regulation of fire crackers as the gap between lighting a fire cracker and its lapse is very little now as compared to earlier. He also added that nowadays supervision from elders is lacking during bursting of crackers and that is why many children get injured.
Raja R, a resident of Jalahalli, was injured in the eye by a fire cracker while he came down in the evening to see fireworks in his apartment. The cracker hit his eye and he was rushed to a private hospital immediately where he was advised to rest for a few days and was given eye drops.
There were around 70 cracker related cases reported all over Bangalore during Deepavali from private and government hospitals. One patient from Minto Hospital suffered a severe eye injury where blood had entered the eyeball. Some second degree burns are so bad they are difficult to salvage, said Prof.Dr.Nagaraju.G
Data from the same hospital shows that last year, out of 34 total victims of fire cracker injuries, 20 of them were bystanders and among them nine were children. In 2019, they had 48 victims and in 2020, 23 victims from fire cracker injuries.
Private hospitals like Narayana Nethralaya also reported that more than 15 to 18 similar cases, where 90 per cent of cases were of bystanders.
Dr. Ananth Ram, assistant professor of community medicine  at M. S. Ramaiah Medical College says, "Crackers in the first place should be burst around a common place where everybody is bursting…and a  corporator from each area can organise a particular place where the activity can take place so people are aware." He added that "There's some sort of heroism attached to unsafe practises of bursting crackers and any influential personalities like Rahul Dravid or anyone who is doing well in their field need to be brought into doing such public announcements before the festivities so it would spread awareness."