Men are travelling in ladies' coaches under the nose of Railway Protection Force; Railways claim it doesn't allow men at all.
Mysuru Express's Ladies' coach was occupied by 10-12 male passengers when a Railway Police Force (RPF) constable reached the compartment and asked them to get down immediately. Bangalore to Tumkur passenger train witnessed a similar incident when five men on board the ladies' coach left the compartment only when they were asked to do so. RPF and Government Police Force (GRP) jointly handle policing on Railways.
Lata, a 58-year-old housewife travelling on Kaveri Express to Maddur, said, ''I fear incidents of misbehaviour and inappropriate touching in other compartments of the train. I feel comfortable and easy in ladies' coach.'' She added that the toilets in ladies' coaches are relatively cleaner. Chandana R., who works with the COVID department of Bruhat Bengaluru Mahanagara Palike (BBMP) Office, said, "I do see men travelling in our coaches sometimes and especially on weekends when the train is fully packed. I myself have asked some of them to shift to the normal coaches."
The Indian Railways Act strictly prohibits men from entering a carriage or any other place reserved for females. If found guilty, the man, in addition to having his pass or ticket confiscated, will be punished with a fine which may extend up to Rs. 500. He may also be removed from the train by any railway servant. Vasheer Ahmed, Inspector, RPF, said, ''If a man is caught travelling in the ladies' coach, we present him to the railway magistrate. He is fined up to Rs. 500 and sometimes more, depending on the degree of his offence.'' More than 200 cases were registered with the RPF, in 2018 and 2019, against men who boarded the ladies' coaches. The number saw a sharp decline in the following years due to COVID as all the trains were reserved.
Assistant Sub Inspector Tanuja NP, who has been serving for 15 years in the RPF, said, ''We are very strict with women's safety in the coaches and make sure no male encroaches the ladies' compartment. Our team Shakti is deployed at all major railway stations across the city." 'Operation Shakti' was launched by RPF in 2018 across the South Western Railway (SWZ) zone to ensure a safe journey for women passengers. Shiji Shanimol, a 20-year-old student waiting for her train at KSR Railway station, said, ''My parents don't allow me to travel in any other coach except ladies coach while I am travelling in a local train." She added that she feels protected there.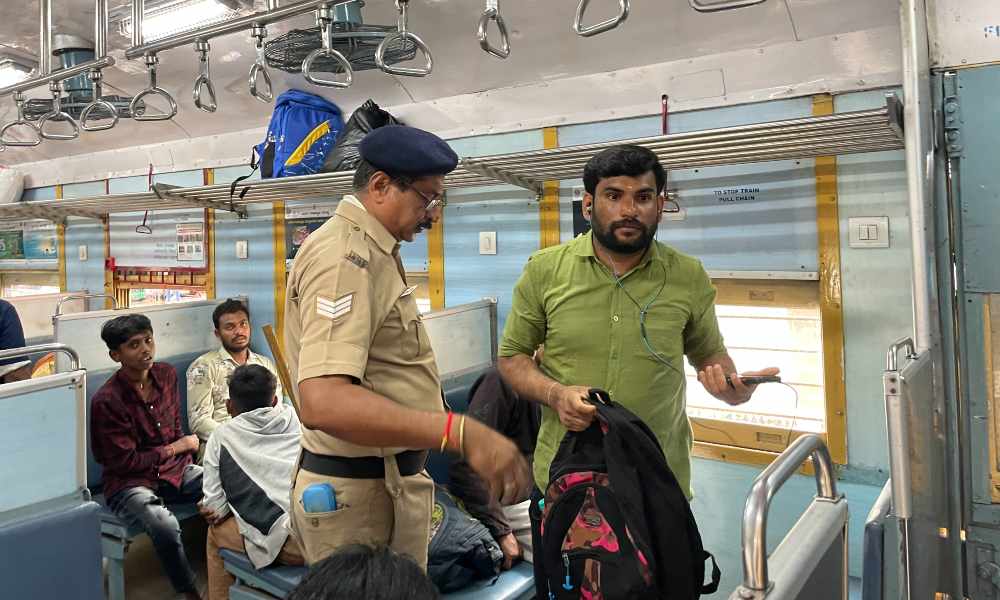 Maharaj, a local businessman who travels daily from Bengaluru to Tumkur, wasn't aware he was sitting in a ladies' coach until he was apprised about it. He said, ''I didn't even realise I was in the wrong compartment as I didn't notice the sign outside the coach''. Dr. Sudeshna Mukherjee, assistant professor of Women Studies at Bangalore University, said that "The ladies' coach is not very distinguishable from other coaches. Not all men enter the coach with the wrong intention."
Dr. Mukherjee also questioned the practice of allotting a separate coach to women as she feels this kind of restrictive measure is futile in the long run and acts as a deterrence to engender public spaces. "Such initiatives are fine to start with but we need more gender-inclusive spaces. Women are also ridiculed sometimes, questioning their entry in ordinary coaches when they have an entire coach to themselves, but they do not understand that it's just one coach. They are not proportionately divided. And women shouldn't just feel safe amongst women, the goal is to make them feel safe everywhere. And if we started dividing on these lines, where will the trans people go?" She added that sometimes these coaches can be claustrophobic if the occupancy rises and can become hot spots for minor skirmishes among women. CCTVs can be installed in these compartments to keep monitoring any such abominable practices.