Smoke shops sell up to 20 boxes of vapes per month despite the government ban.
E-cigarettes are being sold in Church Street, Bengaluru, despite a 2019 Act that bans their distribution, import, export and transportation. Vapes are linked to lung injuries and deaths.
Yasin (name changed), the owner of a glossy red-themed smoke shop on Church Street, says the policing around the sale of e-cigarettes remains lenient as the police generally do not conduct thorough searches.
"Previously there was not any ban on the sale of vapes. But lately, the sale of vapes has become a little secretive. The police usually do not say anything, but if caught, you are likely to be fined," said Yasin
E-cigarettes, or vapes as they are commonly known, are Electronic Nicotine Delivery Systems(ENDS). "Emerging data suggest links to chronic lung disease and asthma, as well as associations between dual use of e-cigarettes and smoking with cardiovascular disease. You're exposing yourself to all kinds of chemicals that we do not yet understand and that is probably not safe," says Michael Blaha, Clinical Director of Jonas Hopkins Institute. A BioMed Central (BMC) report in 2018 estimates there are around 58 million vape users in the world.
In India, e-cigarette and vape sales had reached from 1.6 million units in 2014 to 3.3 million units in 2019, states a Statista report. But in 2019, the Union Cabinet passed the Prohibition of Electronic Cigarettes Act 2019, which prohibited the production, manufacture, import, export, transport, sale, distribution, storage and advertisement of e-cigarettes in the country. The government said the decision to ban e-cigarettes was aimed at protecting the youth as they are the ones most vulnerable to addiction.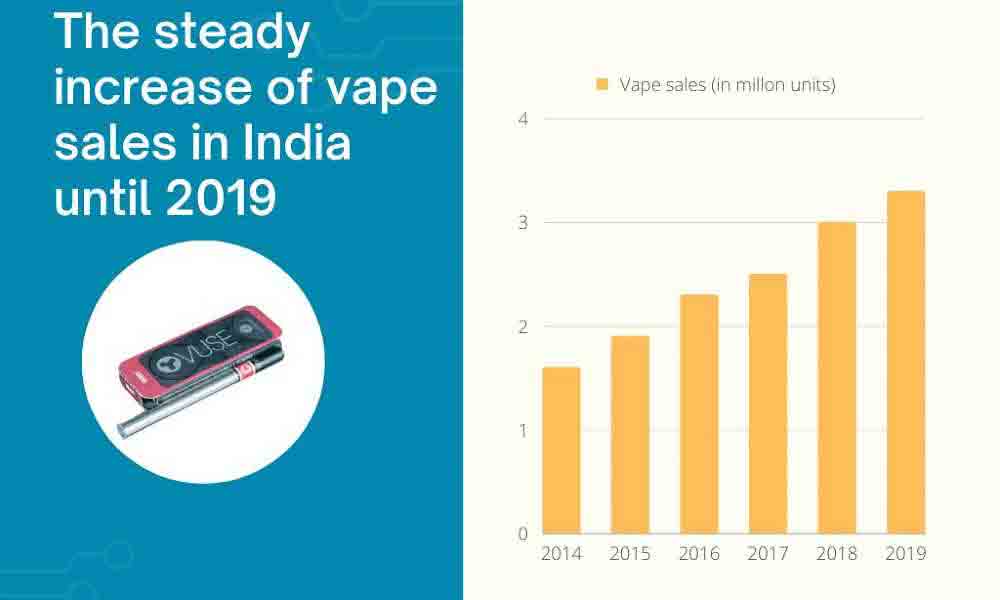 Ashwini GA, Sub-Inspector of Ashok Nagar police station, explained the law around e-cigarettes: "Cigarettes or vapes do not come under Narcotic Drugs and Psychotropic Substances (NDPS) Act. Anyone getting caught smoking a vape will be put under the Cigarettes and Other Tobacco Products Act (COTPA). If you do not use vape in public, we have no grounds to put a charge on you, but you will be questioned about its origin. If we catch any seller selling vapes, there will be a charge sheet put against the person. As for the fine, it is generally decided by the court."
Nevertheless, the sale of vapes continues at Church Street. "We sell around two to three boxes of vape every week. Each box contains up to ten units of vape. Depending on the trend, we can sell up to 20 boxes of vape on a monthly basis," Yasin added.
A report from Global Adult Tobacco Survey (2016) shows 22.8 percent of the adult population in Karnataka is exposed to tobacco in some form, with 8.8 percent of the population indulged in smoking. However, Samrat Choudhery, one of the founding members of the Association of Vapers India (AVI), argues that the usage of e-cigarettes does not count as smoking as it does not contain tobacco.
"Vaping is not smoking, even if they appear similar. Smoking involves burning of tobacco which produces tar that contains over 7,000 chemicals of which about 80 are known carcinogens. Vaping eliminates the combustion as a nicotine liquid is heated to produce vapour (hence called vaping). It is worth stressing here that nicotine is not the killer,since  it is not classified as a carcinogen, and is also present in medically approved nicotine gums," he said.
The AVI, though, supports the regulation of vapes in India. "Every country needs to adopt regulations that are in sync with its ground situation. The main idea should be to encourage current tobacco users to switch to less harmful means of consuming nicotine while preventing uptake by underage or nonsmokers," adds Samrat Choudhery.
Dr. Varsha B.K, a tobacco cessation specialist, says the growing trend of vaping can normalise the use of nicotine. "Vapes are quite harmful. They are not alternatives to tobacco-based cigarettes. Nicotine on its own is a toxic substance and regular vaping can lead to dependence for young people. There is also a risk that vaping re-normalises the use of nicotine after rates of smoking have been steadily going down over the last few decades".
P&S Intelligence research says India had 0.3 million active vape users in 2019. It was projected to reach 0.6 million by 2024. But the 2019 ban had reportedly stunted the growth. A survey from The National Law School of India University conducted between January 2022 to February 2022 shows that around 94 percent of the respondents had never used e-cigarettes after the ENDS ban.