Customers and shopkeepers resort to dumping garbage in one part of the Jayanagar shopping complex.
A heap of waste is being thrown by shopkeepers and customers in the corner of the old block of the Jayanagar shopping complex. The majority of the waste was plastic, hazardous, and sanitary. Also, there was human waste in the dump.
The Government of Karnataka has banned the use of single-use plastic, but it is still being used in the shopping complex. The shopping complex has an old and a new block with 12 and seven floors, respectively. However, neither of the blocks has a dustbin installed.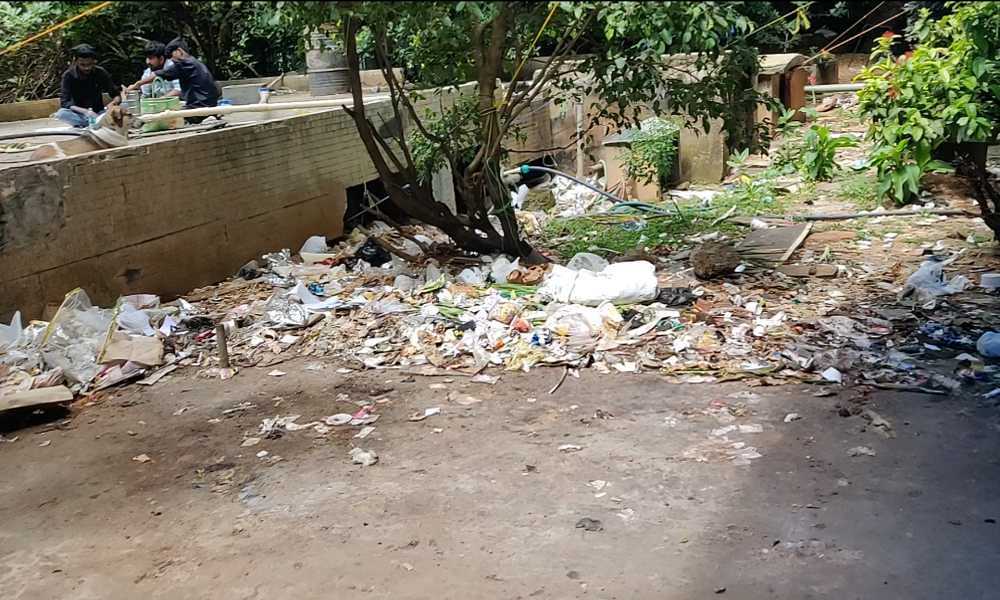 It has become a routine for the workers to have their food beside the dump. The dump invites stray dogs inside the complex causing menace to the customers.
Abdul, who sells clothes on the footpath beside the dump, said the Bruhat Bengaluru Mahanagara Palike (BBMP) cleans it once a month or sometimes once in two months, and the dump leads to a foul smell. Shanmugam, another salesman, says he experiences discomfort because of the dumping area. "As there are no restrooms in the complex, people resort to urinating in this area," said Shanmugam. To stop people from urinating, the door has been locked.
A customer in the complex said that he has been observing this issue at the place for more than 25 years. "People wash hands, spit, and there is no one to maintain the place," he added.
The BBMP Act says that it is the duty of the Corporation to implement the Solid Waste Management Rules, 2016. The Corporation is responsible for the collection, storage, and disposal of such solid wastes.
A BBMP official from the Solid Waste Management (SWM) department said it is the shopkeepers who throw the waste, despite repeated orders by the marshals. He says that the waste in the complex is being cleaned every day by the department. He added that there are no dustbins placed in the complex, but there is a tank in the nearby market to dispose of garbage.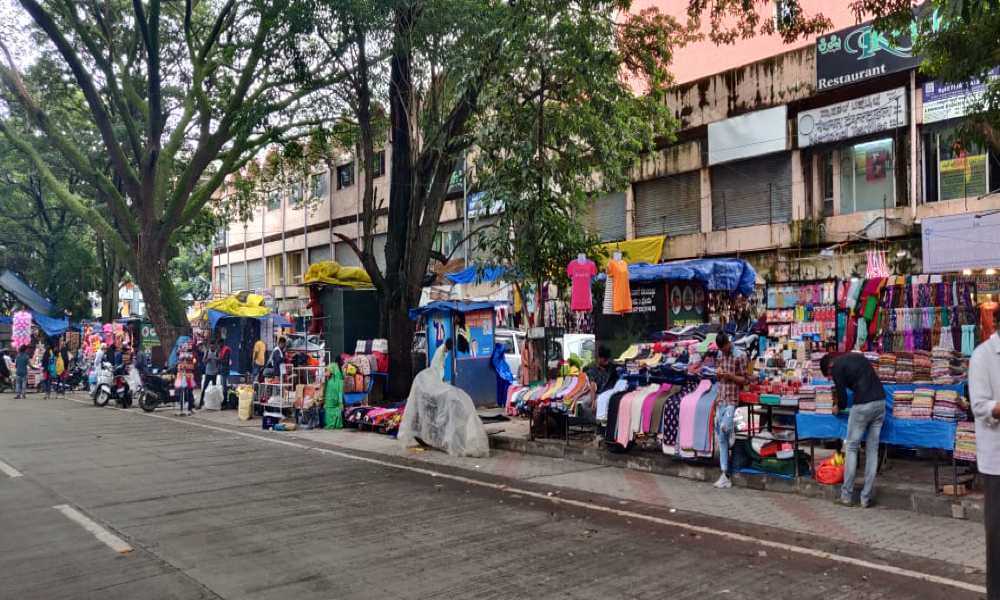 The Jayanagar shopping complex, built in 1976, is the first shopping complex in Asia. The BBMP rents spaces to the shopkeepers for retail business activities. The old block has 12 floors in which two floors are used for retail business purposes. The new block, that was built four years ago, has seven floors with two floors for business activity. As a whole, the complex has about 300 shops.
Dr. B C Nagaraja, Professor of Department of Environmental Sciences Bangalore University, said that this problem is a result of negligence of the stakeholders involved. He added that the dumping leads to the breeding of mosquitoes which turns into a transmittable viral problem. Kavana R, Ph.D., a student from Department of Environmental Sciences Bangalore University said, "It is an issue that can be sorted very easily. They can put some waste bins which can be frequently collected. It goes more with individual responsibility, rather than any kinds of rules."