Migrant idol makers from different parts of the country have been facing losses despite the Ganesh Chaturthi sales.
Migrant idol makers in the city continue to struggle to make ends meet despite festivals like Ganesh Chathurthi.
Amba Ram, hailing from Rajasthan, a migrant idol maker said, "We are continuing to face loss in the city with barely any sale for months. Even Ganesh Chaturthi did not help to improve the stagnant sales. I have three children and a bedridden ill wife, all suffering from hunger pangs."
He explained, "Idol making requires skilled labouring and hours of dedicated craftsmanship. However, the finished product does not fetch the equivalent profit. Despite the hard work, the profit earned each day does not support us economically. I only earned Rs. 150 yesterday, and today I have not sold even one idol."
"We came from Rajasthan to Bengaluru and started making idols, but we are unable to sell them," says Manju, another migrant idol maker.
Manju added, "as a migrant, we don't have a proper shelter to live or raise our children and have to survive on the roadside."
Jayaram, another idol maker, said that they live under thatched roofs and have to eat, sleep, cook and work in front of the idols.
"We cannot speak the local language, which in turn hampers our sale with the local customers," says Manju.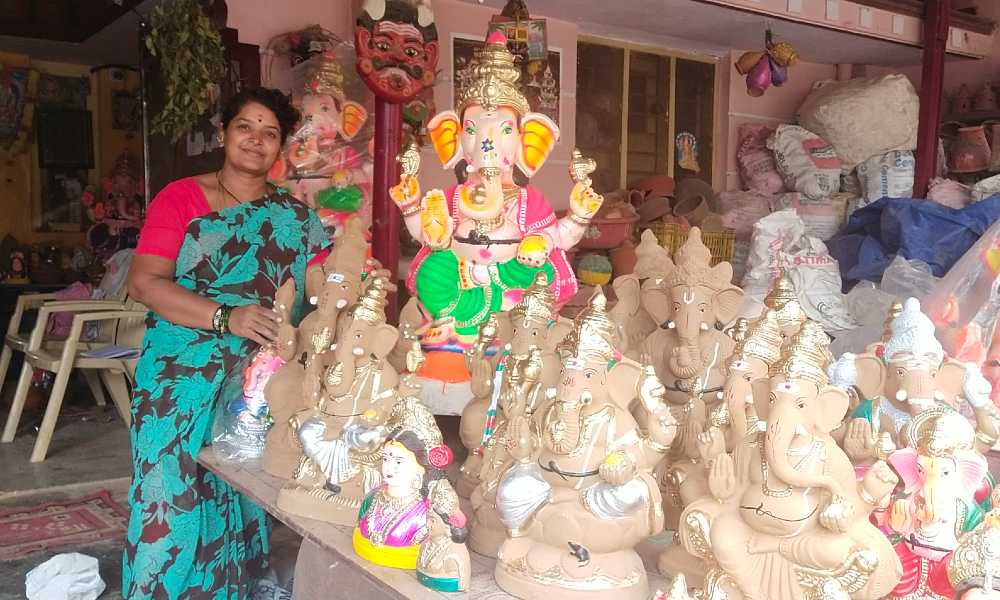 Mahesh Kumar TV, Assistant Professor of Business Studies at New National PU college said, "When the pandemic hit us, a lot of people were dismissed from their jobs and after two years, it is not properly up to the mark, so when the per capita income is reduced one cannot spend much other than on basic needs. When they are facing trouble in buying even the basic amenities, it is quite difficult to buy idols as they are needed occasionally and are unnecessary."
He added that idols are not something everyone would buy as a product of necessity. Hence, the product does not fetch sales as much as necessary items do.