Murthy won a Sahitya Akademi award in 1997.
Akhila Karnataka Catholic Christian Kannada Sangha in B.M.SHRI. Smaraka Prathistana, Bengaluru celebrated the 91st birth anniversary of M. Chidananda Murthy.
Dr M. Chidananda Murthy is a famous Kannada writer, researcher and historian. He is well known for his contribution towards Kannada literature and his campaign towards conserving Hampi monuments.
The 88-year-old Kannada scholar passed away early in 2020 due to age-related ailments.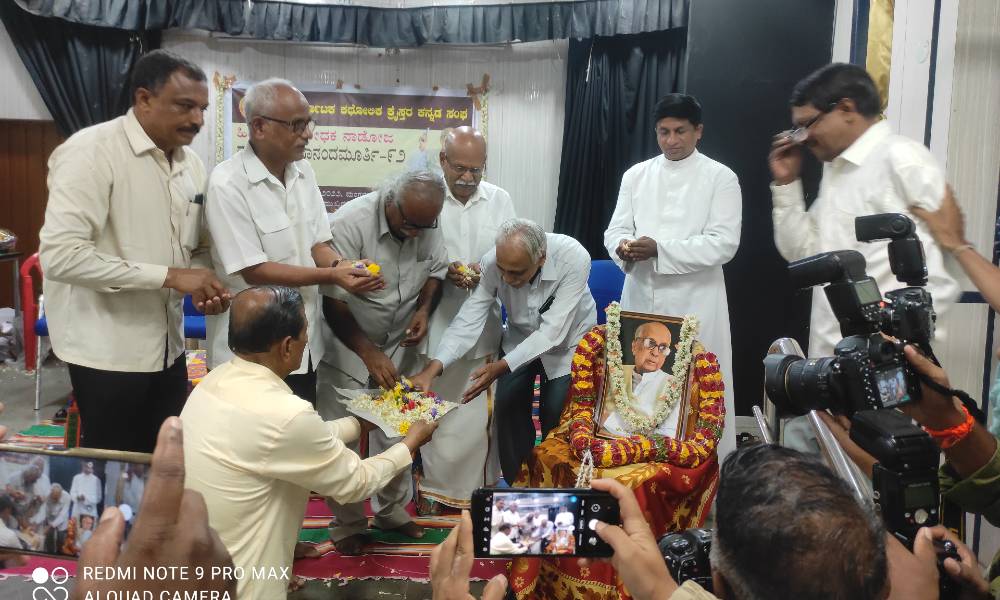 Dr Eraiah, a researcher, said that Murthy has immensely contributed towards Kannada literature. His books are not just restricted to research, but they also talk about the history and culture of Karnataka.
To celebrate the occasion, Father Simon Bartholomew was invited as the chief guest along with the presence of Murthy's wife and daughter. Two of the senior Kannada culture thinkers were presented awards by the organization.
Govindaraju T, ex-Kannada professor and member of Kannada Development Authority Board said that M Chidananda Murthy can be described best as the pioneer of Kannada literature and language. "The amount of work he has done for the language is commendable and he is one among the many who has never feared to speak what he stands for."
The veteran kannada scholar is equally known for his firm political stand. He was criticized for his religious and political ideologies in the literary circle.
In 2019, Bangalore City police registered a case against him under section 153A of the Indian Penal Code (IPC) on the charges of promoting enmity between different groups after his remarks on Tipu Sultan.
While addressing a press conference, he had opposed the naming of the Srirangapatna university after Tipu Sultan, calling him a communal king who oppressed Hindus.
As a president of Kannada Shakti Kendra, Murthy was famous for staging protests for the Kannada cause in front of Vidhana Soudha.
A Report said that for many decades, he either submitted many memorandums to the government for renaming Hyderabad-Karnataka as Kalyana-Karnataka and Mumbai-Karnataka as Kittur Karnataka.
Being a historian, he used historical and literary evidence to prove that boundaries of Karnataka had expanded beyond today's Kerala and Maharashtra.
Aruna Bannur, a Kannada linguist, said that people can't simply accept Murthy's political and religious ideologies. "He was more inclined towards the right wing ideologies. Through his work he stressed more on Hinduism and Veerashaiva caste."
Bannur also said that he cannot be compared to Kuvempu or Tejaswi. Murthy spoke of his inspiration from these two scholars but Kuvempu and Tejaswi gave more importance to humanity instead of any caste or religion. "They stress more on vishwa-maanava concept (man of world)."