Flights from Vizag have been cancelled as a precautionary measure.
Andhra Pradesh, Odisha, West Bengal, and the Seven Sisters of the north-east are on alert as Cyclone Asani approaches the east coast.
The Indian Meteorological Department (IMD) has issued fisherman warnings and stated in a report that Andhra Pradesh and Odisha will witness heavy to very heavy rainfall.
In Visakhapatnam, a fisherman said the port was open as usual, but the fishermen were not allowed into the ocean. The beach was also closed to the public. All the ships had been anchored and people had returned to land.
Fishermen were ordered to return to the coast and close their shops from May 10 and 11 due to high sea activity.
An official from the Cyclone Warning Centre, Visakhapatnam emphasized that the fisheries, the coast, and the public should be prioritized. "The public is advised to remain indoors. However, if you are outside, please exercise caution. Further, the winds are blowing at 50-60 kmph, reaching a maximum speed of 65 kmph on May 10th. On May 11, the maximum speed will be 75 kmph."
Further, he said that the public has been urged not to stand beside light-weight objects like hoardings or signboards as there is a risk of them falling off. He also added that additional measures have been taken to ensure proper drainage of rainwater.
Jaya, a resident of Visakhapatnam has said that there haven't been any power cuts as of now. Heavy winds along with rains have just started. "A red alert has been officially issued by the government and fishermen are not allowed to go into the sea," she added.
Ramana Murthy, another resident said, "There is light rain but the wind speed is picking up. Some low level areas are water logged causing a hassle in commuting."
Bharat Sahu, a resident of Bhubaneswar said, "There has been no wind or rain so far, but there is a forecast for heavy rains with heavy winds by evening".
Rituparna Chatterjee, a resident of West Bengal said that she received a message from the state government yesterday alerting all fishermen.
The message said that fishermen in West Bengal and Odisha coasts should not go to the sea from May 10, 2022. The fishermen who are in the sea currently have been asked to immediately return to land within the night of May 9, 2022, she added.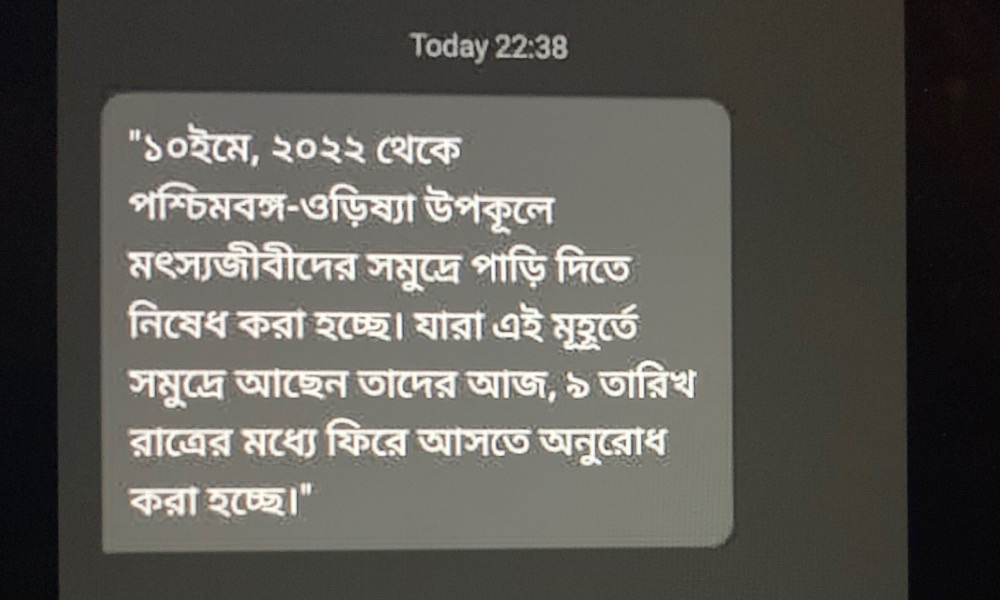 Achary, another resident from Bhubaneswar emphasized on the improved disaster management in the state. "Since it is an agricultural state, measures have been taken to protect cattle as well along with human lives."
Adding on to this, the Odisha Disaster Management Department has focused on building shelter homes to tackle with future cyclones and urban flooding. "These shelters are built like apartments, where based on the severity the first two floors are kept empty. This is done to let free water flow as obstruction causes more damage."
He further said, though it is the coastal areas that are hit. In case of Cyclone Fani, there were landslides, power and water cuts in Bhubaneswar as well.
Sahu said that the government has taken all precautions by alerting the public through electronic media People living at the coast have been evacuated. "However," he added, "it has been said today that the damage will not be heavy as the cyclone will remain in the sea rather than hitting land."
A report by the IMD shows that West Bengal is likely to experience rainfall. According to research by the University of Bristol, future cyclones that will hit the Bay of Bengal will cause 200 percent more population damage.
Sandeep, an environmentalist, stated that climate change will cause cyclones to become more frequent and severe. "The only thing needed from a practical perspective is that there must be a lot of green cover so that the damage will be reduced." Other than that, there is little anyone can do. He added that while trees act as a shield, nothing can really be done to stop the fury of nature.
Cyclone Asani is the first cyclone of 2022.