He stressed on 'India First, Nation First' and said the officials should make decisions by keeping country's unity, peace and harmony in mind.
On the occasion of 15th Civil Services Day, Team Karnataka won an award for Seamless, End-to-End Delivery of Services without Human Intervention. Prime Minister Narendra Modi conferred 16 Awards for Excellence in Public Administration at Vigyan Bhawan, New Delhi.
Out of all 16 awards, 10 awards were given in five programs including "Jan Bhagidari" or People's Participation in Poshan Abhiyan, Khelo India scheme, Digital payments and Good Governance in PM SVANidhi Yojana, One District One Product scheme and Seamless, End-to-End Delivery of Services without Human Intervention. Team Karnataka won an award for End-to-End Delivery of Services. Deepti Aditya Kanade, Director, Department of Space, Government of Karnataka received the award on the behalf of the team. Six awards were also given out to district administrations under 'extraordinary and innovation' category.
Dr. Jitendra Singh, Minister of State in the PM's office, said that since 2015, PM Modi has revoked 1500 unnecessary rules and has started the process of self-attestation for the citizens. He said, "Vision India @2024 is about bringing citizens and government closer."
PM Modi said that the officials should uplift their districts with multi-pillar activities and should pull their districts to top with the vision India@100. He addressed the civil servants at 11 a.m. and spoke about achieving three goals, working for "nation first" and bringing improvements in life of common man.
PK Mishra, Principal Secretary to PM; Rajeev Guba, Cabinet Secretary and V Shrinivas, Secretary Department of Administrative Reforms and Public Grievances were also present at the event.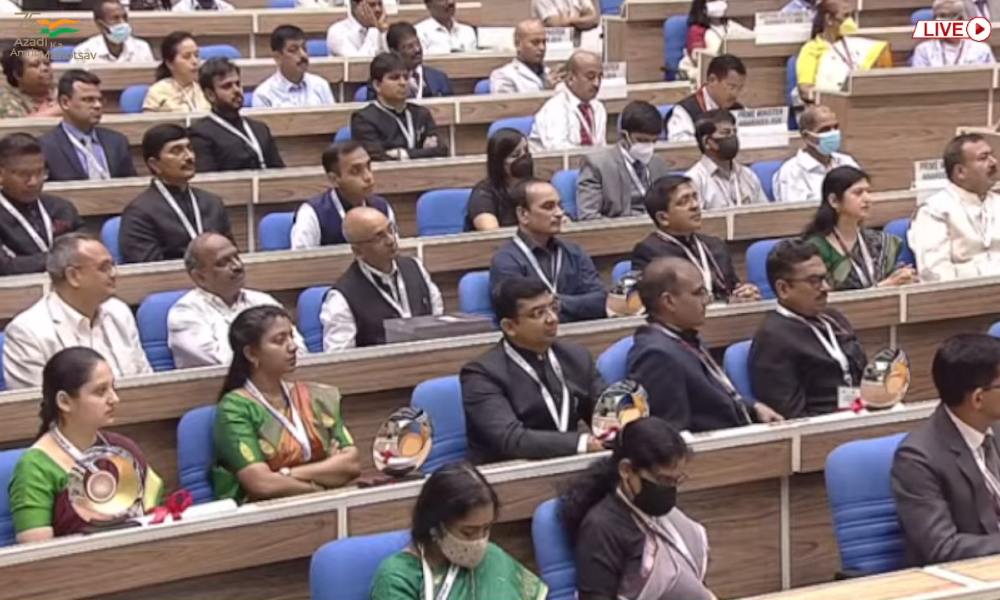 PM stressed on three goals. "First, officials should provide 'Ease of Living' to every citizen of the country so that they can benefit from schemes without any hassle. Secondly, 'globalization is the need of the society' so we need modified models and policies which have novelty to make India the best country in the world. Thirdly, he said 'India First, Nation First,' the officials should always think about the country's unity, peace and harmony before making any decision," said PM Modi.
He continued, "Efforts should be made by officials to make common man's dreams, a reality to create a positive atmosphere."
Modi said that the award winners should conduct weekly virtual meets with training institutes of civil servants in their states. They should give virtual presentations and share their experiences and challenges with the trainees. "At least two award winners should have a virtual meet in a week," he added.
He talked about the "one district one scheme." He also suggested that 715 districts that were nominated for the awards should select one of the award winning schemes and see how they can implement those schemes in their districts. They can also have virtual summits in the districts that have chosen similar schemes to discuss with the award winners.
He said, "Seventy five years of Azadi Ka Amrit Mahotsav is Sardar Vallab Bhai Patel's gift and the flag bearers of it had given an important contribution." He said that the former civil servants are those flag bearers and should be honored and respected by the current officials. The current civil servants should organize programs and invite them to learn from their experience.