In songs of resistance, interstate students find a way to bridge the language barrier gaps within the country.
Sahil Sharma (24) from Himachal Pradesh didn't understand Punjabi before coming to Panjab University, Chandigarh. He joined a student organisation called Students for Society (SFS) a few months after taking admission in the Botany Department of the university. Most science students did not dwell on politics. Students from arts backgrounds saturated the political spaces. Apart from that, students fluent in Punjabi had a wider appeal in comparison to those who did not. This made Sahil feel left out.
But slowly things changed, "Today I can hold a conversation in Punjabi. Humming to anti-establishment songs and slogans in the language made me familiar with it.," Sahil said.
Other interstate students like Anjali Sharma and Anjali Sheron had similar experiences. Sharma said that humming to the Haryanvi, raagni songs such as "Modi rey manne tere nisaana" got her familiarised with Haryanvi. "Today when I listen to someone speak in the language I can make out what they are saying," she said.
Sheron who speaks Haryanvi said that "Kahab to lag jai dhak se" is a Bhojpuri song. She had sung it on multiple occasions in front of various crowds. Irrespective of where people are from they somehow understand what the lyrics mean. "Whether it is someone from Jammu and Kashmir or Karnataka they can relate to it," she said.
Sloganeering usually takes place in the locally accepted tongue. Sahil explained how an outsider gets accustomed to this, he said, "The constant sloganeering intrigues you and after shouting at them for quite some time you ask for their meaning. The more slogans you learn, the more you see the local population in their pure element. You channelise your frustration with a group using slogans. The protests also include songs and poems that question the authority you're challenging. The constant usage of a foreign language makes you want to decode the frustration hidden behind the songs and you learn what is motivating students. In this whole journey, you start speaking in a tongue that gives you a feeling of consolidation with a larger group."
Anupriya P P, a language expert, highlighted American linguist Stephen Krashen's theory of second language acquisition. He had said that learning a language requires natural communication rather than a tedious drill. Meaningful interaction in the target language is more helpful than the extensive use of grammatical rules. "In the real world, conversations with sympathetic native speakers who are willing to help the acquirer understand are very helpful," he said.
Praveen Rai, a political analyst at the Centre for the Study of Developing Societies said that long drawn agitations like in the case of Punjab's farmers' protest can play a role in language learning. When such protests are given the limelight in the media for long durations, people get exposed to their language. Due to this, they might pick up a few words from them.
TEDx speaker, author, and founder of the world's most popular language-learning blog called "Fluent in 3 Months", Benny Lewis had listed seven reasons for including music in language learning. Music connects across cultures and breaks down barriers. "When I have sung people songs they wouldn't expect me to know and that they like, it has instantly broken the ice," he wrote.
The 2011 census found that India has a total of 121 languages and 270 mother tongues. From them, 22 languages have been specified in the Eighth Schedule to the Constitution of India.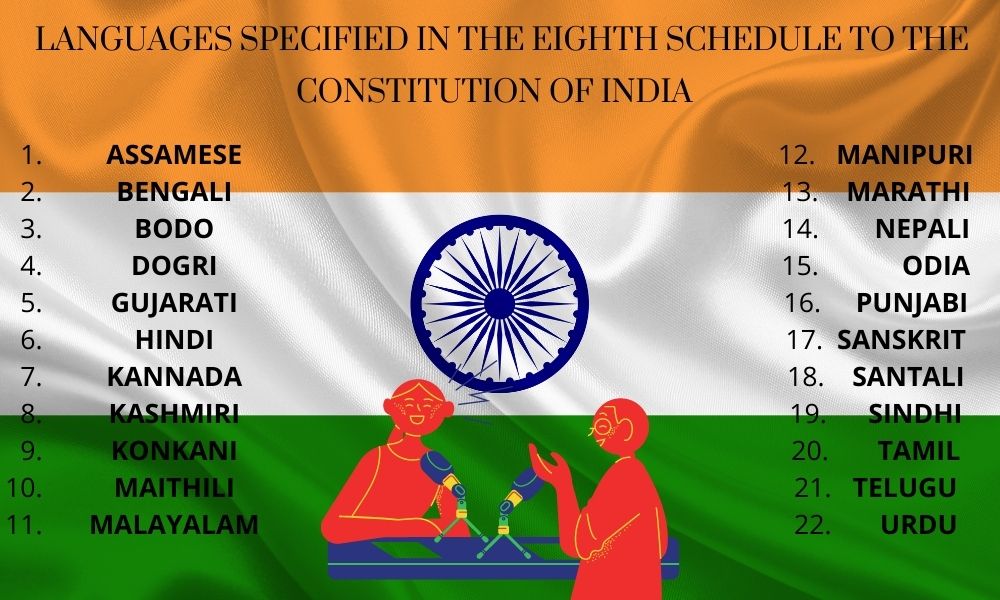 Dr. Kanimozhi Thiruvalluvan expert in linguistics said that adding another language to one's profile is way appreciable. A song can be a good inspiration to learn a language. It can act as a starting spark but one must hold on to it and thrive hard for further learning.
Singing lessons might be better than language learning lessons at times. Benny wrote in his blog, "My music teacher taught me more about sentence rhythm, pronunciation, tones and beat of Portuguese than a foreign language teacher ever would have been able to."
Research shows that the implementation of music-mediated language learning not only enhances learners' motivations for language learning but also promotes tolerance and acknowledges diversity amongst them.
Praveen said that communities, where people come from outside and adapt to the local language, are much more peaceful. In Maharashtra Marathi speaking people don't create any tension but when people from Hindi speaking belt come and push Hindi, it creates a lot of tension.
He added, "I met members of the Sikh community in Bihar on their way to gurudwara. I was shocked to see how proficient they were in Bhojpuri. They were more proficient in Bhojpuri than Punjabi. They had been living in Bihar for the past two generations. It was interesting to note that even though their mother tongue had changed but their religion was intact."
The purpose of protest in a university is to build solidarity amongst a diverse group of people. So that they can demand rights that they are entitled to. Sahil said, "The demand for rights builds solidarity within the students that surpasses linguistic barriers."
Praveen said that representation at protest sites can help it gain pan India support. If one of the speakers is speaking in Tamil at a protest in Jantar Mantar it will probably peak the interest of people in Tamil Nadu. This can help unite people throughout states.
Sahil agreed, he said that in university spaces students with no relation to Haryana sing Haryanvi songs with such enthusiasm that many mistake them for native speakers. The same students could then be heard singing Bhojpuri songs. The lack of imposition also helps in language learning. It makes these students want to learn the languages for their beauty.
Praveen highlighted that even Prime Minister Modi's popularity is because of his hold over language. "This is the reason why the Hindi heartland goes crazy for him," he said. Modi does not usechestha or pure Hindi rather he uses colloquial Hindi. He picks up language quickly and that is why his pitches are different in central UP and western UP. Many words from the English language have made their way into this language for example people living in villages understand the word "MLA" even though they might not know what to call it in Hindi.
Praveen suggested that apart from learning Hindi and English we need to push for a third language—mother tongues—at schools. Regional languages should not only be compulsory till standard 5-6 where they may be extended till standard 10-12 as well.
Mohammed Ibadurrahman, a translator said that in the Madarsa education system five languages are taught—Arabic, Urdu, Hindi, Persian and English. Hindi and English can help you survive in India while Arabic can help you find a job in Arabic-speaking countries like the United Arab Emirates, Oman, Qatar, Saudi Arabia, Bahrain etc. it is also the language of the Quran and Islam.
Dr. Kanimozhi said that when someone chooses a state to study in, he or she should learn the language of the state. That's the least respect that one can show to the natives. If nothing else works they can choose the natural way—imitation. It is the most natural way of learning a language. Like a child imitating his/her parents.
Prabhavathi N, data researcher and linguist for Kannada and English said that outsiders can benefit from learning the regional language of the state where they are staying. It can connect them to the local people and their culture at a much deeper level. This can help them survive peacefully as otherwise moving to a new place could lead to a lot of anxiety and stress.
Recently Amit Shah, Home Minister and the chairperson of the Parliamentary Official Language Committee at its 37th meeting had pressed for Hindi instead of English as a mode of communication. "When citizens of States who speak other languages communicate with each other, it should be in the language of India," he said. But the interstate students seem to have found their alternative.
Sahil said that locals feel comfortable if you talk to them in their tongue even if you don't speak it fluently. Learning a regional language helps in understanding a population better and you can gauge the socio-political environment of the place.