On World Health Day 2022, nurses of victoria hospital marched to ban plastic completely.
Bengaluru: On World Health Day, staff and student nurses gathered at the Victoria Hospital, Mysore Road to spread awareness about plastic and its negative effects on our health and the environment.
Bhamini, a nurse staff at the hospital said that this campaign is a part of the Kayakalpa Program which comes under the Swachh Bharat Mission.
The walk to the Outpatient Department (OPD) with various slogans and posters started off with the Resident Medical Officer (RMO) giving a speech about the harmful effects of plastic. He called for a complete plastic ban by the state government.
He said that the government has made laws to curb the usage of plastic but at the same time, they also aid the manufacturers. "Most of the plastic that cause diseases reaches us through the food we eat.. It not only harms human beings but also the aquatic life," He said. Additionally, he said that the trickle-down effect of consuming plastic in whichever form ends up forming carcinogens, which causes cancer.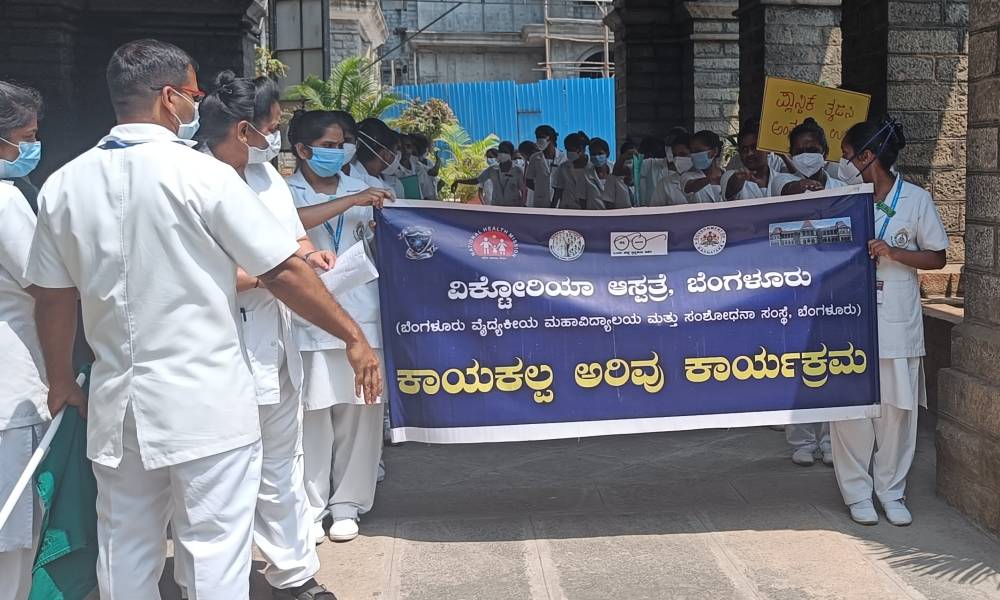 The walk continued with many slogans including, "Beda Beda Plastic Beda."Studies published on micro plastics prevalence in the Indian environments found that the marine systems have received significantly higher attention compared to the other compartments like freshwater, atmosphere, terrestrial and human consumables.
Nandini, another nurse said, "All plastic above 40 microns is very injurious to health and should be banned."
However, Sandeep, an environmentalist, said the usage of plastic could be reduced but a complete ban is not realistic.