Lack of awareness and connectivity issues limit the potential of potters.
Lakshmi, a pottery maker, sat anxiously among the unsold earthen pots that she made in the morning. She wakes up every day at 6 a.m. to make these earthen pots and potteries. The most prominent thing on her face was her red eyes amidst the dark circles that indicated the long hours of hard work that she puts in making the pots.
Like Lakshmi, traditional potters in Karnataka have been struggling to survive in the business due to a lack of raw materials and a shortage of good marketing facilities. Moreover, high investments and low returns add to the problems in their pottery business.
Venkata Subbayya, a pottery maker from Malur that is 42.2 km from the city said, "I used to get clay from a lake that is 20 kms away from my home. But now I am not able to extract clay from the lake as it is polluted with drainage waste and stinks a lot."
He added that shortage of raw materials led him to import clay and other raw materials from Kolar, Srinivasapuram. Due to this, his investment in commodities and labour costs that are used to make pots has increased from Rs. 15, 000 to Rs. 25, 000 per month.
Along with the raw material shortage, other potters from Malur commented that despite sitting on Kolar Highway to sell their finished goods, they bear the loss in business due to the decrease in footfall of customers.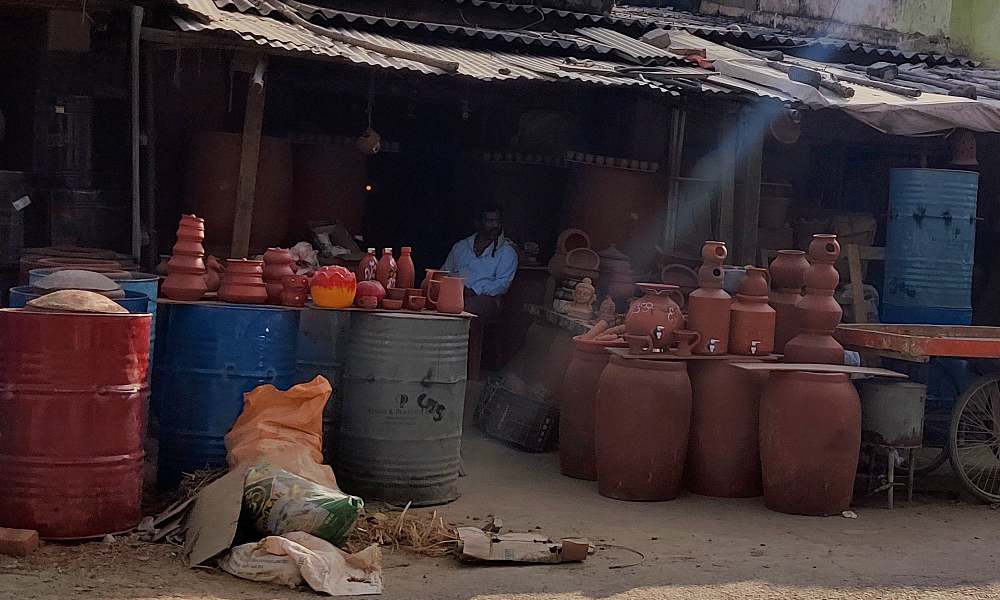 Another potter, Ramayya from Malur said that he sometimes takes his finished goods to exhibitions in Bangalore and Mangalore to earn profit. He added that as Bangalore is 45.2 kms and Mangalore is 394.5 kms from Malur and the transportation cost takes a toll on him.
Ambrish from Headstreams, a social services organization said that taking one lorry load or one truckload mud from the lake is easy but, when they want it regularly, it's not. They have to take permission from panchayat and other concerned departments. He added that now all the lakes in Karnataka are filled with water and taking clay from these lakes is impossible. So, wherever the lakes are not having much water only there they can go to take clay which is a major problem that the potters are facing.
He further said, "Connectivity from pottery barns to marketplaces are low, so they seldom travel to sell their products and compromise on their profits."
However, to understand the socio-economic conditions and the problems faced by the pottery artisans, a study was conducted in 2018 in Srivaikundam taluk in Thoothukudi district of Tamil Nadu, which showed that the pottery industry has an inconsistent supply of raw materials, lack of working capital, outdated technology, lack of product diversification, and lack of research and development initiatives.
Associate professor Dr. Nuruzzaman Kasemi, who is studying and researching the traditional pottery sector, said, "the market for pottery business has declined." He added that potters are facing a lack of good marketing facilities because plastic commodities have overtaken the market for the pottery business.
"The young generation is leaving their traditional occupation and choosing other occupations. They are migrating from their places because the profit is not that much as compared to the investment," he said.
"At the same time, the cost of the raw materials has increased and the market price kept decreasing. Proper initiatives and awareness programs should be executed by the government to educate them in upgrading their skills. There is also a need to implement and diversify the market in the village. This will help potters to earn a market and a living for them as well as their children which is no more inclined towards pottery," he explained.
Now only elders are in the pottery business. Their children are not doing it anymore. "So, if the situation continues to prevail then after 20 years, we will not be able to see any traditional potters, Ambarish said.