India's dependency on Chinese goods has been rapidly increasing despite the cold relationship between the two countries.
Trade between India and China continues to flourish while the two countries hold the 15th round of corps commander-level discussions on March 11, to resolve the tension at Ladakh border.
Despite claims by the central government that trade between the two countries is going to be affected amidst the tensions, statistics prove otherwise. India's trade with China in 2021 crossed $125 billion, with imports from China nearing a record $100 billion. There has been a continuous demand for Chinese goods, especially electronics..
Trade
India is heavily dependent on China for finished goods as well as intermediate products. Finished goods such as integrated circuits, laptops and computers, and oxygen concentrators saw a rise of 147 percent, 77 percent and 400 percent respectively, in 2021 as compared to 2020. Whereas, intermediate products such as chemicals like acetic acid saw an eight-time rise in import. The five-year trend shows that the trade deficit of India continues to widen and has grown from $51.8 billion in 2017 to $69.4 billion in 2021.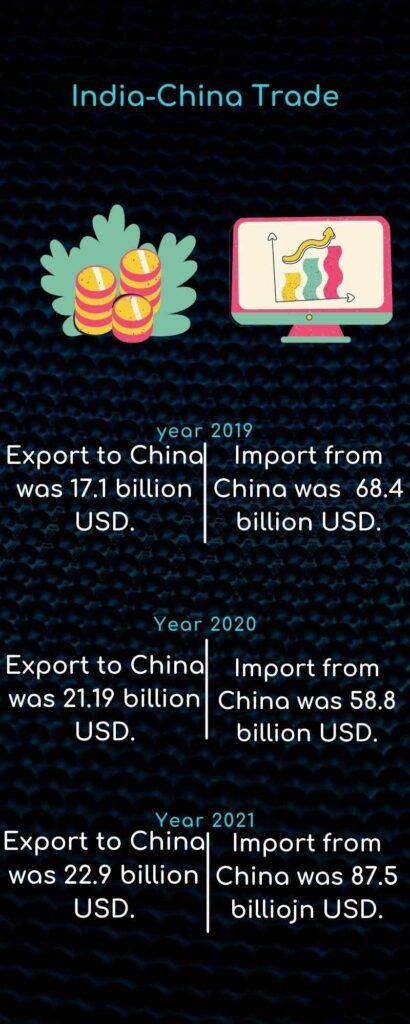 Rajesh Dikshit, a business analyst said that India cannot afford to lose trade with China because most of the electronic items are imported from China. "Although there were incidents of numerous conflicts, we have imported pharmaceutical items from them during the second wave," he added.
Interdependency
The government has imposed sanctions on trade with China but the export of cotton, seafood and raw materials like ores has grown by more than 50 percent and has reached $97.5 billion. Both the countries are interdependent in terms of trade. Granth Vanaik, an International Relations Research Analyst said, "The increasing tradeimplies that despite China's salami-slicing tactics at the border, the economic relations between the two countries are essential." He added that India's imports are four times that of exports to China. This is a cause of worry for many traders in India incase anything goes wrong on the border.
The pandemic disrupted the global supply chain. India adopted measures to reduce its reliance on China. More than 200 applications were banned and 5G trials by Chinese firms were kept on hold. Kiran, Public Relations officer at Ekaakshara imports and exports Pvt Ltd. said, "The Indian government might ban apps but we can't afford to ban imports of IT goods. The whole world faced the scarcity of semiconductor chips when China stopped their export."
The conflicts and talks
Line of Actual Control (LAC) has been a region of constant conflict between the two countries. An agreement was signed in 1996 in which it was decided to prohibit the use of guns and explosives near the border. Both the countries are still struggling to build infrastructure in the region. Galwan valley saw a lot of conflicts in 2020. . The reason for the rise in tension was the construction of roads by India along the border. On June 15, 2020, there was a violent clash in Galwan valley in which 20 soldiers were killed. It was one of the worst clashes in 45 years. China did not acknowledge any casualties. Images surfaced of nail-studded rods that were used in the fight.
Amid the tensions, China passed a new land border law. The law is meant to aid China guard the border it shares with 14 countries. The law took effect on Jan 3, 20222. The law states that, "China shall take measures to safeguard territorial integrity and land boundaries and guard against and combat any act that undermines territorial sovereignty and land boundaries."
History has its own role
India China border dispute goes back to 1914. A meeting was called in Shimla by British Lieutenant Colonel Sir Arthur Henry Mcmahon to administer an official border between the two countries. But China refused to accept the Mcmahon Line. Both the countries fought a war in 1962 following the dispute over Arunachal Pradesh border and Akshai Chin region in Ladakh. India lost the war. LACcame into existence after the war. LAC has been considered the border between India and China since then. Rajiv Gandhi visited China in 1988 which re-established the relationship between the countries. There was a policy shift and both the countries agreed to normalize the relationships moving past the border issues.
What do experts have to say
The recent standoff was at Arunachal Pradesh border where there were reports of minor face-offs. The face-off took place after two days of high level military talks between the two countries. Dr. Chaitraprasad, an economics professor said that the increasing trade deficit with China is a matter of concern because India mainly imports finished goods which increase the reliance on China.