Contact lenses users are unconsciously contributing to microplastic pollution.
Contact lenses are either flushed down the drains or dumped in regular bins, leading to an escalating amount of unaccounted-for microplastic pollution.
"I was explained the whole procedure of how to wear and remove the contact lenses, but I was never informed where to throw the used ones," said Kanishka Sharma, who throws her used pair into dustbins.
Anika Singh, who has been using lenses for more than two years now said, "I was informed about the specifications of all the options available in the market, nails, no nails, makeup before and after, and dispose of after 30 days that was the only mention made about the disposal."Most users either toss the used lenses into dustbins or flush them into the toilets.
Need for change
All is not well with such ignorance, as the contact lenses' market is on a rise, so is the pollution caused by it.
The number of people switching to using contact lenses in the country is increasing. The Indian contact lenses market is estimated to proliferate with a compound annual growth rate of 7.05 percent in the forecast years 2019-2025.
Indian eyewear market share constitutes 73 per cent of spectacles, 15 per cent of sunglasses, and 12 per cent of contact lenses according to market analysis report by Deloitte. A survey conducted in Delhi showed that approximately 62 per cent of users in the survey were contact lenses wearers.
Contact lenses, as well as their packaging and care products, have contributed to an increase in plastic pollution and microplastic contamination. A 2020 survey found that 21 per cent of contact lens wearers still flush or wash their lenses down the drain, putting them directly into the water system.
"In fact, it is not just contact lenses alone. Waste generated from the primary and secondary packaging used for such products is fairly large," said Nagesh Aras, an environmentalist.
The problem lies with most users being unaware about the recycling of contact lenses. Optical vision shops are themselves confused about the disposal procedure. Optometrists at various shops around the city said that they do not have a clear idea about the disposal practices of contact lenses. Megha, an optometrist at tThe Optical Boutique said that they usually tell their customers to dispose of used contact lenses in regular bins.
Disposal method
Recycling is the most preferable option for contact lenses. Companies are coming up with initiatives of collection of used lenses and then putting them into the recycling process.
"Lenses should be disposed in a separate dustbin. Those who are extremely eco-conscious may switch to monthly or weekly lenses to reduce the waste," said Abha Garg, an environmental consultant, E.C Engineers.
"I think recycling contact lenses is the only method. But there are very few recyclers of contact lenses although a good number of lenses are disposed of every year. And 97 per cent of contact lenses are thrown in toilets and sinks, damaging the environment," she added.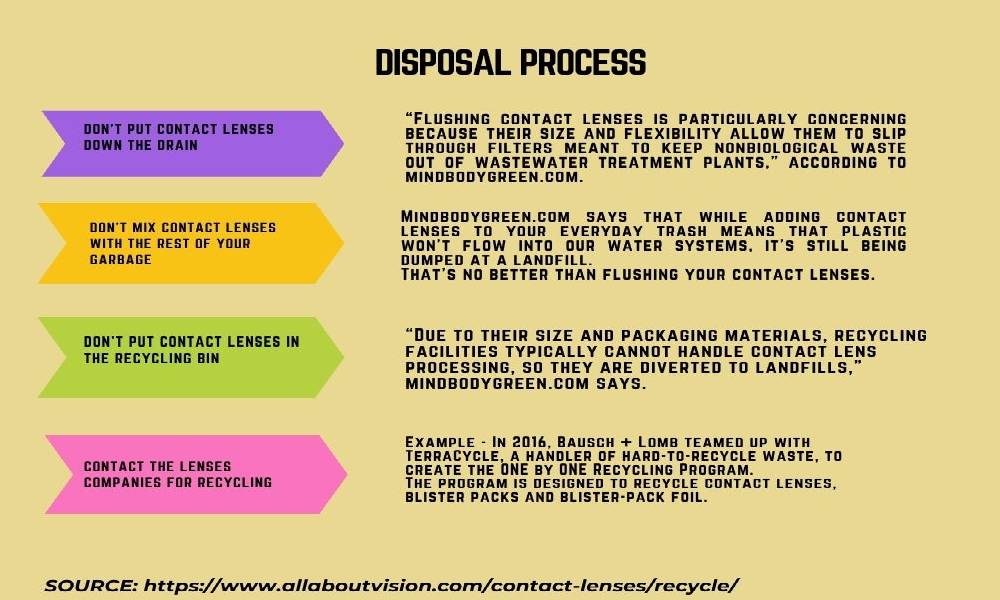 The American Optometric Association (A0A) suggests that doctors actively remind their patients never to flush the lenses down the sink or toilet. Also, it suggests the doctors to keep patients updated about recycling programs that are available especially for contact lenses and their packaging.
The responsibility
Anuradha Chandra, an ophthalmologist said that most of her patients are unaware of the proper disposal practices. She said contact lenses companies should be able to recollect used lenses, plastic packages, etc.
"To encourage people opting for recycling, the companies can run schemes like discounts, etc. Even medicine companies can initiate recollection of plastic bottles. This will greatly help in countering the problem of excessive plastic waste generation," she added.
Nagesh said that the whole eyewear industry does not take the responsibility of recycling. In this situation, users alone cannot be blamed because they might have medical reasons behind opting for contact lenses. However, manufacturers should be made accountable for generating public awareness and coming out with new initiatives for recycling.
"Another issue can be with product design. Products like contact lenses are not made with any extended shelf life. Also, at the end of the day, there are no regulations pertaining to the eyewear industry, in regards to waste generation," he added.
Environmental Impact
A report explained that over time, lenses when left untreated break down into micro-plastic which can later be washed into rivers and oceans, where they would float like tiny, tentacle-less jellyfish. They could sit in soil or completely dry under the sun.
Rolf Halden, director of Arizona State University's Biodesign Center for Environmental Health Engineering states in an article, "Once these lenses dry, they become incredibly brittle and will likely shatter into very small particles. When these microplastics persist in the environment they can be consumed by animals, birds, or insects and make their way into the food chain."
Contact lenses are designed to absorb liquid, and that includes anything in the water. So, there would be more impact with these microplastics than with the other materials because of contact lenses' ability to absorb various toxins in the environment, like pesticides and herbicides, and hyper-concentrate these chemicals and move them into the food chain.