Overburdened therapists under Sarva Shiksha Abhiyan are unable to provide physiotherapy sessions to special children while others quit jobs due to low payments.
Mahesh Kumar, a specially-abled student spreads out colorful money notes to explain the concept of cash to his friends. One of them, trying to understand turned the notes upside down, with trembling hands. Another, looking at the laptop screen, tried to work the touch pad, but had difficulty as his hands shook on the touch pad.
Watching this, the headmistress explained how the lack of a physiotherapist was affecting muscle movement among these children, but, taking a deep sigh, she remarked that there was not enough money to pay the teachers, how to bring a physiotherapist?
Special schools are short of physiotherapists due to lack of funds thus affecting the holistic improvement of Children with Special Needs (CWSNs) in Karnataka.
Experts say that the policies around special education address therapy vaguely at the end. Moreover, schools are struggling with basic education curriculums; hence, therapy is left way behind, they added.
Special schools are unable to hire physiotherapists regularly due to financial reasons. "Once physiotherapists start practicing in special schools, they explore their potential. Hence, they wish to shift to a hospital or a workplace which pays them well. We cannot give them the salary they demand. People get into jobs at special schools because of their passion but they eventually leave it for financial security," said Suchismita Das, technical director and special educator at a special school in Bangalore.
The cost of physiotherapy sessions ranges from Rs.600 to Rs. 800 per session for an individual and the school manages all expenses through the fee payments, Das said. Hence, parents cannot afford such therapy sessions.
Sarva Shiksha Abhiyan's (SSA) implementation guidelines state that physiotherapists should provide therapeutic service to CWSNs at School Based Programme Centers. However, a report on working of special schools in Karnataka, showed that 46 percent of schools do not have physiotherapists.
Physiotherapy is required for children with cerebral palsy because their muscles become stiff due to restricted movement, said Charitha Kudige, founder at Sinchana Foundation, another special school in Bangalore.
Low pay, tough working conditions
Different therapies are needed for different disabilities and their intensities, Kudige said. "Physiotherapists catering to children with special needs are really less in number. It is difficult to hire them because of the low pay scale. Moreover, they leave the job for several issues like getting too emotional while working with special children. At times, it gets difficult for them to handle the behavior of the children and hence they discontinue working with special schools," Kudige said.
Additionally, a few residential special schools have been working free of cost for children which in turn affects the financial set-up of these schools. Hiring physiotherapists after the pandemic has been tough because the school is not able to pay them salaries, said P. Rohini, headmistress of Krishna Chaitanya Residential Special School, in Bangalore. "The special educators and other staff are already working with half-paid salaries due to less funds received by the government. When we are not able to pay fairly to our special educators, paying physiotherapists is a big challenge," she added.
Unavailability of physiotherapists in special schools is also due to resource persons being overburdened with administrative work under SSA, said Pooja Pandey, a research fellow with education teams at Vidhi Centre for Legal Policy.
"Apart from financial constraints, the resource persons are overworked with certifications of children with disabilities, talking to parents among other managerial activities. Hence, they do not have enough time for therapy sessions. Moreover, the focus has been more on the degrading numbers of special educators, enrollment, and lack of infrastructure inclusivity. Discussions for therapists and their unavailability comes later," she said.
Hence, with lack of good paying opportunities, people are losing interest in the therapy aspect of special education, she said.
Early intervention
Experts from the field of physiotherapy and education said that early intervention is required in cases of CWSNs since it increases their chances to get better in future and maybe overcome the disability in some cases.
Physiotherapists are required for children to help them with body balance while working, increasing sitting tolerance and overcoming muscle and hand stiffness. "Failing to receive physiotherapy services, CWSNs are not able to achieve their milestones (predicted time to reach achievements like—learning to sit, learning to walk among other things) which hampers their overall growth," said Yashvi Sadiwala, a physiotherapist.
CWSNs face difficulties in walking, talking, swallowing, chewing among other problems due to absent therapy sessions, she added. Moreover, when they reach their teenage years, the impact of such problems affects them mentally as well owing to comparison with other children in the society, she added.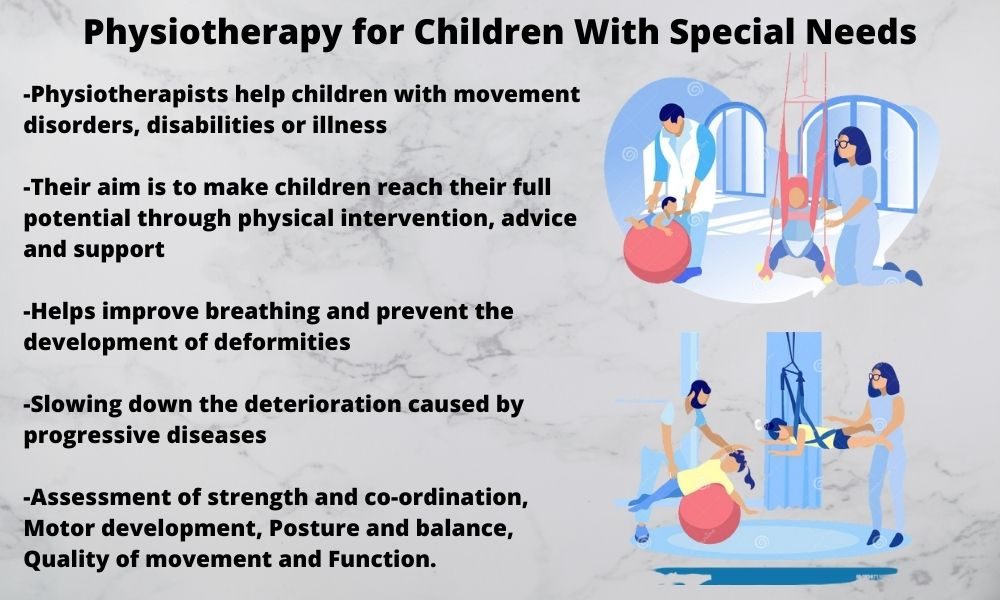 Schools are often confused with their intentions regarding certain facilities they claim to provide, said Rustom Irani, a disability rights expert and a filmmaker. "If the school intends to function as a rehabilitation center as well along with providing education, they should have physiotherapists," Irani further said.
"The policy makers did not realize the exact need for physiotherapists in their policy in a concrete manner. Based on half information, they have left schools unclear about physiotherapy," Irani added. Physiotherapists go for rigorous training and their potential is not used to the full extent in special schools. Hence, they prefer to look for better jobs work-wise along with higher pay, Irani said.
Better policies
Experts say that laying clear intentions about policies related to physiotherapy, provision for weekly visits to school and focus on training of teachers could be beneficial to therapy-focused special education.
"Policy makers or schools should come up with definite guidelines for physiotherapists and state clearly what kind of work they would require from them. Even they need to realize what are they exactly aiming at through physiotherapy. This will clarify physiotherapists too regarding their work," said Irani.
To handle the financial crunch, schools can have physiotherapists visiting once or twice a week or fortnight, said Sadiwala. Moreover, trained attendants can visit the schools. Such visits with evaluation and progress reports can be helpful in monitoring CWSNs'health improvements, she further said.
Focus on inclusive education rather than segregating CWSNs would be helpful in making the situation better, said Pandey. "Since the degrading number of therapists and special educators reflects the sorry state of special education, focus on training general teachers to handle CWSNs in regular schools would be helpful now by strengthening inclusive schools," she said.