As panic settles in, more students face the dilemma of offline classes and soaring flight fares.
Bengaluru: It was 5:17 A.M. on February 24. Akshay, a student of Kharkiv National Medical University woke up to sirens blaring in his neighbourhood. From the balcony, as far as his eyes could see, he saw massive balls of fire shooting up across the sky accompanied by loud bangs.
"A series of shockwaves battered the windows in the room. And a smell of charred gunpowder travelled through the air. There have been three more explosions after that," he said.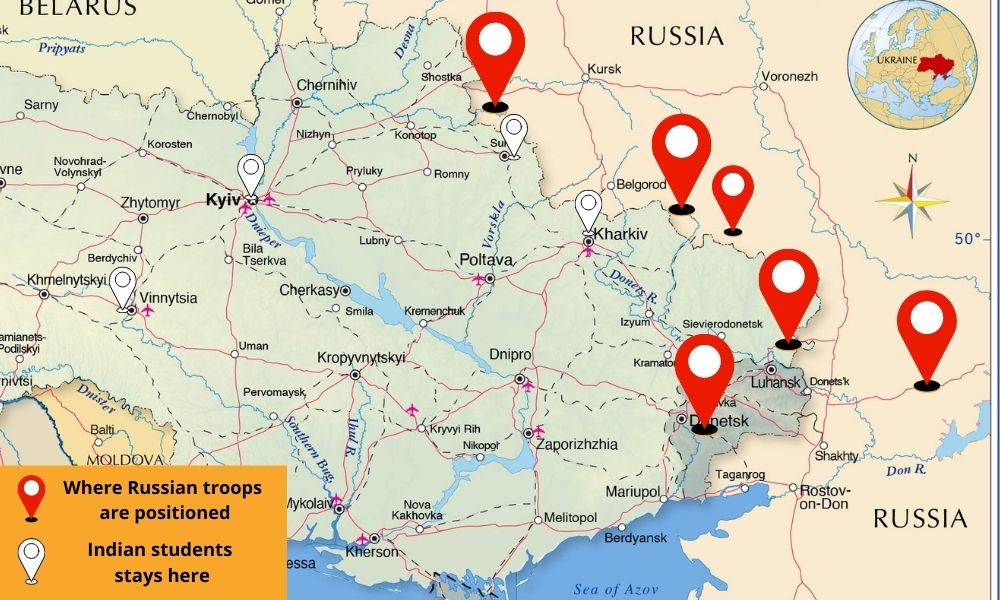 On Thursday morning, 6 A.M. in Moscow, Russian President Vladimir Putin had called for a "military operation" in eastern Ukraine.
Akshay is one of the Indian students and nationals in Ukraine who face a Hobson's choice, unable to decide between coming back home or attending offline classes. With Ukraine restricting its civilian airspace after the recent developments, his fate remains doubtful.
"I feel anxious. My tickets are booked for next week. I had to pay Rs. 35,000, almost double the initial prices," he added.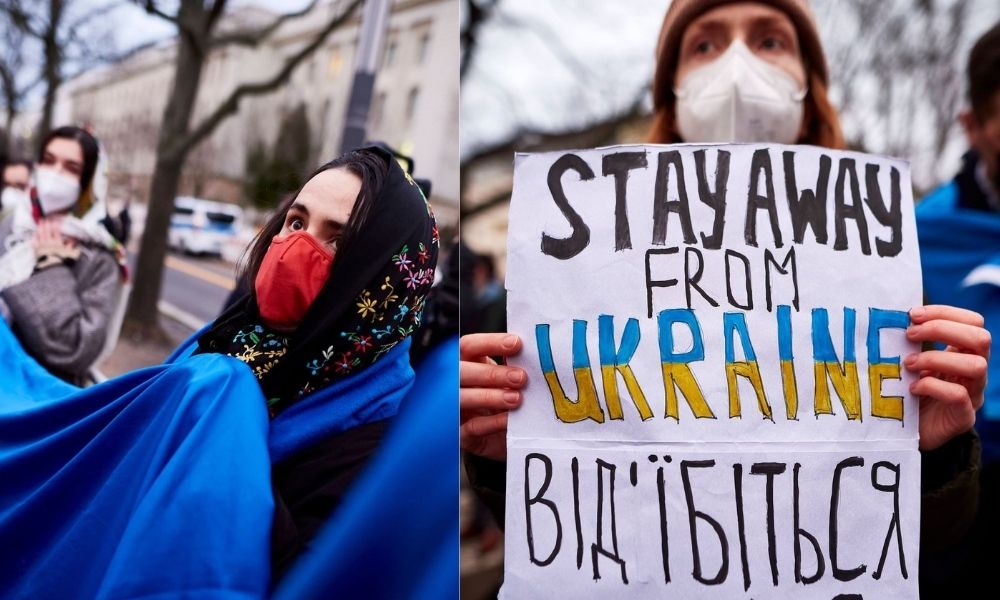 Similarly, Anubhav Arya, a third-year student at Ivano-Frankivsk National Medical University, is anxious to come back; he cannot afford the expensive flight fares. "For the third-year and sixth-year students, there are already two offline examinations scheduled for March and June. How will the students go and come back amid the soaring flight fares?" he said.  
Noida-based Shikha Mishra is worried about her sister Kriti, a final year student in Ukraine.  "We want to pull her out of the country as soon as we can, but the flight tickets show up to Rs. 90,000 fares. How is the Indian government trying to support us?" she added.
Between Feb. 22 and Feb. 28, the flights connecting Ukraine and India are at Rs. 40,000 – Rs. 90,000. This is a threefold rise from the earlier fares. The average travel time between the countries also shot up to 15 – 24 hours (with layovers), and some showed up to 48 hours of travel. Fares for the only two direct flights on Feb. 24 and Feb. 26 touched the Rs. one lakh ceiling.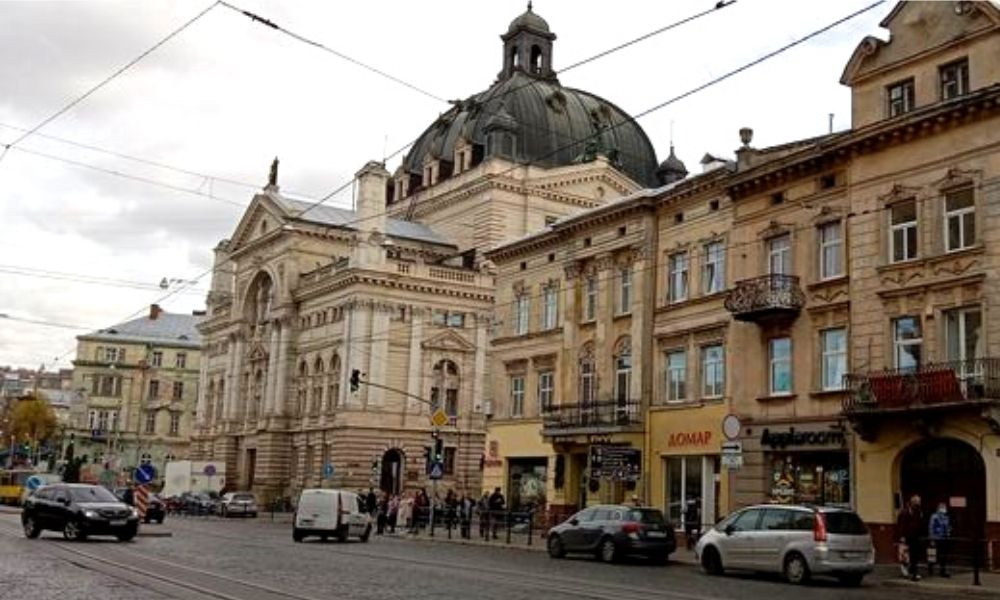 Amid the soaring prices, a lack of direction from universities has left the students uncertain. Anubhav said Ivano-Frankivsk National Medical University has declared online classes for the next two weeks only, while Adarsh from Sumy State University said his university has decided to hold online classes until government direction comes. Amisha Gupta from Vinnitsya National Medical College said her classes have been shifted online for students leaving for India till May 1 and offline for others in Ukraine.
Several students at Ivano-Frankivsk National Medical University staged a protest on Feb. 21 demanding online classes till the end of the semester.
The fast-changing diplomatic landscape in Ukraine took a sharp turn after Russian President Vladimir Putin decided to the breakaway regions of Donetsk and Lugansk as independent states. 
Subsequently, the Indian Embassy in Kyiv, "Students are advised, in the interest of their safety, to leave Ukraine temporarily, rather than wait for official confirmation from the universities."
At the time of writing this report, Harsha and Amisha Gupta are already on their way back home. However,  Harsha, who is in her first year, will be missing out on several offline examinations this month. 
Oksana Oleksandrivna, PhD, Associate Professor at Vinnytsia National Pirogov Medical University said the university authority did not receive any direction from the education ministry. "Amid the current situation, it is still better to leave till the situation calms down again," she added.
Another professor, Dr. Iryna Fomenko from Lviv National Medical University said the political crisis in Ukraine is unprecedented and affects everyone in the country. "Unfortunately, we are losing foreign students who are scared to come back," she added.
However, several students pointed out the shortcomings of the Indian Ministry of External Affairs (MeA) for the delayed advisories and flight fares. Ranjan Raj, a student at Kharkiv National Medical college said that despite talking to the Indian Embassy in Kyiv, he had received no accurate advice."A few days back, when the situation had escalated, I had asked the embassy for guidance and also spoke about the flight fares. However, the officials gave an inadequate answer saying that I can leave if I want to," he added.
Officials of the Eurasia Department, MeA, said the Indian government is in prolonged talks with the Ukrainian counterpart to streamline the education process. The officials declined to comment on the flight fares.
Meanwhile, students who have already flown to India are struggling to catch up with their practical classes. 
Shubham who arrived in India on February 19 now practices at a government hospital to make up for the practical classes he lost out on. His father, who is also a doctor, has helped him to arrange for the practicals. "I had to come back after repeated calls from my distressed family members. Right now, several students are struggling with the practical learning for our medical course," he added. 
Aousaf, who is also set to come back to India, plans to urge the Indian government hospitals to allow him to perform the practicals.
Dr. Surendra Kumar, Political professor, at Bangalore University, believes the recent moves by Russia has opened Pandora's Box and are likely to disrupt global politics. "India's immediate concern should be the students. The Indian government should negotiate with Ukraine for evacuation of the students before the situation becomes more volatile," he added.
On November 10, 2021, Washington had unusual troop movements along the Ukraine-Russia border. Over the next few months, Russia gathered more than 90,000 troops along the border. The Kremlin had put forward several demands, including Russia's concern about Ukraine joining NATO among them.