Reports state that cardiovascular diseases account for 16.9 percent of all deaths among women.
Despite being one of the leading causes of death in women, the causes of cardiovascular diseases (CVD) in women remain understudied, under-recognized, underdiagnosed. Hence, the reported cases of CVD in Indian women have increased significantly in the past few years.
Dr. Sreekanth Shetty, senior consultant and head of the Department of Interventional Cardiology, at Sakra World Hospital in Bengaluru said, "Due to delayed diagnosis, CVD cases in women were under-reported. Preventive health check-up is generally ignored in the case of women. Earlier it was lesser in women but it has increased in the past few years."
Dr. Ravi Singhavi, an interventional cardiologist in Ahmedabad said, "A few years back, out of all the CVD cases, there were 20 to 25 percent female CVD patients but now there are 30 to 40 percent female CVD patients in the hospital. Free treatments have led to reporting of CVD in women."
Chandana Mahadani, a CVD patient in Bengaluru said, "After I faced some health issues, I was diagnosed with cardiovascular disease five years ago. Nobody in my family had this, I'm the first one. Doctors said hypertension is one of the reasons for this. I never had a proper preventive health check-up in the past many years."
A report states that CVD is one of the leading causes of mortality in the urban and rural populations of India. Out of a total 10.5 million deaths each year, CVD led to 20.3 percent of deaths in men and 16.9 percent of all deaths in women. However, CVD is a global problem. A Lancet report, published in 2021, says that cardiovascular disease is one of the leading causes of death in women. Several International health bodies have pledged to reduce the increasing number of CVD in women by 2030.
Singhavi blamed the drastic changes in eating habits as contributing factor to the rise in cases. He said, "Consumption of unhealthy foods contributes to CVD in women. In fact, one of the primary causes of CVD in women these days is the prevalence of smoking, hypertension, and diabetes."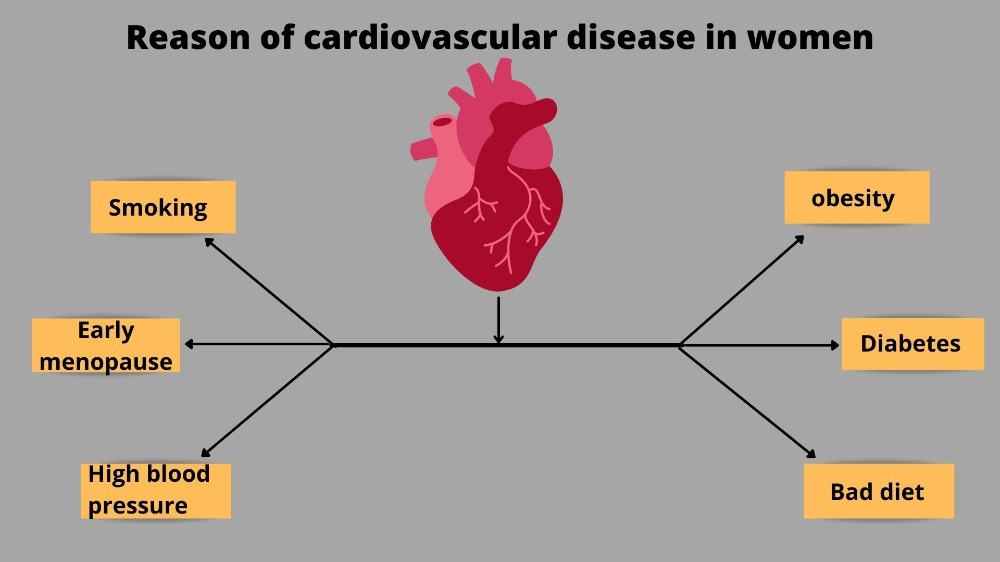 Dr. Suvro Banerjee, consultant interventional cardiologist at Apollo Gleneagles Hospital said, "Women after menopause are more susceptible to CVD. It's not genetic or inherited, but improper eating habits must be managed in order to prevent this from being passed down to future generations."
He added, "There were hardly any female CVD patients 10 years ago, but now the scenario has changed. Out of 10 patients, four to five are female CVD patients."
Professor Gaurav Chaudhary, Professor of Cardiology at King George's Medical University in Lucknow said, "Early menopause could be a risk factor for cardiovascular disease. The cases of acute coronary syndrome are higher in women, particularly post-menopausal women (5.9 percent to 7.5 percent)."
He added that early intervention can reduce the burden of CVD. Even cessation of smoking would also have a marked reduction of Coronary Artery Disease (CAD).