Lack of knowledge about technology is making farmers continue to sell in traditional markets.
Despite the state and central government's effort to help the farmers sell their crops by creating advanced digital platforms like ReMS (Rastriya e-market service) and National Agriculture Market (e- Nam), many farmers lack technological knowledge about its usage.
A farmer in H. Gollahalli, Rajanna, 50, who grows ragi and jowar said that some government people came to educate the local farmers, when the online agriculture marketing platform was launched in 2014 but, they still do not know how to operate it.
In terms of access to the internet, 42 percent of urban households have access to the internet while the corresponding figure for rural households is only 14.9 percent.
Another farmer, Nagaraju, 65, in H. Gollahalli, who grows ragi said, "For years I have been selling my crop in traditional markets because of the decent price. In APMC (Agricultural Produce Market Committees) the traders bargain too much, and we get nothing in return."
National Agriculture Market (e-NAM) is an integration of APMCs across the country via a shared online market platform to promote pan-India trade in agricultural commodities, improved price discovery via a transparent bidding procedure based on produce quality, and timely online payments.
The Karnataka government also established similar marketing platform ReMS (Rastriya e-market service) in 2014. The state government directed ReMS to combine and digitalize all mandis in the state through a single online platform—UMP (unified marketing platform).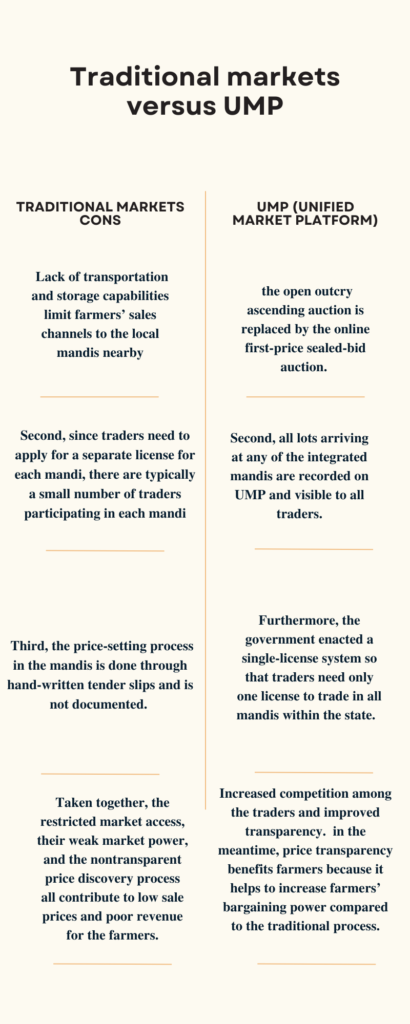 A farmer, Parvatamma, 65, in Devagere, who grows vegetables, said, "hum log padhe likhe nahi hain. Mujhe nahi pata in sab ke baare main." (I am not educated. I am not aware of these online marketing platforms).
Digital literacy is defined by the Ministry of Electronics and Information Technology as "The ability of people and communities to understand and use digital technology for meaningful activities within life situations any person who can use a computer/laptop/tablet/Smartphone and other IT-related equipment is considered digitally literate.
National Sample Survey (NSS) data for 2017-18 shows that only 38 percent of households in India are digitally literate. It means they have the basic knowledge of how to use smart phones or internet. In urban areas, digital literacy is higher at 61 percent relative to just 25 percent in rural areas.
Parvatamma's son Manjunath, 50, said that he has heard about these online agriculture marketing platforms and apps but, he doesn't know how to use them. Moreover, nobody from gram panchayat trained them about the usage of these online platforms and apps.
However, he has been selling his vegetables and other produce in local market of Nalakhamba, Kumbalgudu for years now.
B Shivaraju Additional director of agriculture (Crop development and planning) said that he did not know if farmers are facing any technological challenges but, "I can say in terms of finance there is a problem," he added.
Mr. Kiran, marketing officer, APMC Yeswanthpur said, "Farmers are not facing any technical problems in selling their crops on online agriculture marketing platforms."
He added that many farmers are still vulnerable to the traditional methods of markets and the government should take the responsibility of safeguarding their interests.
"APMC and the state government are so open to making any change to benefit the farmers so that they do not have to face difficulties." There should be more competition and alternate marketing channels as an increase in market competition will help farmers sell their crops at higher and better prices, "he further said.
Rani Lakshmi Bai Central Agriculture University's Vice-chancellor and professor, Arvind Kumar said, "The limitation with the farming communities is that they are not digitally literate. Many of the farmers do not even know how to use the mobile phones."He added that many government services which are not known to citizens, could be known to them through these digital platforms like E-Nam but, "first central government have to improve the infrastructure at gram panchayat level. Many farmers are old and certainly they are not computer/smartphone savvy, therefore they need to be more and more trained and aware is the only way out."