Bengaluru Metro Rail Corporation Limited (BMRCL) is collecting fines from passengers who are not wearing masks properly on the metro.
The BMRCL is cracking down on people who do not wear their masks properly on the metro. Over 33,000 people were fined between March and November 2021 and Rs. 18, 60,000 was collected.
"Even though we take all the Covid precaution measures and check passengers before allowing them inside, people still end up removing their masks or lowering their masks to their chins, etc," said Ravi Prakash T. L. Senior Manager, Public Relations, and BMRCL. People have a moral responsibility to safeguard each other, so even if a person lowers his mask or removes his mask, the co-passenger should ask that person to keep his mask on, he added.
A fine of Rs. 250 is collected from people who do not wear masks properly and we are following this according to protocol, he said, "The Covid guidelines are also going to be the same, and there is nothing much to change. It is the people who need to have awareness and follow the Covid measures properly," he added.
Mahesh*, a commuter in the metro said, "I was fined Rs. 250 for not wearing my mask. I just took off my mask for a few minutes since I was finding it tough to breathe with it on. I also saw that there were few people in the compartment, so I took off the mask for a few moments. And it was at that precise moment that the cops noticed me and fined me."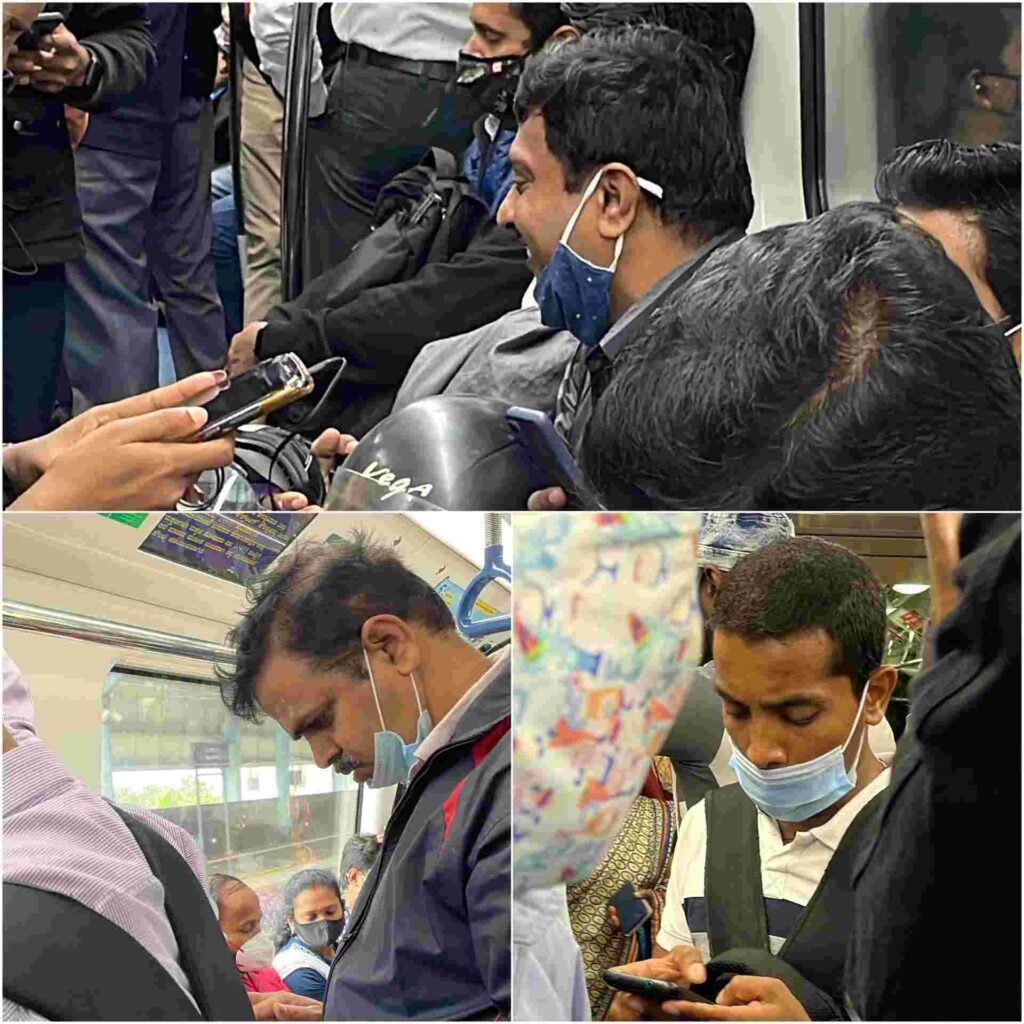 Charan* another commuter in metro said, "Metro officials are doing the right thing by fining people for not wearing masks properly. Despite the fact that people are being fined, I observe some people removing their masks or lowering them to their chins." A public awareness campaign should emphasize the dangers of the Covid virus. It's also worth noting that the two-dose vaccination does not provide complete protection against the virus."
Health experts say that guidelines should be adhered to strictly. Dr. Anita S Desai a professor from Indian Institute of Mental Health and Neurosciences (NIMHANS) said, "Not only in the metro, but also outside in the city sometimes, I see many people not wearing their masks properly. People should be aware of the outcome of not wearing their masks properly." She added that people should continue to follow government guidelines. Crowding should be avoided and gathering should be limited to a few people. Everyone should take precautions, such as washing and sanitising their hands. "Even though they are completely vaccinated, it does not mean that they won't get the virus," she added.