Bruhat Bengaluru Mahanagara Palike (BBMP) had planned to introduce pink autos in the city back in 2018.
Bengaluru: Residents of the city have to wait longer for pink autos as the BBMP does not have any plans to launch them soon.
Rajeshwari S, Assistant Commissioner of Welfare at BBMP said that they don't have any proposals to launch the pink autos in the present financial year. "We don't have the funds right now to spend in any of these welfare schemes," she added.
In 2017 Sampath Raj, then mayor of Bengaluru had announced that the city would get pink autos for the first time. The Welfare Department of BBMP was supposed to fund the project and they asked for closed-circuit television (CCTV) cameras and global positioning system (GPS) trackers to be fixed inside the autos. Additionally, women drivers would have been given preference for the vehicles. But the project never took off from there.
Deepa, a senior clerk at the Welfare Department of BBMP, explained that it was difficult to convince the women drivers to drive at night and even though they did manage to get a few licensed women drivers, the commissioner's office didn't approve the funding of the project.
"Unless someone in the senior level pushes for it, it won't be approved in the next financial year as well," she added.
However, women commuters in Bengaluru would prefer to see pink autos on the streets, especially at night. Bhavna Jain, a student in Bengaluru, expressed that she would feel much safer around a woman driver than a male counterpart at night.
She said, "It would be really great if the initiative starts because women wouldn't think twice before going out. They won't have to depend on someone to drop them or pick them up from somewhere."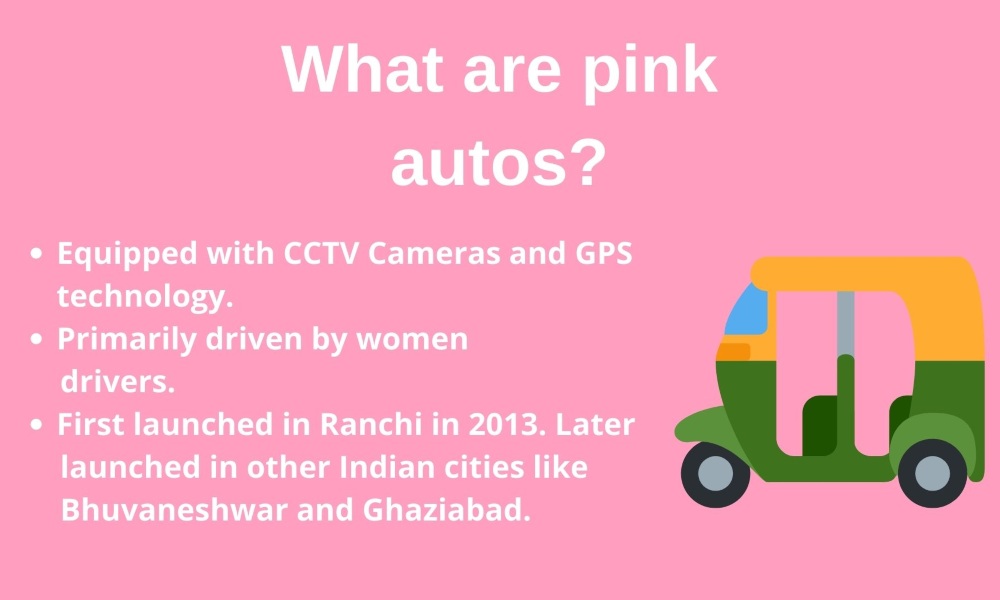 In India, the first-ever pink autos were launched in Ranchi in 2013 by the Government of India after the 2012 Nirbhaya case in New Delhi. The capital of Jharkhand had around 40 pink autos at the beginning. Dinesh Soni, a founding member of Jharkhand State Diesel Auto Driver's Association, said that women from lower-income households were given priority while training women drivers for the autos.
Even after eight years, the number of pink autos has remained largely the same, he added.
Apoorva Tomar, a student from Ranchi, stated that she had boarded a pink auto only once in her life as pink autos are only found in some areas of the city. "I have faced harassment while traveling in an auto, so I definitely want more pink autos for me and for all those women who don't feel safe while traveling," she added.
Currently, there are around 50 pink autos in Ranchi out of a total of 15,000. "It's difficult to get permits for autos. The government should take initiative to encourage more women drivers to take up auto-driving as a profession," Soni said.
Even though segregation in public transport is an often debated issue, a study published in Oxfam mentioned that pink transport in Mexico City helped raise discussion around gender equality, gender discrimination, and women's rights.
Sudeshna Mukherjee, associate professor of gender studies at the Bangalore University said that any women-centric initiatives of the government lack funding on most occasions. She added, "If you just look at the Karnataka State Budget, you would find many women-centric schemes but how much is being allotted to them is the real question."