Plus-size customers opt for customizations and self-owned brands due to lesser shopping options.
Plus-size women and men have a difficult time shopping due to less variety and non-availability of clothes although the demand is rising.
Plus-size clothing accounts for 40 percent of total sales at Mustard, a clothing store on Commercial Street, which provides sizes ranging from minus two to 7XL. Shivakumar, manager, Mustard said that there was a growing demand for apparel sizes larger than XL. Once customers begin shopping, they buy in bulk—up to nine to 10 pieces of clothing because their sizes might not be available in other stores.
Many clients are opting for personal clothing customization from tailors and boutiques, as there are fewer alternatives and styles in plus-size, he added.
Seventy-seven percent of plus-size women agree that it is hard to find well-fitted garments and 49 percent agree that they need tailoring to get the right fit.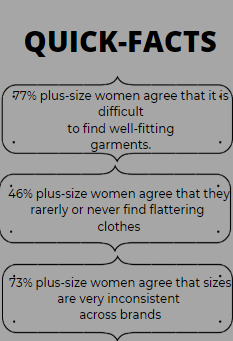 "Plus-size apparels are limited and not all brands support the same. The collection gets expensive and probably that's the major reason I opted for designing and customizing my clothes these days although it does not work all the time. The demand for plus size outfits has a massive increase but also recurring shortages in store," said Indira Gurudatta who is a plus-size consumer.
Zain, the owner of Naina Boutique, said that there are many plus-size customizations and there is an influx in customers during the wedding and festival season.
The sale for men's plus-size clothing was dominant in 2019, with 50.3 percent share in the market. Sohail, the manager at ALL-the plus size store at Mahatma Gandhi Road, said that the majority of the customers are men, and women contribute only 30 percent to their sales.
Shravan, a customer said that he does not get a lot of options to choose from. "We don't get what we really want and what is trending," he added.
Smaller businesses try to be ahead of the game as they try to keep up with the increased demand for plus-size clothes. Divya Goenka, the founder of The Pink Moon, an online clothing store said that, "Many of our online orders come from Bangalore itself and we would love to have an offline store someday to serve them better." She said that they earn up to Rs. three crores per annum.
"As the modern day Indian woman is becoming more comfortable in her skin and is confident about herself she is embracing clothes that make her feel good and look good. She is no longer looking to people to tell her what to wear and how to look. This has led to a strong increase in plus size clothing which are fashionable yet functional," she added.
The Pink Moon does more than sell clothes, said its founder. She said that it embraces women empowerment and challenges what some corporate brand or retailer tells them to wear.
The Plus Size Store started by Aanchal Bhatia and Priti Bhatia, said that they have many Queens of the plus size store" ordering from Bangalore. Their annual turnover is of Rs two to three crore, they added.
Brands now have special plus-size ranges which is a step towards acknowledging the existence of plus-size women, said Sanchaali Chakravorty, a plus-size model. However, fewer stores exist for plus-size clothes and the brands are missing out on a huge market, she added.
"The situation is worse for men than women. Even with the existence of brands, they do not always keep up with the trends as the options and sizes are limited. The prices are very high compared to conventional brands which is unfair to plus-=sized people. Many custom made brands also price their products higher if they have to make it for a plus sized individual." she said.
Customers n the plus size category account for over half of all consumers in India who demand clothes larger than the standard size bracket of 0-12,according to Statista. .
In India, the women's apparel market is expected to grow to about $ 39 billion by 2025, with nearly 30 percent of customers seeking plus-size goods, according to retailers
Sandra Agnes, director at JD Institute of Fashion Technology said, "The efforts while designing a XS and XL does not vary although there are certain things which are to be kept in mind related to color and patterns. There are different challenges pertaining to body type and sagginess and obesity. Keeping the challenges of the body in mind, the designer has to select the right fabric and work with fabric manipulation and dart manipulation."