Police said that many educational institutions have stopped reporting the sale of cigarettes within 100 yards of their premises.
Bengaluru; Cigarettes are still being sold within 100 yards (92 meters) of educational institutes despite regulations under the Cigarettes and other Tobacco Products Act, 2003 (COTPA).
Sandeep, 28, owner of Shri Brahmashree Condiments and Bakery, who sells cigarettes near Jain College, Jayanagar said that he sells around 8,000 to 10,000 cigarettes every month and most of his customers are college students.
The Section 6 of Cigarettes and other Tobacco Products Act 2003 (COTPA 2003) states that cigarettes should not be sold to a minor. It also prohibits the sale within a radius of 100 yards from any educational institute. The Section 4 of the COTPA 2003 prohibits smoking in all public places.
The person selling cigarettes to minors or selling tobacco around an educational institution has to pay a fine of Rs. 200 each time. However, several instances of shops selling cigarettes, against the provisions of the law have been identified.
Dev Jain, 19, student of Jain College said that there are six shops near his college which sell cigarettes. "There is a lane adjacent to the college which is a popular smoking zone for students," he added.
Mercy, 46, mother of a student who goes to Good Samaritan Public School, Kaggadasapura said that she is concerned about the sale of cigarettes near her daughter's school because her daughter is a teenager.
Shreya, 21, student of Acharya Institute of Graduate Studies, Soladevanahalli said that there are two shops opposite to the college campus that sell cigarettes; one is a pan shop and the other is a general store.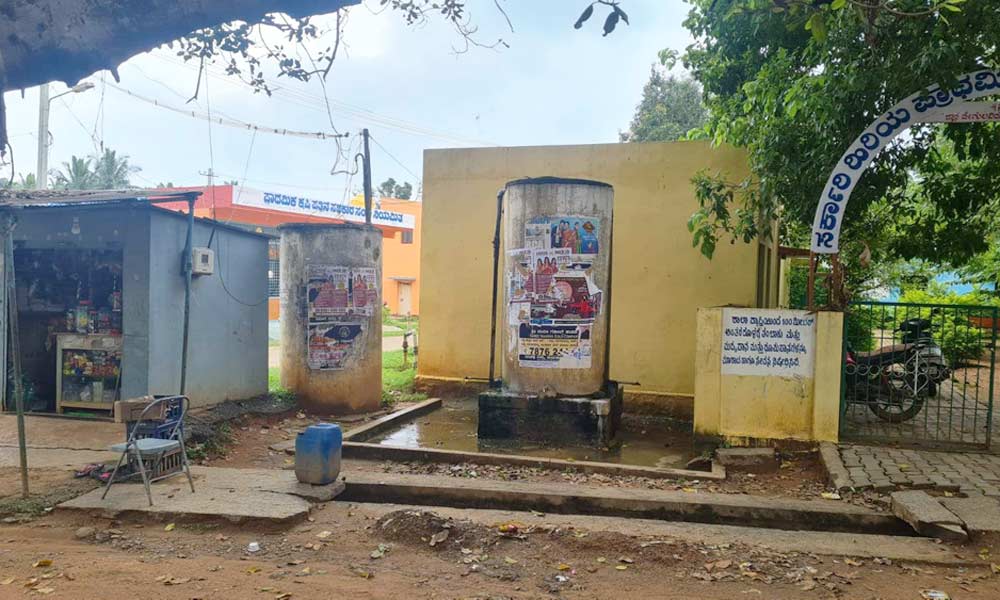 Prakash, 41, owner of a general store which sells cigarettes near Good Samaritan Public School, Kaggadaspura said that neither does he sell cigarettes to minors, nor does he ask for the ID of customers.
In spite of such cigarette shops, the institutions have not filed any complaints. Maya, 45, coordinator of Good Samaritan Public School said that the school authorities are aware that there is a general store which sells cigarettes nearby but they haven't filed a police complaint against the shop owner.
Dr. Nalini Satish Chandra, 57, Principal of Jain College, said that in 2019, the college filed a complaint in Tilak Nagar Police Station and the police shut the shop selling cigarettes in front of the college. "We haven't filed a complaint in the past two years because we aren't able to run as a full-fledged college due to the pandemic," she explained.
Dr. Chandrashekhar Kottagi, Team Leader of Institute of Public Health (IPH), an NGO, situated in Bhanashankari Stage II said that many principals of educational institutions don't complaint because they don't want to get into fight with the cigarette-sellers. 
He said that schools are supposed to put "No Smoking" signages but hardly any of the schools put them up.
He also explained that both active and passive smokers face similar health issues such as cardiovascular diseases and lung cancer.
According to a report by European Network for Smoking and Tobacco Prevention published in 2020, out of 307 schools surveyed across five states in India, an average of 85 percent of the schools violated Section 4 of COTPA and an average of 69 percent violated Section 6b of COTPA. In Bangalore, among 200 educational institutions and public places, 67 percent violated Section 4 and 47 percent violated Section 6b.
Shiddappa S, 37, Assistant Sub-Inspector (ASI), Tilak Nagar, Jayanagar said that although many educational institutions have reopened, they are not filing any complaints against cigarette sellers or smokers in their proximity.
"Police usually go on rounds on Hoysala Vehicles (police patrolling vehicles) and fine people Rs. 200 who smoke in public places or near educational institutions," he added.
He said that in 2017 and 2018, approximately 1000 COTPA cases each were filed; in 2019, the cases reduced to 550 and in 2020 only 20 cases were filed. About 70 percent of these COTPA cases were filed by educational institutions, he confirmed.
Dr. Swati Anand, Consultation Physician, MBBS, DNB Internal Medicine at Abhayahasta Multispeciality Hospital, C V Ramana Nagar said that Environmental Tobacco smoke (ETS) or secondhand smoke causes lung diseases in both adults and children.
"It causes prominent effects on the lungs of adult non-smokers including reduced lung function, increased cough production and chest discomfort," she added.
She explained that in children, ETS increases the risk of lower respiratory tract infections (LRIs) such as bronchitis and pneumonia, upper respiratory tract irritation and prevalence of fluid in the middle ear. "ETS also increases the chances of development of asthma in children."
Dr. Rupsa Das, Child Psychologist, at a celebrated school in Bengaluru said that most shopkeepers don't care who they are selling cigarettes to. She further said that such shops near schools and colleges increase the accessibility amongst students.
"The peer pressure often forces teenagers to smoke as they want to look cool and when it is easily available they don't think twice before indulging in it. Therefore, lack of accessibility would have definitely controlled this to some extent," she added.