Pradhan Mantri Jan Dhan Yojna (PMJDY) gave assured access to various financial services. People on the outskirts of the city have not benefited much.
People from the economically weaker sections around Bangalore have not been able to use the overdraft (OD) facility and other benefits of PMJDY because they don't know how to. Several banks do not help, either.
Manu, a Jan Dhan account holder said, he opened his account only because it could be done on a zero-balance basis. However, the bank did not help in operating the account properly—he has not received the Rupay debit card from the bank yet.
The OD facility allows account holders to withdraw up to Rs. 10,000, though it can only be availed if the holder maintains transaction records and a good credit history for minimum six months.
Another account holder Bejnath, said that he did not know about the OD facility under the scheme. He added that the bank did not share any information about running his account or benefits he could get, after which he stopped maintaining his account.
 "The officers do not have enough time to educate each person about the scheme because in rural banks usually  only one officer is appointed to deal with all financial activities," said Ranjan Kumar, Branch Head, Baroda UP Grameen Bank.
Shweta, an officer in the Corporation Bank, said, "Now, we are only opening Jan Dhan accounts for those who are economically weak. We have opened accounts for various labourers living in close vicinity of the bank." The bank has opened 2600 Jan Dhan accounts since 2014. Of these, 200 are not operating anymore, she said.
"Out of total 2600 accounts, fifty percent became non-performing assets (NPA). Now they are not coming and paying any amount." said, Rekha, manager of Corporation Bank. Many account holders said they were unable to repay OD amount due to less surplus remaining after incurring their usual expenses.
Pradhan Mantri Jan Dhan Yojana helps in accessing various financial favors like basic saving bank accounts, approach to need based credit, insurance, pension to weaker sections, low-income groups.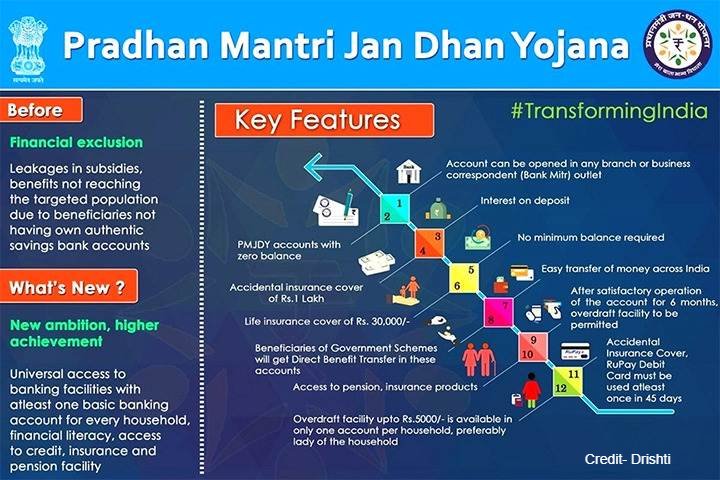 In PMJDY there are several benefits, like customers do not have to maintain the minimum balance in the accounts, they will get accidental insurance, are eligible to direct benefit transfer (DBT) and other financial schemes like Pradhan Mantri Jeevan Jyoti Bima Yojana, and Pradhan Mantri Suraksha Bima Yojana.
S.S Raghav, former project officer at District Rural Development Agency (DRDA) explained, "due to lack of knowledge maximum people are not getting the facility of overdraft and for awareness more workshops are required by bankers at the village level."
This scheme will be successful when beneficiaries do more transactions in banks. There is a need for good monitoring between the government and the bank to better the ways to educate and make the people aware about the dimensions under the scheme, he said.