White-topped roads last upto 25 years which is much longer than the black topped ones.
The construction of white-topped roads is being delayed because there is no information on the condition of the utility lines below the surface. Despite promises by political parties in every election, white-topped roads remain a distant dream for Bengaluru.
M. Lokesh, chief engineer of projects division of Bruhat Bengaluru Mahanagara Palike (BBMP) said, "We are not able to white top the roads because we have to ensure that utility lines are not harmed. Water and sewage lines are at least 20 – 25 years old. We can't take risks because the roads might need to be dug up which goes against our purpose to construct long-lasting roads." He added, "The work is often delayed also because of the inability to divert traffic. White-topped roads need to be left undisturbed for a minimum of 28 days."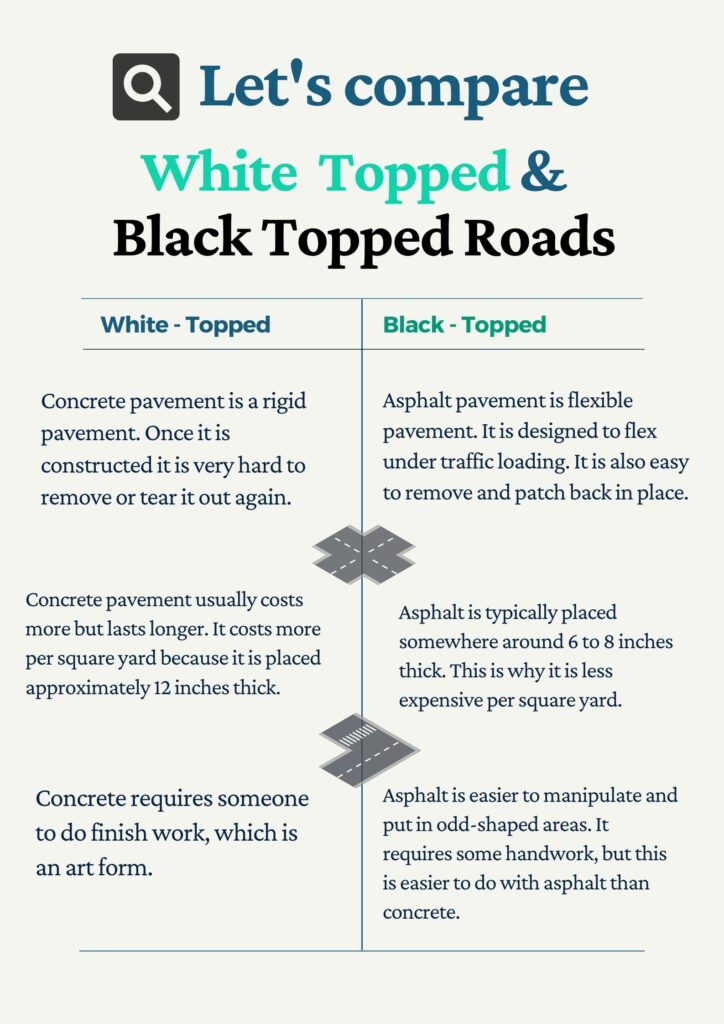 Ashwak Bagi, Assistant Engineer of Bangalore Water Supply and Sewage Board (BWSSB) said, "Not all utility lines are old. Our work was affected due to lockdown but we are working constantly since July. The rain is also a challenge."
Jayalaxmi S., a resident of East Park, Pulikeshi Nagar said, "white- topping started in February last year but it has not been completed till now. It gets really problematic for us when it rains. The traffic also gets affected."
Rao Ganesh Janardan, traffic police inspector of Brigade Road said, "Brigade Road and Kamraj Road were two important roads of the city. But, after 2015, the roads are often barricaded due to construction. The traffic is often diverted or is run one way leading to heavy traffic."
Sandhaya S., a resident of J.P. Nagar said, "My house is ten minutes away from my office, still I have to leave half an hour early because of traffic due to construction."
Ashish S., another resident said, "BBMP should work on a temporary solutions like constructing black top roads first. Later, they can think about a permanent solution of white top roads."
Durga Prashant L, assistant professor of highway engineering of civil department of R V College of Engineering, said, "BBMP doesn't have the information of the depth of the utility lines, that's why they are not able to construct white-top roads properly because the roads need to be dug deeper than normal black-top roads in order to build a strong foundation for cement concrete. Bengaluru won't be able to get quality roads until BBMP finds a way to get the data of utility lines running underneath the ground."
White-topping of roads is considered the ultimate solution for potholes. The roads are considered durable and cost-effective. Potholes are one of the major problems of Bengaluru. White-topping of roads is done by clearing the bitumen asphalt roads (black-topped roads) and layering with cement concrete. The roads last up to 25 years, much longer than black-top roads which require to be tarred every three to four years. However, there are certain criteria which need to be kept in mind while in construction. The base should be at least three inches thick. The engineers must have all the information of the utilities running underneath the ground because white-top roads are long-term commitments and need not be disturbed for at least 20 – 25 years.
M. Lokesh said, "We also have to keep in mind that there is no plan of redesigning the specific areas because that will also require digging of the roads."
The white-topping project was taken up by BBMP in 2016 with 147 kms of roads proposed to be white-topped. It costs around Rs 10 crore per km. The project has been halted numerous times because of several reasons like uneven roads due to improper construction, traffic, complaints by the residents of the areas, or irregularities in construction. This has led to delay and increase in the cost of the project.
The work was on halt due to Covid from May 2021. The construction resumed in July, 2021 after seeking permission from Bengaluru traffic police. Earlier, the traffic police had rejected the proposal. The work is in progress on 25 kms of roads.