Only 21 percent of eligible people in Karnataka's disabled community have completed secondary education, NITI Aayog's SDG India report says.
Bengaluru: Disabled students in Karnataka are pushed to special schools due to a lack of books under the New Education Policy. Low funding from the government does not provide them with the infrastructure they need at schools.
Despite Karnataka High Court's direction to the state government to provide textbooks in Braille for all special children within a period of 15 days, starting from September 17, Sathya from Sahana Charitable Trust for the Disabled said the new books under the New Education Policy (NEP) have not been distributed yet.
"The schools have started but many children have not received the braille books from the government. The old books that have been printed five years back are also out of print. Several NGOs are now printing the softcopy of the old syllabus for the time being," he said.
Dr. V. Muniraju, Director at Department of Empowerment of Differently Abled and Senior Citizens said, "The books are printed by our printing press in Mysore. We have already ordered for the prints, but I do not have any information on when they will arrive."
K.P. Sunil Kumar, director at Association for People with Disability (APD) said, "The Rights of Persons with Disabilities Act 2016 ensures inclusive education, but the provisions have been poorly implemented. The teachers at mainstream schools are not taught to handle a disabled kid when occasions like seizures happen. Low allocation of money from the state government adds to the problems we face.
"Poverty and disability go hand in hand. Without the money, many facilities will remain inaccessible to the community," he added.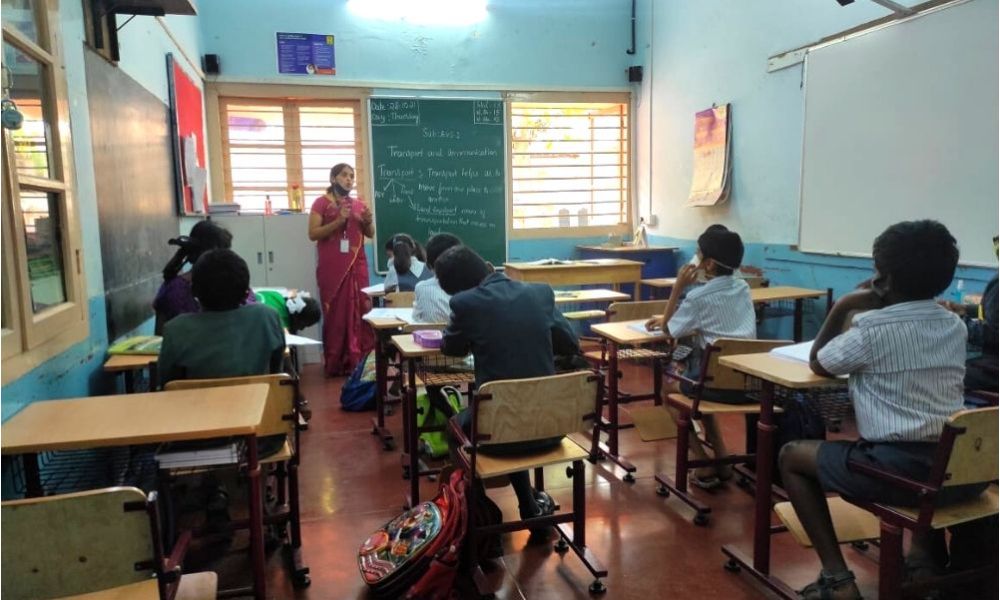 Between 2020 and 2021, the Karnataka government allocated Rs. 31.72 lakhs under Deendayal Disabled Rehabilitation Scheme (DDRS) scheme as compared to Rs. 86.05 lakhs in 2018-2019, the annual report says.
The Department of Empowerment of Persons with Disabilities allocated Rs. 1325 crores last year but only Rs. 1171 crores this year, cutting down Rs. 151 crores, the Union Budget for both the years reveal.
APD has received only two percent of funds from the government out of Rs. 1594 lakhs raised for the last financial year, the 61st annual report 2020 mentions.
Sha Nigar, manager at Disability Awareness for School Children, APD, said, "The lack of infrastructure at government and private schools is one of the primary reasons for inaccessible education for disabled children. How do we expect an inclusive education when the children are not provided with the required facilities? More and more students join special schools and not the regular ones."
An accessibility audit conducted by APD in 2020 showed out of more than 1000 schools surveyed, less than 10 institutions had the required facilities to accommodate disabled children.
Tony has visited more than six mainstream schools to get his 13-year-old daughter with visual impairment enrolled. "Nobody allowed my daughter to study alongside other kids. I had no choice but to enroll her in a special school."
Aasiya Begum also faces embarrassment for her 15-year-old daughter who has cerebral palsy from multiple school teachers she has visited. In the end, she chose a special school too.
The government bodies, however, seem to be in confusion when it comes to taking responsibility for the disabled community.
D.S. Umesh, Assistant Commissioner, Department of Education said, "We have a minimal number of disabled students in regular schools, so we do not keep any data on that in our education department."
Srinivas, Tahsildar at the Department of Education said, "The disabled children cannot study with the normal students in schools. They need special education and special schools. Our department only deals with the normal education."
However, the Right to Education Act, introduced in 2012, allows disabled children to study in mainstream educational institutes.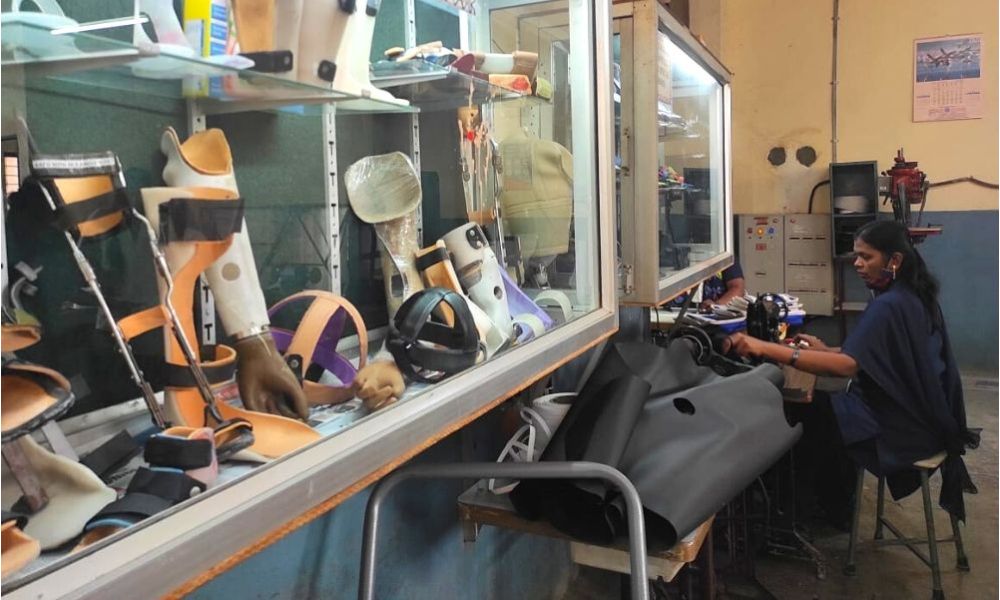 Victor, visually impaired, has completed his Ph.D. from Mysore. After completing primary education in a special school in Chikmagalur, he did all further education in distance learning. "Normal schools are not equipped with technology and infrastructure to help me study with other children. I had a special guide who used to come and teach me at home. Today, the situation is still the same," he said.
Out of the 11 crores disabled population in Karnataka, only 20.9 percent of the eligible group of 15 years and above have completed secondary education, NITI Aayog's Sustainable Development Goals India report says.
Former state disability commissioner, V.S. Basavaraju said the government has no transparency on the investment they are making in technical education for the disabled community. "The data has not been compiled yet by the Department of Planning. About two years back, I met the government to discuss the matter, and yet we have not received any response."
Vishwesh Sekhar, a professor at Christ University said, "The gap in the current education system for the disabled students is like a slip between the cup and the lip. The current policies are an exact copy of the United Nation documents and western laws. It is deemed to fail in the Indian ecosystem, taking our societal fabric into consideration. The first step should be solving the accessibility problem and only then we can come to dialogue to bridge the gap."