Introduction of Indian NFT marketplaces has benefitted many digital creators.
The Indian Non-Fungible Tokens (NFT) marketplace has given more visibility and is a profitable venture for many Indian digital artists.
Ketan Chandrekar, a freelance digital artist who used to make banners and posters used to earn Rs. 6000 a month, but after introduction of Indian NFT marketplaces he now earns more than Rs. 25000 a month by minting his artwork into NFT's and selling them.
India has three significant NFT marketplaces namely, WazirX, Vibranium, and Byteblock.art. These platforms cater to approximately over 1,600 creators. These marketplaces have come up in the past six months, yet they have managed to rope in many digital artists.

Chandrekar finds Indian NFT marketplaces to be better than foreign ones as they charge less minting fees and commission. Foreign NFT marketplaces like Opensea, Rarible, or Foundation charge a high gas or transaction fee of $100-$200 to mint a single NFT as they run on the Ethereum blockchain, while the Indian marketplaces charge less than a dollar as minting fees as they function on Tezos or BSC blockchain he added.
"Selling on foreign NFT marketplaces is difficult too—two of my art collections are unsold on those platforms," he added.
Farhan Khan, an 18-year-old NFT creator, said that WazirX takes five percent of total sales and Vibranium takes four percent of total sales. Whereas Foundation, a foreign NFT marketplace, takes 15 percent of the total sales. He added that Indian NFT marketplaces have been beneficial for him.
However, for Samyadeep, an artist, who has sold his digital art to customers in Peru, USA, and France, Indian NFT marketplaces have done little good. He said "The community on NFT Indian marketplaces is a little bit different from my taste. The art which is popular there is a little bit inclined towards our country, its culture, and history, whereas my art is mostly surreal and sci-fi based."
Shreya Daffney, an artist from Udupi, the highest seller on the Indian platform WazirX said that introduction of Indian NFT marketplaces has given her work more visibility. "I've had the worst experience with art galleries—one has to pay a premium to put up an artwork— NFT's for me has changed that, I can now put up my work sitting in any small city, and I have buyers," she said. She added that an NFT marketplace has made it easy for people to buy art anonymously as well.
Daffney said that the highest her art was sold for was 2100WRX tokens amounting to Rs 20,44,56 approximately. She mentions that as crypto markets are volatile, she converts the tokens into stable coins instead of exchanging them for Indian rupees. Although, the number of NFT creators has increased, the number of NFT buyers or collectors has not increased significantly, she said.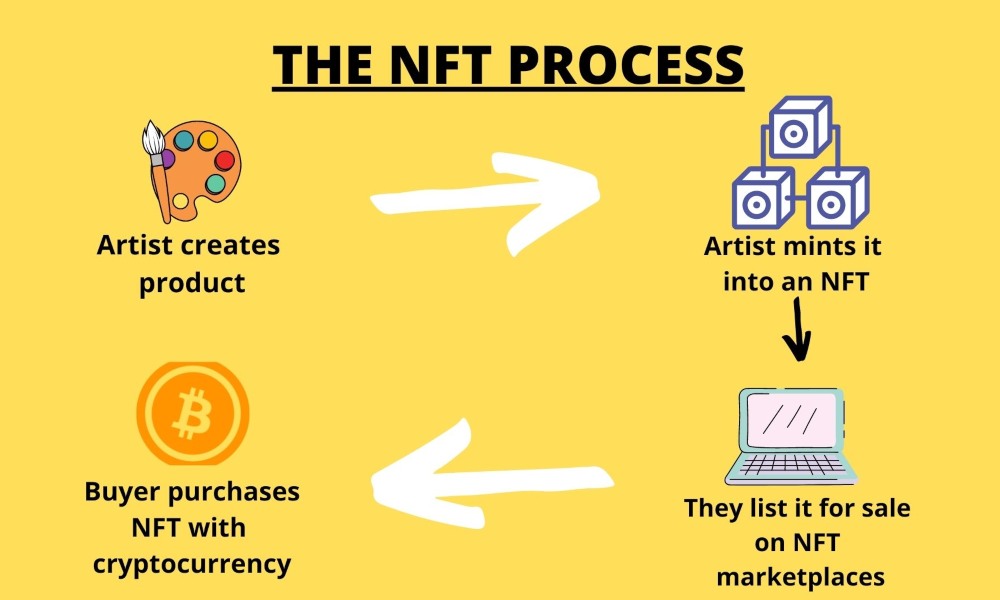 NFT Malayali, a collective of NFT artists, trains young artists to enter the NFT space. They have trained 800 digital artists through their course. Melvin Thambi, co-founder of the collective said that the rise of NFTs is not a flash in the pan. "Giants like Adobe, Facebook, McDonald's are venturing into NFTs—this shows the potential NFT markets have."
Abhishek Simgekar, an NFT collector, said that he started buying NFT as a stable form of investment when the crypto market was not doing well. But now, he plans to build his own metaverse gallery. "Whenever I find a personal memory, story or person attached to the artwork and I establish a connect with it, I buy that piece of art." He believes that when he meets people on his metaverse, his collection will give people a sense of his personality.
Buying NFT from Indian marketplaces is also cheaper than from foreign ones. Sometimes the gas/transaction fees for buying the NFT abroad is more than its price, he said. He added that, although he could have made more money by investing his money elsewhere rather than in NFTs. He likes buying from Indian creators as he resonates with them and wants to promote underrated NFT artists.
Daffney, who is also a collector, said that she buys NFTs because they are authentically and legally owned by her. When galleries go digital, she would have her own collection. "The thought that NFTs are just a jpeg image file that can easily be screenshot, this is as good as saying 'I have a Ravi Verma art piece on my wall,' but people will know it's not real."
Nitant, an NFT collector, said that he sees NFTs as an investment and collects the art of creators he thinks have the potential to grow big, so that the value of his collections also increases in the long term. He adds that NFTs have made digital art valuable, "no way did a file or a jpeg have value before the introduction of NFTs" he added.
Arijit Das, an NFT collector, said that he does not fear that NFTs are not regulated. "Anything that is new in this world does not have a law, things that come in revolution are taken by the brave and later on the crowd joins, so we are happy to be the brave part of the world."
He mentions that chances of NFT theft are huge as hackers can fool collectors into giving them access to their wallets. However, it is impossible to steal from a blockchain unless one gives access. The only solution to this is to make people aware.
An executive of Byteblock.art, said that Indian NFT marketplaces create a more accessible community for artists, creators, and collectors than foreign ones. India does not have a legal statute or rules for NFT or blockchains in general, but even if it comes into place, it will improve the functioning of these marketplaces, he added.
Adeeb Salam, administrator of the NFT Malyali collective, said that NFTs can be used as collateral to receive loans on the blockchain. "If NFTs want to be more than just art, we will need government regulation and framework," he added.
Swapna Sundar, a tech lawyer, said that given that the country does not have regulations for cryptocurrencies and blockchains yet, it is farfetched that NFTs will have a regulatory framework any time soon. The NFT community too does not wish for regulation as it belies the whole idea of decentralization she added. Explaining how NFTs can help artists put up work, sell on their own and receive a royalty on second sales, she said that big corporate houses sign agreements with artists for a small sum and sell their work for higher value but the artists do not get any benefit from that second sale.
Note – A quote from this article has been removed.