Training for athletes at the 400-meters track at Kanteerva Stadium was stopped in December 2019 because the track was not usable. Two years later, the situation remains the same.
Bengaluru: The reconstruction of the 400-meter synthetic athletics track at the Kanteerava stadium is still a work-in-progress even after 18 months. This has affected athletes, coaches and tournaments.
Several tournaments were shifted to other cities due to the incomplete construction.  The Senior Inter-State Athletics championship was shifted to Patiala, the 59th National Open Athletics Championship 2019 was shifted to Ranchi, and the National Cross Country Championships 2020 was shifted to Warangal.
An official from the Department of Youth Empowerment and Sports (DYES) said, "An athletics tournament under Khelo India scheme of the government is scheduled in March 2021, to be held at Kanteerva Stadium in association with Jain Institute and we are planning to get it [reconstruction of track] completed before March."
The track was expected to be completed by December 2020, but it still remains under process, even after 10 months since its initial deadline.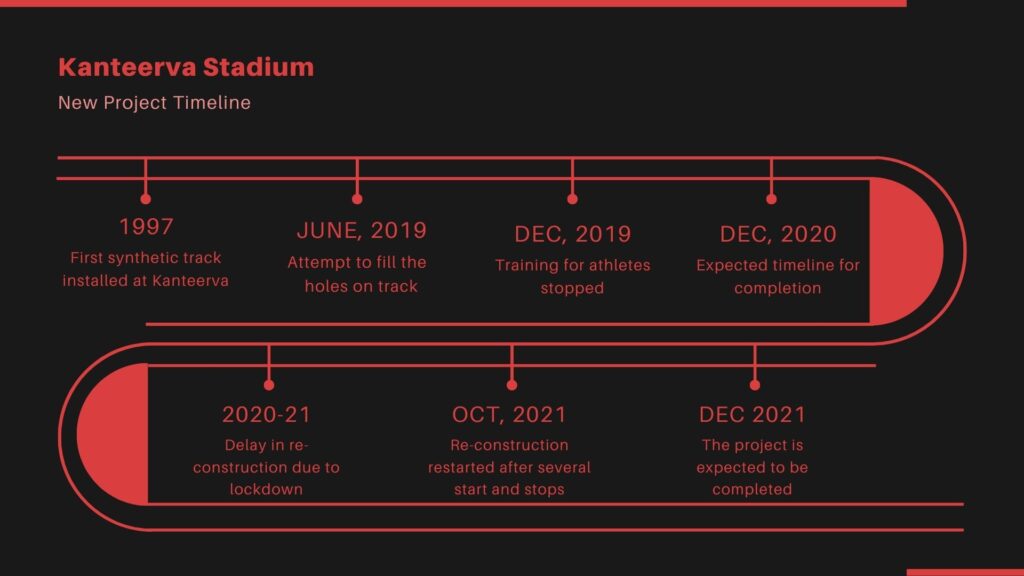 The delayed reconstruction has affected athletes' training sessions. Chaitanya Hemant, 18, a 400-metres hurdles Bronze medalist at Pre-university State Athletics meet, said she faces significant problems due to the never-ending reconstruction. "They denied us practicing [at the track] from December 2019. Since then, it has been difficult to train."
Vidyashree, 16, a budding javelin thrower who has participated in national level competitions said, "It is safer and easier to practice here [400-meter track] rather than the outdoor track as not many people are watching here. It feels more comfortable here."
Her coach Naveen Chandra said, "It hasn't been completed for over two years now. Athletes are training on the 200-meter track but it is not good enough. The surface is very hard and hence the quality of training degrades."
General Secretary at Karnataka Athletics Association, A. Rajavelu explained the technical difficulties with the previous, worn out track. . "The old track was worn out and very hard. Spikes of the shoes of athletes are generally around 11 mm. The synthetic layer of the old track was less than 11 mm. This could possibly result in the spikes of shoes touching the hard surface and this was injury prone for the athletes." He added that the new track will have a 15 mm synthetic layer which will safeguard athletes' shoe spikes.The track will also have sensors to track the timing and frequency of the sprinters.
A few athletes also got an opportunity to train at the Sports Authority of India (SAI) facility for a short duration. . Hemant said, "Initially my coach made arrangements for us to practice at the SAI facility, but it was only for selective people. Later it was restricted only to national level athletes, hence we were left without a proper track for practising."
Hemant also added that travelling to SAI was difficult." I had to travel more than 20 kms daily to reach there."
Hemant currently practices at the outdoor 200-meter track at the stadium even though she is a 400-meter hurdler. She said, "Being a 400 meter hurdles athlete, I can't practice here properly. It was fun practicing on the main track. This [200-meter] track is small and very crowded. You don't get the feel of a 400 meter track here."
Hemant's mother Kavita is also unhappy about the delayed reconstruction. "They [athletes] have competitions but can't practice appropriately. Forget synthetic tracks, she [Chaitanya] had to practice in mud ground near our place. We lack proper sports infrastructure in Bengaluru."
Nonetheless, the DYES has faced several issues while re-construction as well. Earlier, there were reports that due to the lockdown, there was a delay in importing of material for the track from Germany. 
The pandemic and monsoon were major hurdles in continuing the reconstruction. Advance Sports Technologies LLP has been assigned the contract to reconstruct the track. Balveer Singh, Installer and in-charge for the reconstruction from Advance Sports said, "This is our fourth round here at the site. Initial three visits here were cut short due to lockdown and the weather. Yet, this time we have been patient. We were here for one month, but we started the work just three days back [October 26] once the weather started to look better."
Singh was also optimistic about the completion of the three-layered synthetic track by the end of November. "If the weather does not interrupt anymore, we can complete the track by November 20. And then, marking and finishing can be done within next six to seven days by a separate team."
A. Rajavelu also expressed a similar view. "If the weather continues to be good, the work can be completed in next 20 days [by November end]. Otherwise, it may extend up to December or January."
Athletes have struggled the most due to the delay but hope that the track will be reconstructed soon. Vidyashree said, "I am obviously very happy since the track is getting reconstructed." Hemanth said, "There were boils on the track alike potholes on roads. Hence, I am happy about the track being re-constructed. However, I guess they could have hastened it. I understand it is a long process, but they could have done it better."