Despite the increase in number of law graduates, the enrollment in bar council has decreased.
Law students are exploring career opportunities in corporate firms rather than litigation.
Enrollment of new advocates in the Karnataka State Bar Council (KSBC) has decreased by almost 51 percent since 2019.
Akash Agarwal, a recent law graduate, said that a year of online classes and internships had resulted in law students not opting for legal practice. "Practicing law in India is messed up."
The monthly pay scale of junior advocates or new advocates was between Rs. 5,000 to 20,000 in New Delhi, Rs. 2,000 to 5,000 per month in Chennai, according to a survey. The monthly pay scale in corporate jobs ranges from Rs. 20,000 to 40,000. The difference in the pay scale is a major reason for law graduates to shift from litigation to corporate jobs.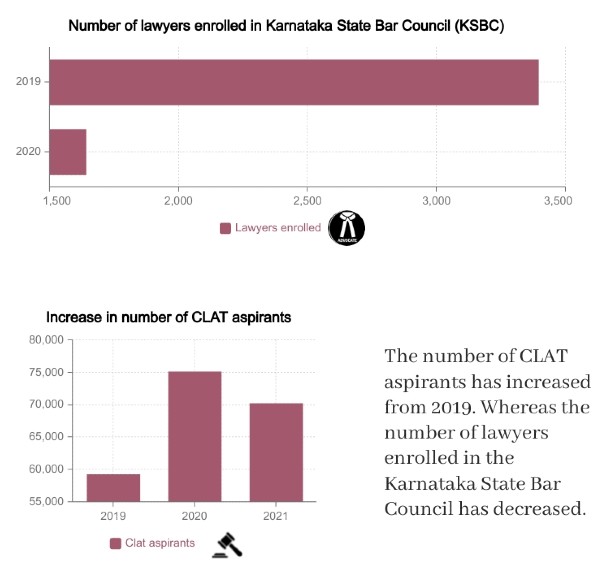 Shreya Giri, a contract analyst, said that the pay in corporate jobs is much more than one can earn in litigation. "I did my internships in litigation, but due to less pay I never thought of pursuing it as a career," she added.
The number of lawyers enrolled in the KSBC has decreased to 1641 in 2020 from 3395 in 2019 whereas the number of Common Law Admission Test (CLAT) aspirants has gradually increased over the years. In 2020, 78 percent of registered 75,183 CLAT aspirants had appeared for the exam. Among the registered candidates, approximately 68,000 aspirants were for undergraduate only.
Ramesh P A, placement head at Alliance University, said that approximately 51 out of 150 students were placed in corporate jobs, and two were placed in litigation firms by college. Some others pursued higher education, he said.
Dipali, placement cell coordinator at K.L.E. Law School, said that many students join the law firms of their parents and 30 to 35 percent opt for corporate jobs.
Sachin Udhani, a legal associate, said "I was very passionate about pursuing litigation after my graduation and most of my internships were in litigation firm, itself. But due to less pay, I had to shift to corporate job." He added that once he is financially stable enough, he would start practicing law in future.
Career options
After graduation from either the five-year integrated law course or a three-year law course, law students have various options to go for apart from litigation. Kirti Dubey, founder and CEO of Prakriya – the Law Junction, said "In the past few years, a lot of new career opportunities have emerged in legal arena. So, the crowd shift is obvious. Also, law students are inclined towards corporate sector and law firms rather than litigation." A lot of students are exploring other career options in law, such as judiciary, legal advisor, legal analyst, etc.
If not a career, they are also turning towards higher education that is, LLM in a specialized field. In 2021, there was a 33 percent increase in number of LLM candidates appearing for CLAT. In 2020, the number of LLM candidates was 6,217 and in 2021 it increased to 8,289.
"Plus, the craze for judiciary and other government exams for law students also play a role in the declining number in enrollment." Kirti added.
Siddharth Jaju, a Telangana-based advocate, said that some students complete the course only for an academic qualification which would be a backup. They would rather pursue other interests but have been pushed by their parents to study law.
While India has around 20 lakh lawyers, there are still 4,02,48,575 cases pending in Indian judiciary, shows data from the National Judicial Data Grid (NJDG)—a discrepancy that can be attributed to many lawyers opting out of litigation. The decreased number of law practitioners would lead to further overloading of cases, low budget for judiciary in Parliament, and fewer quality practitioners, said Akash.