A study states that Social Anxiety Disorder from 2017 to 2020 has increased by 7.5 percent in college students.
Bengaluru: According to a study by the National Center of Biotechnology Information (NCBI), social anxiety in Indian undergraduate students increased from 7.8 percent in 2017 to 15.3 percent in 2020. Therapists say that they have seen a rise in the number of social anxiety cases by about 25 percent since the pandemic.
Shefali Shah, 20, a law student and a patient said, "Before the lockdown, I wouldn't experience any nervousness or anxiety in social situations. The pandemic caused it. Meeting people after lockdown seemed like a Herculean task. I've canceled so many plans only because I couldn't think of being in social spaces at all."
She added that she still feels anxious and has noticed a considerable change after attending therapy sessions for a year.
Dr. Sumithra Sridhar, therapist at 'Heart it Out', a multi-specialty clinic in Koramangala said that social anxiety cases have risen by a quarter of those before the pandemic. She added that most people who ask for consultation suffer from social anxiety.
She said, "Social anxiety is the embarrassment of putting ourselves out there. It's the struggle to initiate conversations with people and facing difficulty in carrying on with daily activities."
She added that social anxiety has two kinds of symptoms— the biological factors; and the visible symptoms and symptoms that can be felt like sweaty palms, trembling, fear of judgment, humiliation, and rejection etc.
After a long isolation period, college students are now forced to interact with people, so childhood triggers like bullying can come up which can result in the development of social anxiety, she added.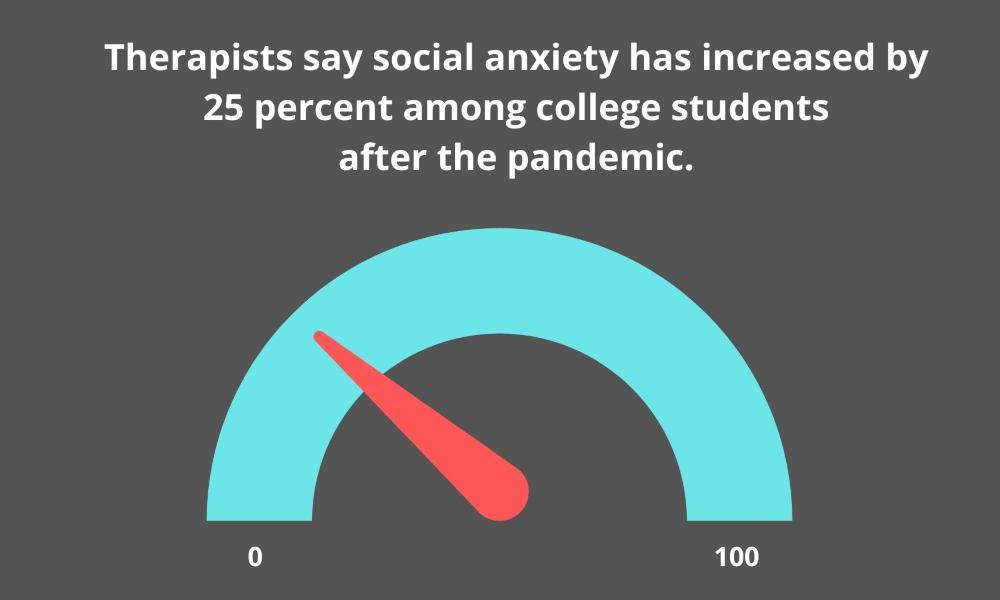 Fatima, 21, who graduated a few months ago from Christ University said, "I got a job recently and got notified that we'll have to work from office soon but because of the pandemic I got used to a life without any physical interaction with people. Now, working from the office implies that I'll have to talk to my superiors in person and establish relationships with my colleague which is making me anxious."
She said that she did not seek any medical help because she felt that Indian society has not given much importance to mental health. She added, "people can't see how much it eats the person away."
"Many young adults, suffering from social anxiety have to start acknowledging it, instead of choosing to isolate themselves," Dr. Sumithra Sridhar said.
Riya Jain, 22, an MBA student at Christ University said that she has been suffering from social anxiety since childhood but chose not to opt for therapy. She said that during the pandemic, her social anxiety became worse because she was isolated for so long that she forgot to how to interact with people.
Dr. M J Thomas, Consultant in Psychiatry, Sagar Hospital, Jayanagar said, "Adapting to fast change results in anxiety disorders and depression. Therefore, students who are going back to their college and social lives after a year-long isolation are experiencing difficulty in adapting to this sudden change."
Dr. Ajith Dahale, Associate Professor, National Institute of Mental Health and Neuro Sciences (NIMHANS) said that patients coming to him these days say that it is difficult for them to join back their colleges and offices physically like they used to before the pandemic.