Missing auditory signals prove to be a stumbling block for the visually-impaired
Blind people struggle to cross roads as the city has just eight auditory traffic signals in place on major intersections.
Amarnath, a visually-impaired assistant, Department for the Empowerment of Differently-abled and Senior Citizens said, "It is impossible to walk on roads in general, given the dug-up footpaths but crossing roads at traffic signals is another nightmare for us. Only a few main parts of the city such as Cubbon road, Majestic, Malleshwaram, Seshadripuram, Gandinagar and Dr. Ambedkar road have auditory signals."
He said that in the absence of auditory traffic signals, blind people need somebody to escort them to the other end of the road. "We depend on our hearing ability to sense the movement of traffic but it has gotten worse for us due to surge in the traffic," Amarnath added.
"I have worked for 40 years for the welfare of blind and in all these years I have only seen a handful of auditory signals in the city. There isn't enough sensitivity around this," said S.Parashivamurthy, general secretary, Karnataka Welfare Association for The Blind (KWAB).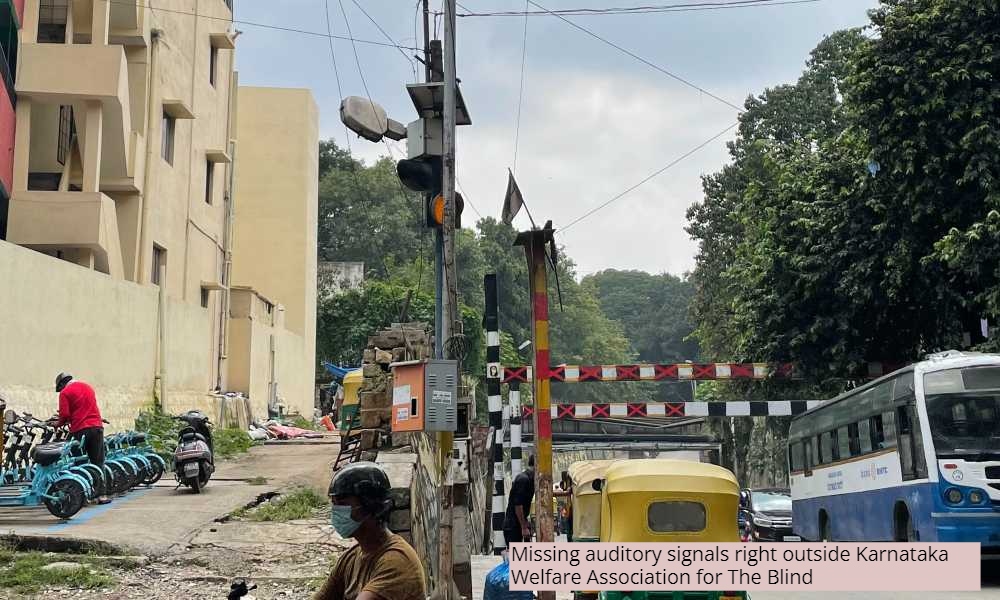 The guidelines notified under the Rights for Persons with Disabilities Rules 2017 state that pedestrian traffic lights should be provided with clearly audible signals and must be installed at the point of crossing, for the benefit of the visually-impaired.
The universal accessibility guidelines for Pedestrian, Non-motorized vehicle and Public Transport Infrastructure mention the installation of auditory traffic lights for the pedestrians with visual impairment. It also states that in noisy areas, these auditory traffic signals must operate at 15 decibels above the prevailing sound level, with a maximum of 140 decibel range.
V.S. Basavaraju, Ex-State Commissioner, Persons with Disabilities Actsaid, "We have come a long way, but a lot of research and development is yet to be put in technologies like auditory signals. There has to be a standardisation of these products and enough must be done in order to have proper implementation."
Most auditory signals are installed at major intersections. There are no auditory traffic signals on smaller crossings in the city, confirmed, Sridhar, head constable, High Grounds, Race Course Road traffic police station.
Sumitra, head constable, Kengeri traffic police station, said, "There is one auditory traffic signal installed in Kengeri at the main intersection. Apart from that there are none."
Apart from Bengaluru, New Delhi has installed 25 auditory devices while Chennai has 150 auditory signals at different locations. Most of the Chennai auditory signals fell silent soon after they were installed said a report.