While globally dealcoholized beer is growing in popularity, Bengaluru prefers alcoholic beer.
Zero-alcohol beer, which is projected to increase at a rate of 10.3 percent in 2021, appears to be getting off to a slow start in Bengaluru.
M.D. Aftab, manager at a Bengaluru pub, said that they can only sell one to three cans of zero-alcohol beer per day. "We've been keeping the zero-alcohol beer for the past three months, and sales have been consistently poor," he added.
Mr. Prakash, owner of Drops liquor store said, they only sell one crate of zero alcohol beer per month, and that no zero-alcohol beer was sold in the previous month.
Mr. Sukhet, manager of a pub in J.P Nagar Bangalore said, "despite free promotion and distribution of free samples of zero-alcohol beer, there is no demand for it and they do not intend to stock or sell it."
Head brewer, Mr. Satyam said that, "Brewing is common for both alcoholic and non-alcoholic beers. Alcohol is removed after fermentation for non-alcoholic beer. We do not do non-alcoholic beers. I feel, without alcohol beer can't be called a real beer." he added.
India is at the third place in terms of the revenue generated from the non-alcoholic beer market amounting to $1,855m this year and is predicted to expand by 22.4 percent volume in 2022. As of 2021 the volume of non-alcoholic beer consumed per person in India is predicted to be 0.29liter. According to this report, the highest revenue was generated in China amounting to $5437m. In the United States, the market segment of non-alcoholic beer amounts to $4887m and the average volume per person amounts to 2.67 liter.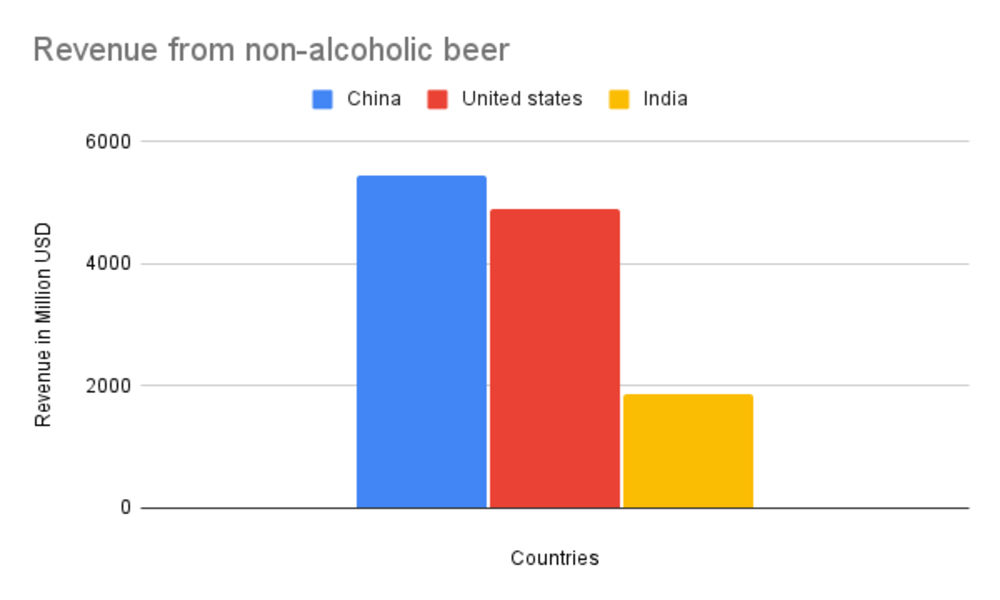 Dr. Vidya of Vydehi Institute of Medical Sciences and research center said," that zero-alcohol beer would be a great choice for anyone who wants to enjoy the flavor of beer without the negative consequences of drinking it."
"Alcohol is not beneficial for our bodies from a medical standpoint, and it can cause a variety of malignancies. All of these symptoms can be avoided by drinking non-alcoholic beer," she added.
Rohit, who is an abstainer, stated that, if there was a healthy alternative to beer, he would gladly drink it, while Karthik, who drinks alcohol, stated that he had never heard of zero-alcohol beer and would switch to it if it became available.
According to a survey conducted in 2021, forty-one percent of beer drinkers aged 25 to 34 are willing to switch to zero-alcohol or low-alcoholic beers, while 38 percent of Indians want to switch from regular beer to non-alcoholic or low-alcohol beer.