With high expenses, several parents in Bengaluru shy away from mental healthcare sessions amid the pandemic.
Bengaluru: High consultancy fees amidst the pandemic have made mental health counselling options inaccessible for several parents and children in Bengaluru.
Archana, a mother of two, approached several psychologists for her son at the beginning of 2021. At least five out of seven psychologists quoted more than Rs. 3000 per session.
She said, "During the pandemic, children were not allowed to step out and the schools were online for more than a year. This created a lot of stress on the family's mental well-being. I wanted to attend an online counselling session with my children, however, the fees start from Rs. 2000 and goes up to Rs. 8000 for a single session."
That's when Archana started doing online psychology courses. "And I started counselling my kids myself," she added.
When Varuni Narang, a digital marketer, started looking for therapists, at least seven of them charged Rs. 3500 or above. She had to wait for six months to get assigned to a therapist at a government clinic, Ehsaas in Delhi for Rs. 300. "In metro cities, a therapy can start from Rs. 2500 and can also go beyond Rs. 10,000. The government clinics have a long waiting list. And they tend to prioritize more severe cases," she said.
Dr. Priyanka Pandey, a clinical psychologist at Ehsaas said, "The time taken to book the first session depends on the therapists and also on the willingness of the patient. Due to the pandemic, there are certain limitations and the waiting time has increased."
Dr. Rajani, Deputy Director, Health and Family Welfare said, "Though the pandemic has affected the mental health services, the district and taluka hospitals in Karnataka have minimal waiting time. You can walk in and get your first session."
Ankita Mukherjee, a graphic designer said she prefers private counsellors more because it is easy to access the therapies. "I am lucky to have found an affordable private therapist. The government clinics take a lot of time to get an appointment and are often not up to the desirable outcomes," she said.
The government bodies say they have revamped and restructured the mental health services after the pandemic. A clinical psychologist at the National Institute of Mental Health and Neuro Sciences (NIMHANS) said they have restrategized the District Mental Health Programme. The government of India has come up with e-sanjeevani, an online teleconsultation program that has a waiting time of just 11 minutes. Currently, NIMHANS has 600 walk-ins every day with just 18 doctors over three departments.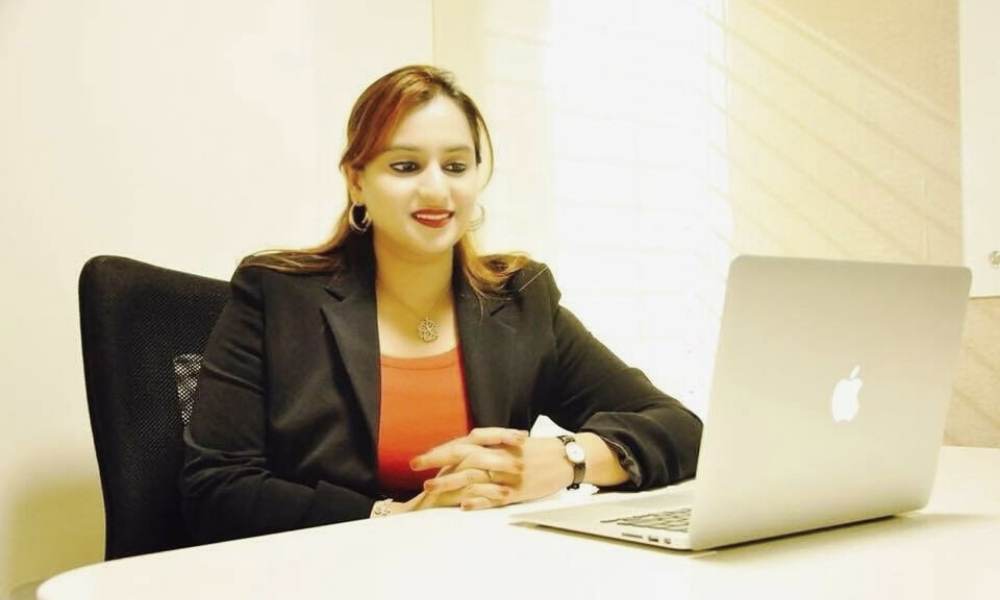 SyedaArifa Tasneem, a psychologist at Apollo Spectra said, "The prices have been high since the very beginning. People feel the prices are high because they compare consultation to a psychologist to that of a physician. A physician can prescribe medicine or perform a surgical procedure. But for a psychologist, it is a slow process. Stress can cause you a lot of disorders, like cardiac arrest. In that case, the hospital bill will come up to Rs. 1 lakh at least. But a psychologist can prevent the stress at a much nominal amount."
Subarna Ray, a counselling psychologist in Bengaluru still believes that the charges depend on the therapists.
"I know people who have charged Rs. 800 and also Rs. 3000. I believe it depends on the experience the person has. But still, on the broader side it is expensive," she agreed.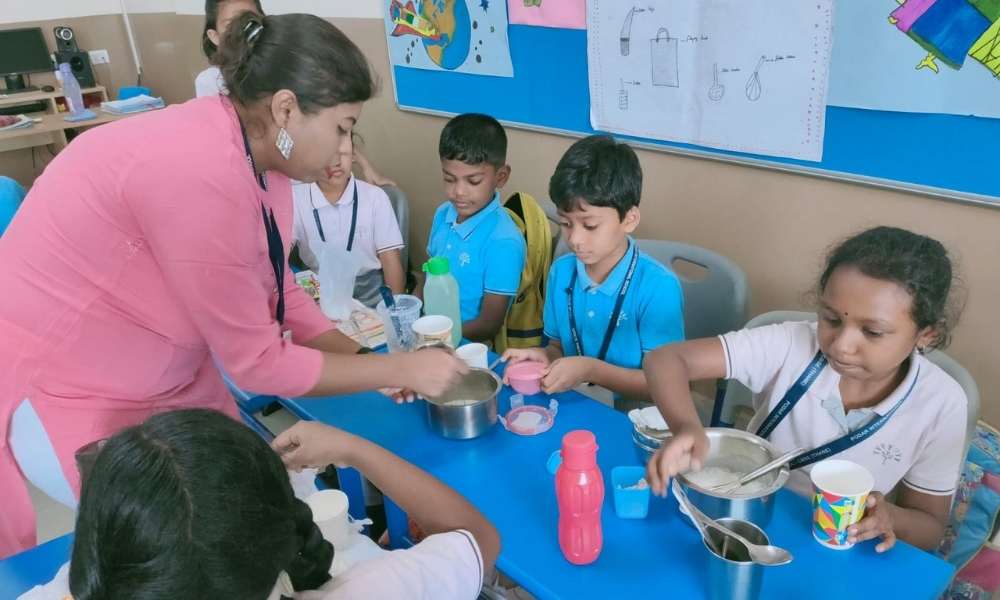 Dr. Jayasankara Reddy, senior professor at Christ University, Department of Psychology said, "India needs rapid digitization. For a counselling session at a clinic, I have to pay the clinic and also keep some money for myself. This can be nullified if we go for digital or group therapies. We need more secured platforms to come up that can give access to several people who cannot already access mental healthcare due to financial constraints."
After the pandemic, the demand for therapies has sky-rocketed. For every one million people in India, there are only three psychiatrists, and even fewer psychologists available for treatment or counseling, a study mentions.
"Due to the unavailability of enough psychologists, it disrupts the balance between demand and the outcome. This automatically raises the expenses," Varuni added.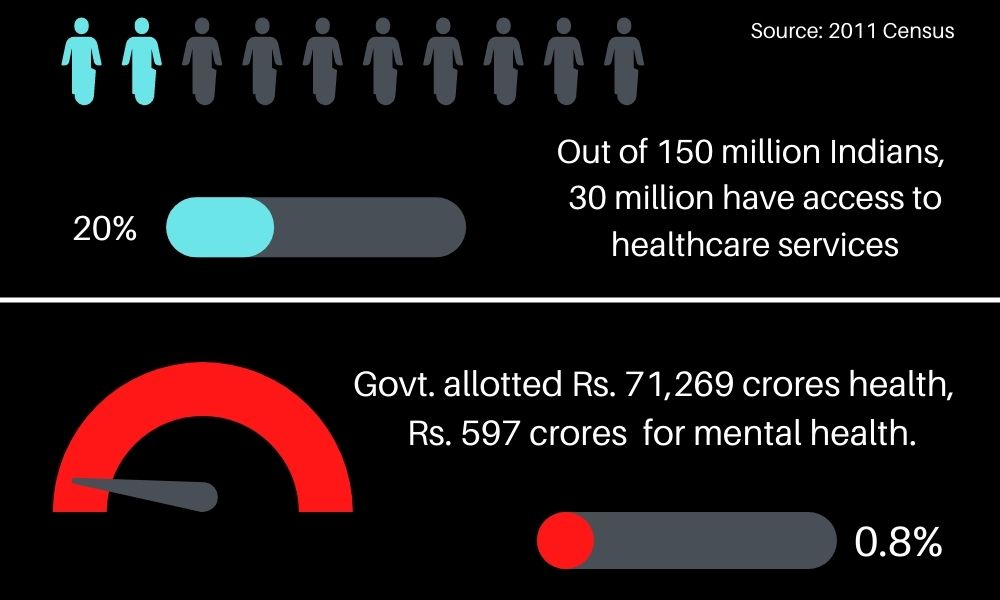 The Union Budget 2020-21, allotted Rs. 71,269 crores for the Ministry of Health and Family Welfare. But, for mental healthcare, it allocated only Rs. Rs 597 crore.
According to the 2011 census of India, 78.62 percent of persons with mental illness were not employed and only 13.15 percent were currently employed.
More than 78 percent of people suffering from mental illness were unemployed and only 13.15 percent of them had a job, 2011 census survey found. The high unemployment coupled with high counselling expenses, make the whole mental healthcare sector inaccessible for many.
A 2016 survey conducted by NIMHANS found at least 13.7 percent of Indians suffer from mental illness. Out of 150 million Indians, only 30 million have access to healthcare services.
Dr. Krishna Reddy, Head of the Department, Management at Jain University said, ". After the pandemic, people have already started talking about mental health. The government should allocate more budget to strengthen the mental health infrastructure in India. It's the government's responsibility to take this matter seriously and set up better institutions."