Government-proposed duties on imported photovoltaic (PV) modules would raise their price by 40 percent in 2022.
Bengaluru: Solar energy consultants and experts say that a drop in supply of PV modules from China and government-imposed duties would temporarily raise the price of solar projects in the months ahead.
The rise in prices will be preceded by a hike in Goods and Services Tax (GST) rates as the Central Board of Indirect Taxes and Customs notified on October 1 that GST on solar cells and modules would be increased to 12 percent from 5 percent.
John D, manager of business development, Ecosoch Solar Private Limited said that power cuts in China have forced solar panel manufacturers to stop production. As a result, Indian dealers are facing difficulties in acquiring solar modules and cells. "Whatever China does would affect the Indian solar energy sector as the bulk of the equipment is imported from China," John said.
Since September, China has been witnessing several power cuts. Goldman Sachs has estimated that 44 percent of the country's industrial activities have been affected by power shortages. In an attempt to contain the power cuts and revive the energy sector, the Chinese government on October 12 announced that thermal power plants would be allowed to charge additional amounts of money, based on market-driven rates.
"The cost has already increased by 8 to 10 percent. Six months ago we were quoting a price of Rs. 30,000 per kilowatt for solar modules, now it has gone up to Rs. 37,000. We hope that the situation would be resolved in the next two or three months," said Adil Khan, business development manager of Artha Energy Resources, a renewable energy consultancy company.
John also said that the government's decision to impose import duties on solar cells and solar modules would increase the prices significantly. He was referring to the union government's decision to impose Basic Customs Duties (BCD) worth 40 percent on solar modules and 25 percent on solar cells from April 1, 2022.
While announcing the BCDs, the Union Ministry of New and Renewable Energy said, "Presently, India's solar sector, just like in any other country of the world, is heavily reliant on imports of solar equipment. The government has also noted instances of certain countries dumping solar cells and modules to kill the nascent domestic industry, because of which Government had to impose Safeguard Duties. Scaling up domestic solar manufacturing would also enable India to export solar cells/modules. This would also provide other countries an alternative avenue for procuring solar cells/modules."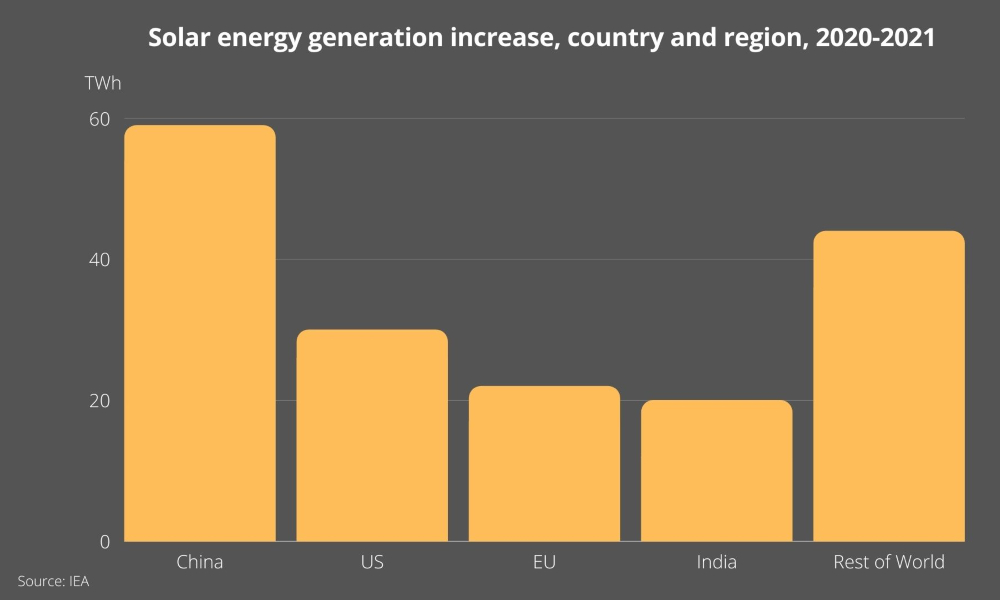 The Central Electricity Authority's Optimum Energy Mix report stated the electricity requirement of the country by 2029-30 will be 817 gigawatts (GW), including the 450 GW from renewable energy sources.  Out of this, 280 GW would come from solar energy. To achieve this target, around 25 GW of solar energy capacity needs to be installed every year till 2030.
To aid domestic manufacturers, the government in November 2020 announced a production-linked-incentive (PLI) scheme worth Rs. 4,500 crore for high-efficiency solar PV modules manufacturing over a five-year period.
However, Adil said that it would take at least two years to achieve that goal and as a tit-for-tat measure China might increase the prices of raw materials such as silicon and solar wafers that anyway would raise the prices.
The manufacturers who source the solar modules locally are saying that if China hikes the prices of the raw materials, consumers would have to wait longer to expect a return on their investments. Hari, a senior project engineer at Solarify, a Bengaluru-based company, said that the current payback period (the time taken to make back the initial investment) is seven years and that the price hikes would increase it to at least 10 years.
Dr. Rangan Banerjee from the Department of Energy Science and Engineering, IIT Bombay stated, "Almost 90 percent of solar modules and cells are imported from other countries. Because of the competitive bidding by foreign companies, domestic suppliers are not able to compete. The government wants to reduce the dependency on imports and encourage domestic suppliers. So the hike in prices is a temporary problem."