According to psychologists, one out of four individuals today experience burnout.
Many people are now facing increased burnouts as a result of exhaustion as they feel they have not been able to meet expectations.
Dr. Akash Vishwakarma, Clinical Psychologist at National Institute of Mental Health and Neuro-Sciences (NIMHANS) said, "the pandemic has triggered burnout cases in a lot of individuals." His research paper stated that even psychologists and psychiatrists face burnout after a day of giving counseling and therapy to patients.
In an article published in the Indian Journal of Psychological Medicine, 63 percent of psychiatrists reportedly faced personal burnout, 24 percent faced work related burnout and 16 percent faced burnout because of their patients.
Earlier burnout cases were more prevalent amongst working IT professionals and healthcare sector. Now burnout has become common in women and young adults as well, said Dr.Somya Awasthi, clinical psychologist. The cases in young adults are mainly due to lifestyle changes. If ignored, burnouts can cause severe health issues like acute stress, depression, high blood pressure, cardiovascular diseases etc, she added.
However, Dr. Y.C. Janardhan Reddy, Professor and Head of Department of Psychiatry in NIMHANS said, "Burnout is a term used by lay media these days. It is not specific and there are other health issues like stress, depression, anxiety etc. to talk about."
There is no specific diagnosis method for burnout. An individual can face burnout not only because of work pressure but also due to other psychological factors like past trauma, living environment, work pressure, insomnia, coping mechanism of individual as well, said Dr. Adil Haakim, PHD in Psychiatric Social Work. He added, with professional help you learn to cope with it but the overall healing takes time.
Piyush Sharma, Manager at Deutsche India said, "Burnouts are induced due to work from home and I have personally experienced it. Today, our personal space is invaded by professional space. Performance expectation has tripled in the organization. Social life went for a toss as now all you have is your laptop and phone that rings all the time for work." He added, "This is not a sustainable model which can be continued for a long time."
Microsoft's Trend Index report 2020 shows that in India one-third of working professionals faced increased burnout due to change in lifestyle and work culture. Over 41 percent of Indians indicated no space in work and personal life which in turn is inducing stress leading to burnouts more often. Dynamics of working has completely changed due to the pandemic. Comforts of work from home are minimal as compared to its perils said the report.
A research said that over 52.8 percent of the healthcare professionals in the country have experienced burnout due to the ongoing pandemic.
"Women however are under constant pressure as the expectation has increased in the pandemic. For example, a working women in a family has to manage her work, children (if they have any), family which leads to no space for themselves causing burnouts," said Dr. Jaisoorya, Prof. Department of Psychiatry, NIMHANS.
Another research stated that 75 percent of women felt stressed as compared to 59 percent of men. –This made them more vulnerable emotionally and prone to burnouts. This percentile has gone up as in 2019—the number of women was 34 per cent. Also, the research stated that around eight out of 10 women indicated increased workload due to the pandemic.
Rakhi, a homemaker said, "living in a joint family in the entire lockdown took a toll on my mental health as we were struggling financially and had to balance duties as a mother, wife and daughter-in-law. I was exhausted most of the days and this affected my behavior towards my family."
"My work shift starts from 5 am and it is supposed to end by 3 pm but the working shift gets stretched till 5 or 6 pm. Sometimes, I even have to log in even after my shift gets over due to excess work load. It has impacted my sleep cycle. The stress and work pressure is affecting my relationships as well," said Shaaswat Banerjee, Senior Analyst, WellsFargo.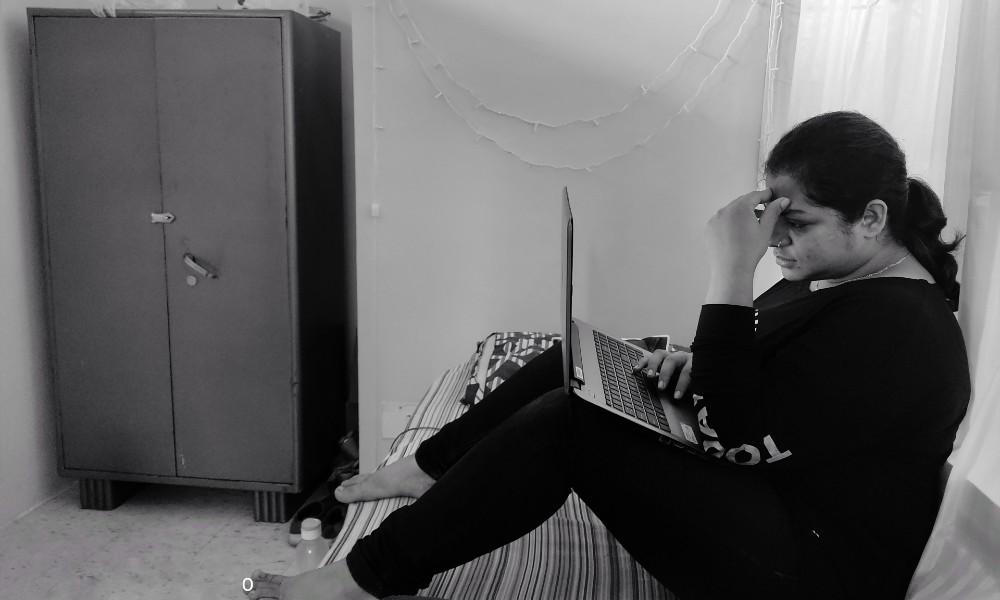 Munnu Elsa, ex-student and project assistant at NIMHANS said, "I myself experienced burnout when I had to deal with cases in my final year of M.Phil in Psychiatry as I had a work overload for days and couldn't take out time for self-care. We live in a country were prolonged working hours are glorified."
Dr. Jaisoorya said that awareness is poor especially in the case of burnouts as people often mistaken its symptoms with that of physical illness like tiredness, blood pressureetc. Also, as a coping mechanism a few people chose to do substance abuse as well.
He said, one should take care of their mental health by maintaining a healthy lifestyle, having a routine and adding exercise to it and learning to take breaks whenever required.